---
The Fleur-de-Lis Upper Gracilis Flap for Breast Reconstruction: Flap Design and Outcome
Brice W. McKane, M.D., F.A.C.S., Peter T. Korn, M.D., F.A.C.S..
Aesthetic Plastic Surgery, PC, Great Neck, NY, USA.
BACKGROUND:
The transverse upper gracilis (TUG) myocutaneous free flap has been shown to be a valuable alternative for autologous breast reconstruction when the abdominal donor site is not available or less favorable than the inner thigh. It offers minimal functional deficit and a well-concealed scar in addition to soft, supple inner thigh tissue ideal for breast reconstruction. The limitation of the transverse flap design is the limited volume. We present our initial experience using a fleur-de-lis skin paddle based on the upper gracilis flap.
METHODS:
Seventeen upper gracilis free flap breast reconstructions utilizing a proximal thigh fleur-de-lis skin paddle design were done in 9 consecutive patients (8 bilateral reconstructions, one unilateral reconstruction) from March 2010 to March 2011. All patients having this skin paddle design were included in the study and followed prospectively.
RESULTS:
The indications for fleur-de-lis upper gracilis flap over DIEP flap reconstruction were prior abdominal surgery (4), and insufficient abdominal pannus (5). The mean age was 52.1 years (range, 33 to72 years), and the average BMI was 25.7 (range, 20.3 to 30.1). The mean length of stay was 4.6 days (range 3 to 6 days). Eleven immediate and 6 delayed post-mastectomy reconstructions were performed. The fleur-de-lis design allowed capture of the transverse posteromedial thigh tissue of the TUG flap as well as a vertical limb which increased the volume available for breast reconstruction. The flap was capable of delivering volume equal to or greater than the mastectomy volume, and provided for proportionate breast reconstructions in all patients. The flap success rate was 100%. Complications included one arterial thrombosis (5.9%) identified intraoperatively and successfully revised, one donor site dehiscence requiring operative debridement (5.9%), 4 minor dehiscences requiring local care (23.4%) and 3 episodes of cellulitis (17.6%) treated with oral antibiotics. The incidence of donor site dehiscence in the first 3 patients (4 of 5 donor sites) was significantly reduced in the subsequent 6 patients (1 of 12 donor sites; p=0.01) by utilizing a postoperative negative pressure dressing. Patient satisfaction with the aesthetic outcome was 100%.
CONCLUSIONS:
The upper gracilis myocutaneous free flap is a reliable alternative for autologous breast reconstruction. The fleur-de-lis modification provides an improved volume match to the native breast. Furthermore, the three limbs of the flap allow for favorable contouring into a natural breast shape. The procedure can be performed with a low flap related complication rate and acceptable donor site morbidity.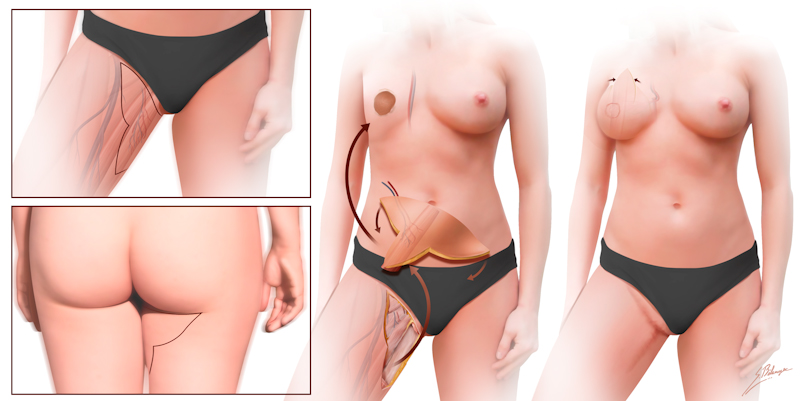 ---
Back to 2011 Program