---
The Hydrogen Sulfide Paradox: Suppression of ATP Production and Generation of Reactive Oxygen Species Protects Against Ischemia-Reperfusion Injury
Alyssa J. Reiffel, MD, Natalia Jimenez, BS, Stephanie Chu, BS, Yoann H. Millett, BA, Peter W. Henderson, MD, MBA, Jason A. Spector, MD, FACS.
Weill Cornell Medical College, New York, NY, USA.
BACKGROUND: Hydrogen sulfide (HS), a gasotransmitter previously demonstrated to mitigate ischemia-reperfusion injury (IRI), reversibly uncouples the electron transport chain, thereby inhibiting oxidative phosphorylation and the production of ATP. We therefore hypothesize that, in a manner analogous to the mechanism of mechanical preconditioning, this decrease in ATP availability results in an increase in xanthine oxidase (XO) activity and the generation of a non-lethal level of reactive oxygen species (ROS) sufficient to upregulate cellular antioxidant pathways and reduce IRI. We therefore hypothesize that the administration of allopurinol (a xanthine oxidase inhibitor) would abrogate the protective effects of pharmacologic preconditioning with HS in an in vitro model of IRI.
METHODS: Murine myotubes were treated with 10μM HS or saline vehicle. Intracellular ATP concentrations were measured via a colorimetric quantitative assay immediately before and 5 and 20min following treatment. Next, a CellRox fluorescent probe for ROS was applied to additional myotbues. In situ fluorescence microscopy was utilized to qualitatively assess for the presence of ROS 10 and 30min following the administration of HS, along with positive (hydrogen peroxide treated) and negative (saline treated) controls. A third cohort of myotubes were treated with 10μM HS, or 10μM, 100μM or 1 mM allopurinol, both 10μM HS and 10μM, 100μM or 1mM allopurinol, or saline vehicle. Cells were exposed to 3h of anoxia followed by 3h of normoxia. Parallel control groups were exposed to 6h of normoxia. A TUNEL assay was performed to determine the apoptotic index (AI) of each sample.
RESULTS: Within 5min of HS administration, intracellular ATP levels were significantly lower than non-treated controls (3.90±1.47μM v. 4.95±1.01μM, p=0.006). In addition, the administration of HS resulted in the generation of low-levels of ROS as indicated by an increase in fluorescent probe activity that persisted over the interval of observation (Figure). The AI of anoxic myotubes treated with 10μM, 100μM or 1mM allopurinol alone were unchanged from that of non-treated anoxic controls. The administration of 10μM HS alone resulted in a significant decrease in AI when compared to non-treated controls (4.0%±0.4%, v. 9.5%±1.2%, p<0.001). However, treatment with 10μM, 100μM or 1mM allopurinol and HS resulted in AI of 8.1%±1.1%, 11.3%±0.8% and 10.5%±0.9%, respectively, significantly greater than that of myotubes treated with HS alone (p≤0.01) and unchanged from non-treated controls.
CONCLUSIONS: The administration of HS results in the generation of a low-level of ROS and a decrease in ATP availability. Although others have suggested that the administration of allopurinol alone is protective against IRI, these data confirm that the administration of allopurinol, even at increased doses, not only fails to protect cells against IRI but abrogates the protective effects of HS. These data taken together suggest that the protective mechanism of HS is due, at least in part, to a xanthine oxidase-mediated pathway and may help to delineate the clinical utility of HS.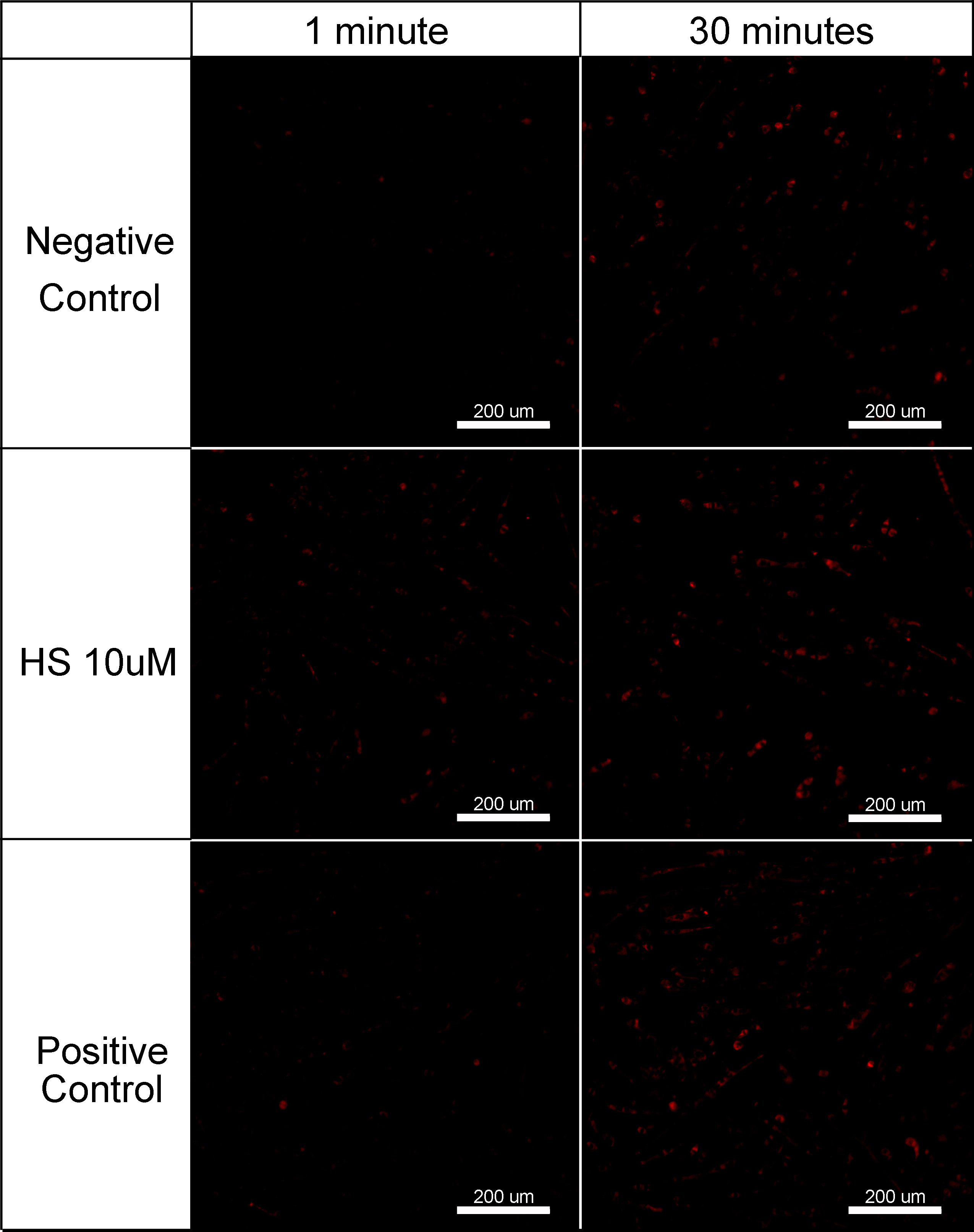 ---
Back to 2011 Program