---
The effect of propranolol therapy in infantile hemangiomas: possible mechanisms of action
Alvin Wong, AB, Alex Kitajewski, Jan Kitajewski, PhD, June Wu, MD.
Columbia University Medical Center, New York, NY, USA.
Background: Infantile hemangiomas (IHs) are the most common benign tumor of infancy and can cause potentially significant morbidity during proliferation, yet there is no FDA-approved treatment for problematic IHs. Recently, propanolol was found to have efficacy in treatment of problematic hemangiomas by accelerating involution, although the mechanism of action is unknown. We hypothesize that propanolol facilitates IH involution by altering cellular behavior in hemangioma endothelial cells (HemECs) and hemangioma stem cells (HemSCs).
Methods: HemECs and HemSCswere isolated from resected IH specimens using CD31 and CD133 magnetic bead selection. Cells were grown to confluence and treated with 100uM propranolol or vehicle for 24 hours. Pro-adipogenesis genes PPAR-delta, PPAR-gamma, C/EBP-alpha, C/EBP-beta, C/EBP-delta, RXR-alpha, and RXR-gamma were analyzed in HemSCs by quantitative PCR (qPCR). In addition, HemECs and HemSCs were treated with 100μM propanolol for 48 hours, after which they were analyzed by FACS for the presence of Annexin V, a marker of apoptosis, on the cellular surface.
Results: Gene expression analysis of HemSCs showed increased PPAR-delta (1.7-fold), PPAR-gamma (1.6-fold), C/EBP-delta (1.4-fold), RXR-alpha (1.8-fold) [p<0.05], and RXR-gamma (9.4-fold) (p<0.1) expression following propranolol treatment (Fig.1), showing a pro-adipogenesis response.
FACS analysis revealed an 84.8% increase in the proportion of cultured HemECs expressing Annexin V on their cell surface following treatment with propranolol, suggesting that a greater proportion of these cells were undergoing apoptosis. No difference in Annexin V levels on HemSCs treated with propranolol were detected by FACS (Fig.2).
Conclusions: Taken together, these results suggest that propranolol exerts its clinical effects on accelerating involution of IH through increased apoptosis in HemECs as well as increase of pro-adipogenic gene expression in HemSCs.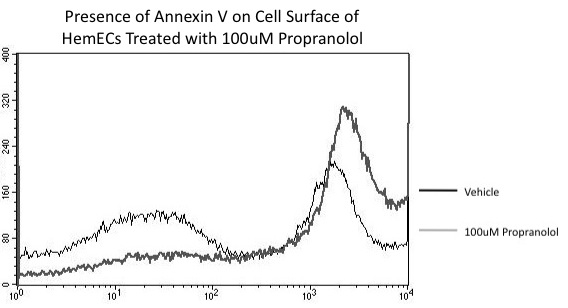 ---
Back to 2011 Program