---
Subcutaneous Peri-Areolar Reduction Suture Technique for Enlarged and Asymmetric Areolae
Johnny T. Chang, MD, MSME, Michael S. Gart, MD, Richard Zienowicz, MD.
Brown University, Providence, RI, USA.
Background: Various techniques have been described for reduction of the enlarged areola or correction of asymmetric areolae. All involve significant incisions and open maneuvers, whether alone or in conjunction with other procedures such as reduction mammaplasty or vertical mastopexy. We present the Subcutaneous Peri-Areolar Reduction (SPAR) suture technique, which is minimally invasive and requires only a single periareolar stab access incision. A Gore-Tex pursestring suture is placed intradermally around the areolar circumference using a large-radius cutting needle, and cinched to size. The suture serves to maintain the size and shape of the areola.
Methods: A total of 38 consecutive patients who underwent SPAR between 2003 and 2010 were retrospectively reviewed. Data including patient demographics, length of followup, whether the procedure was performed for asymmetry or bilateral reduction, concurrent procedures, frequency of pursestring suture removal, as well as complications and revisions were compiled and analyzed. In addition, a sample selection of representative cases are presented with standardized photographs and objective measurements.
Results: The average patient age was 34, and average length of followup was 7.9 months (range 1 to 40 months). Four patients had bilateral areolar reductions, whereas the remaining patients had unilateral reductions for asymmetry. One patient had isolated areolar reduction, whereas all other patients underwent simultaneous augmentation mammaplasty via various approaches with or without matopexy. Pursestring sutures were removed in 8 patients (21%), at an average of 3.9 months after the initial procedures. One patient underwent revision of concomitant procedures, and no SPAR revisions were required. There was no exposure, infection, or change in nipple sensation.
Conclusion: The SPAR suture technique for correction of areolar enlargement or areolar asymmetry presents a novel, simple, safe, and minimally invasive way to correct a common problem which can be intrinsic or iatrogenic. The technique is effective, the results are durable, and direct complications have yet to be seen. While a prospective study would be beneficial and is currently in progress, this retrospective review introduces an invaluable tool for both aesthetic and reconstructive breast surgery.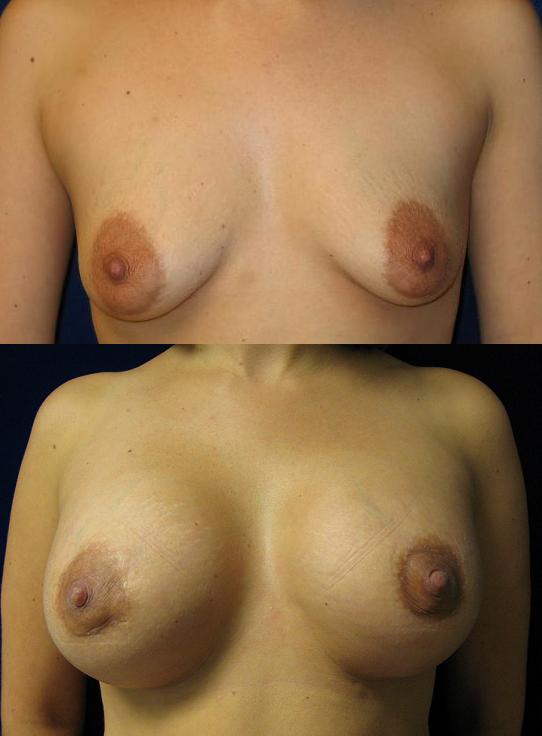 ---
Back to 2011 Program