---
The Effect of Notch3 Knockdown on Functional Behavior of Infantile Hemangioma Stem Cells
Alvin Wong, AB1, Alex Kitajewski1, Adepoju Omotinuwe, MD2, Jan Kitajewski, PhD1, June Wu, MD1.
1Columbia University Medical Center, New York, NY, USA, 2Robert Wood Johnson University Hospital, New Brunswick, NJ, USA.
Background: Infantile hemangiomas (IHs) are the most common benign tumor of infancy, yet their pathogenesis remains poorly understood. We have previously shown that Notch genes are expressed in IHs and that Notch3, a mural cell-associated Notch gene, is highly expressed in hemangioma stem cells (HemSCs) compared to hemangioma endothelial cells (HemECs). Since Notch signaling functions in cell fate determination and vascular development, we investigated whether Notch3 signaling is important in the maintenance of stem cell characteristics of HemSCs.
Methods: Notch3 gene expression was reduced in HemSCs using lentiviral expression of Notch3 shRNA (N3KO) vector with a scrambled insert (Scr) serving as control. Knockdown was confirmed with quantitative PCR (RT-qPCR) and western blotting (WB). RT-qPCR was used to measure expression levels of Notch downstream signaling genes Hes1, Hey1, Hey2, and HeyL. RT-qPCR was also used to measure expression levels of embryonic stem cell transcription factors SOX2 and NANOG, as well as hematopoietic stem cell factors c-Kit and AML1. HSC proliferation following knockdown was measured using a water-soluble tetrazolium colorimetric assay, and HSC migration was assessed using a scratch wound assay and analyzed with TScratch software. Differentiation was induced using adipogenic, osteogenic, and endothelial differentiation media and robustness of HSC response observed.
Results: RT-qPCR showed transduction of HemSCs with Notch3 shRNA expression by 50% compared to control. WB confirmed decrease of Notch3 receptor expression. Notch target genes Hes1, Hey1, Hey2, and HeyL; as well as stem cell factors SOX2, NANOG, c-Kit, and AML1 also demonstrated statistically significant relative decrease in transcript expression following Notch3 knockdown (Fig 1). HSC proliferation was reduced by 83% after three days of growth (p<0.02) [Fig 2]. HSC migration was impaired by 6.2% 12 hours following scratch wound of a confluent plate (p<0.0008). Altered response to differentiation media was observed, with Notch3 knockdown HemSCs showing more robust response to osteogenic media and less robust response to adipogenic and endothelial differetiation media (Fig 3).
Conclusions: Knockdown of Notch3 expression in HemSCs leads to downregulation of Notch downstream target and stem cell transcription factor mRNA expression. Notch3 knockdown also leads to decreased proliferative and migratory ability of HemSCs, as well as an altered response profile to differentiation media. These data suggest that Notch3 is an important regulator of infantile hemangioma stem cell phenotype, potentiality, and cell fate.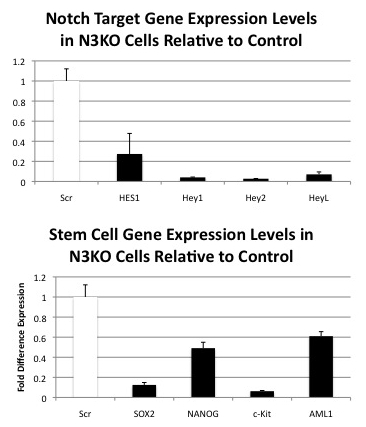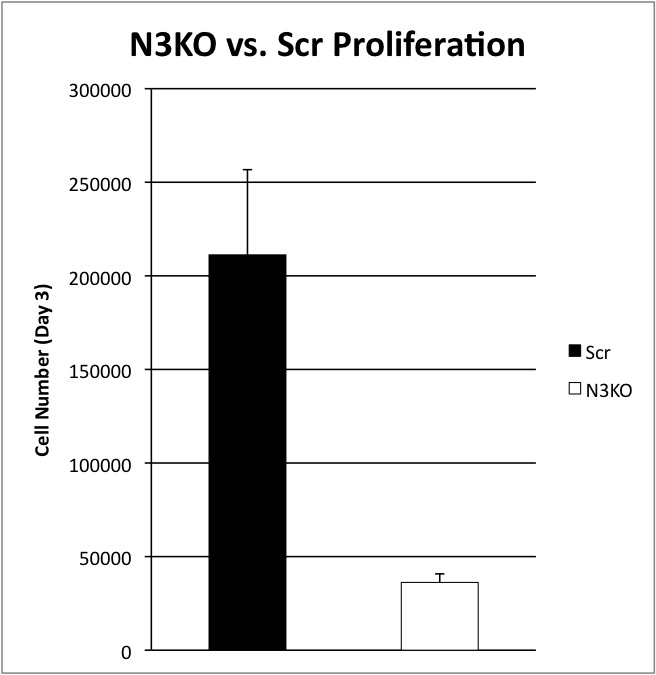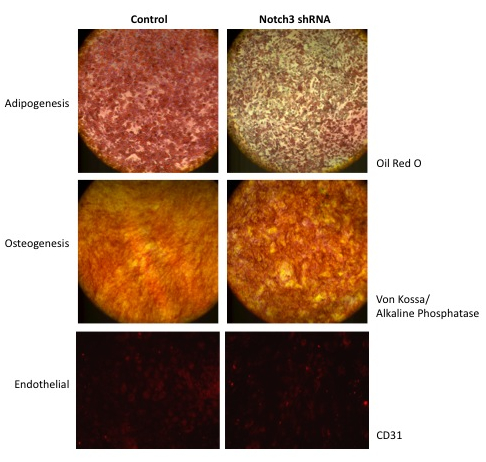 ---
Back to 2011 Program