---
Topical siRNA and Progenitor Cell Mobilization Accelerate Senescent Wound Healing and Decrease Reactive Oxygen Species
Parag Butala, MD, Denis Knobel, MD, James L. Crawford, MD, Caroline Szpalski, MD, Alexandre Marchac, MD, Steven M. Sultan, MD, Meredith T. Wetterau, MD, Edward H. Davidson, MD, Pierre B. Saadeh, MD, FACS, Stephen M. Warren, MD, FACS.
NYU Langone Medical Center, New York, NY, USA.
Background: Impaired wound healing in elderly contributes to significant biomedical burden. Our lab has previously introduced the Hutchinson-Gilford Progeria Zmpste24-/- mouse as a model of senescent wound healing, and we now explore therapeutic strategies to reduce reactive oxygen species and accelerate wound healing.
Methods: 48 8-week Zmpste24-/- mice underwent 6mm dorsal cutaneous wounding and were either treated with topical p53 siRNA post-wound days 1, 7, and 13 or with nonsense siRNA as control. As a secondary arm, mice were treated either with the progenitor cell mobilizing agent AMD3100 (10mg/kg i.p. daily for 14 days) or saline and wounds followed until closure. Wounds were harvested for quantitative RT-PCR, ELISA, flow cytometry, and immunohistochemistry on days 7, 10, and 20.
Results: Zmpste24-/- mice treated with p53 siRNA healed wounds by day 14 ± 2.2, and treatment with AMD3100 led to wound closure by day 20 ± 3.0 compared to day 35 ± 3.5 for controls. RT-PCR demonstrated p53 siRNA and AMD3100 treatment decreased pro-apoptotic factors BAX and p53 (fold change 0.3 ± 0.16, p<0.05 and 0.1 ± 0.07, p<0.05, respectively) and increased vasculogenic factors VEGF, HIF-1, and SDF (fold change 2.3 ± 0.3, p<0.05, 3.1 ± 0.4, p<0.05, and 3.3 ± 0.5, p<0.05, respectively). ELISA for VEGF, SDF, and p53 on days 7, 10, and 20 corroborated RT-PCR findings. Reactive oxygen species (ROS) were found to be markedly decreased with siRNA and AMD3100 treatment (9.1ng/mL ± 0.4 and 14.2ng/mL ± 0.1 vs. 19.6ng/mL ± 1.1, p<0.05). Flow cytometry for circulating endothelial progenitor cells showed increases with both siRNA and AMD3100 treatment at day 10 (5.1% ± 0.1 and 5.0% ± 0.8 vs. 1.1% ± 0.9, p<0.05). Immunohistochemistry for CD31, PCNA, ROS, p53, and caspase-3 confirmed quantitative data.
Conclusion: This is the first demonstration of the treatment of a mouse model of senescent wound healing. We characterize a vasculogenic and ROS dysfunction rescued via differing pathways using topical siRNA and progenitor cell mobilization. We believe this study highlights potential therapies for the study of senescent wound healing.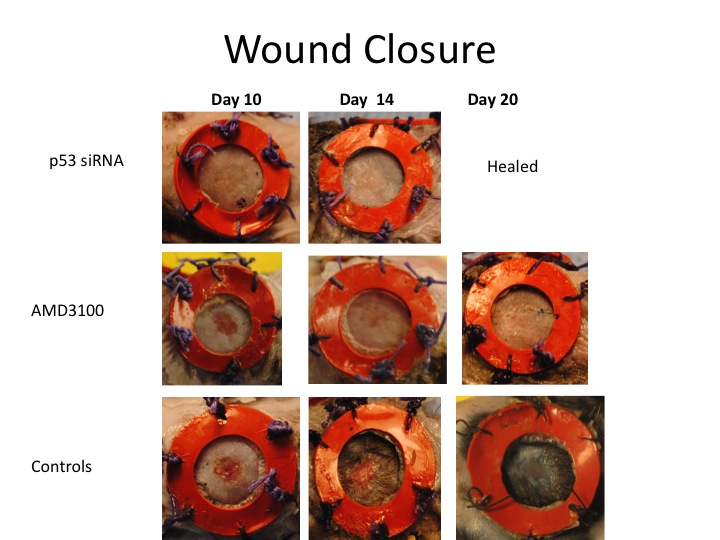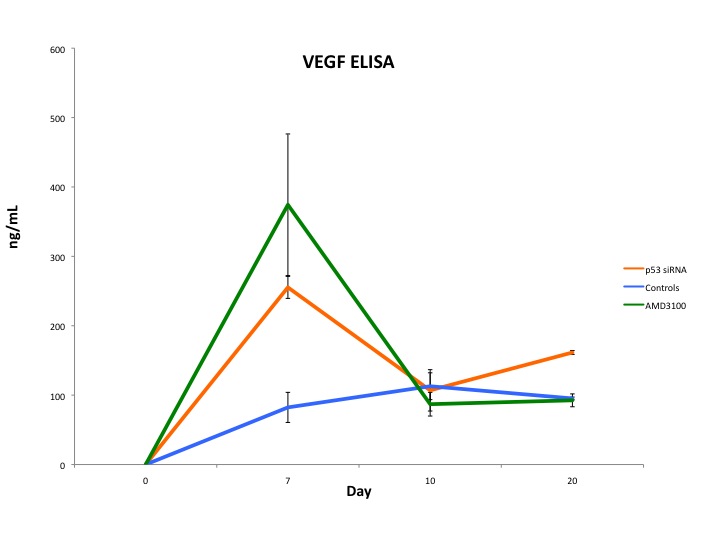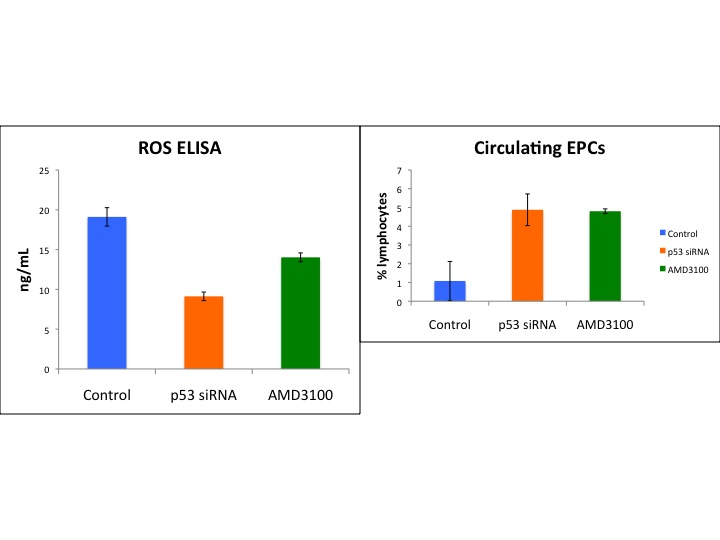 ---
Back to 2011 Program