---
Facial Fracture Management: Operative Trends and Financial Perspective
Joshua M. Adkinson, M.D., Ramon Garza, III, M.D., Jarom N. Gilstrap, M.D., Sherrine M. Eid, M.P.H., Robert X. Murphy, Jr., M.D., M.S..
Lehigh Valley Health Network, Allentown, PA, USA.
BACKGROUND:
Controversy exists in the plastic surgery literature regarding management of facial fractures. While early operative repair of facial fractures has been advocated, many plastic surgeons now argue that such repair can be detrimental. In addition, early repair of facial fractures can significantly impact healthcare costs. The objective of this study is to evaluate the management of facial fractures within our healthcare system and to extrapolate the financial impact.
METHODS:
An IRB-approved retrospective review of the network Trauma Registry was performed on all patients evaluated by the trauma service from 2000 through 2010. The database was queried for facial fractures, fracture repair (inpatient/outpatient), age, Injury Severity Score (ISS), Glasgow Coma Score (GCS), blood alcohol level, and length of stay. Gross and net revenue per patient were obtained from the network financial database. Multivariate linear regression and ANOVA were used to test the relationships between variables. All analyses were performed using SPSS 15.0 (SPSS Inc, Chicago, IL).
RESULTS:
The database identified 44,900 patients; 3,116 patients sustained 4,285 fractures. There were 1009 malar/maxillary fractures, 664 mandible fractures, 1769 nasal fractures, and 843 orbital fractures. As the decade progressed, there was a trend towards both older patients and higher ISS scores (p<0.001). Patients undergoing inpatient repair of facial fractures had the highest average ISS and lowest average GCS of all patients. Over the study period, 935 fractures were repaired: 814 (87.1%) as an inpatient with an average of 4.18 days to surgery, and 121 (12.9%) as an outpatient with an average of 49.28 days to surgery. Trends in non-operative versus operative management have remained stable(Figure 1).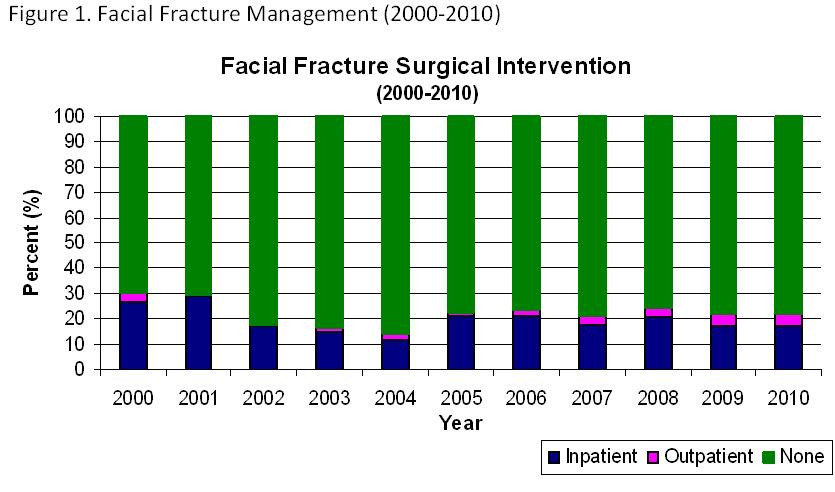 While accounting for only 15.5% of total fractures, patients with mandible fractures comprised the highest percentage of those undergoing inpatient surgical intervention (Figure 2).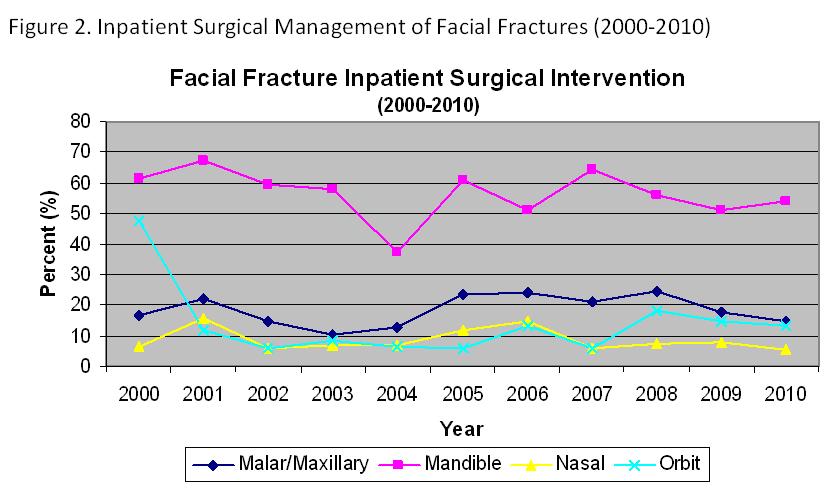 The majority of patients treated at our Level 1 trauma center did not undergo repair of facial fractures (Figure 3).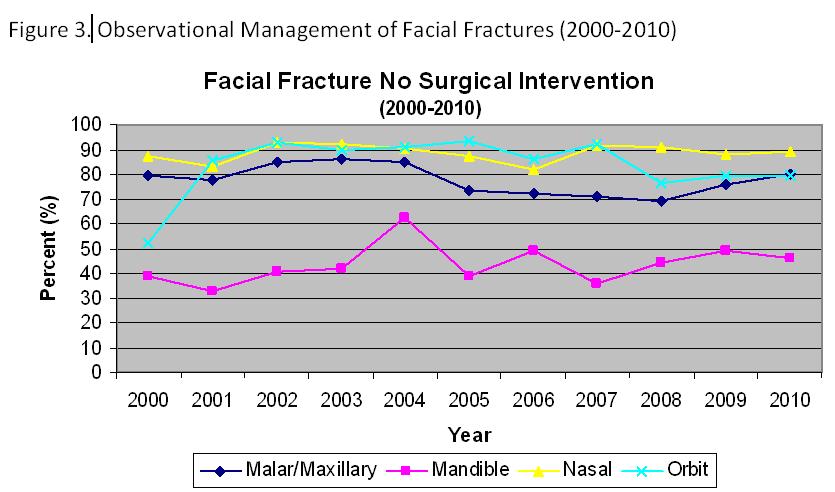 Only 3 of 3358 fractures treated non-operatively later required delayed fixation (> 90 days from discharge).
Gross and net revenue for the total care of patients undergoing inpatient repair of facial fractures significantly exceeded revenue for inpatients who did not undergo surgery as well as those who underwent outpatient surgery (Table 1).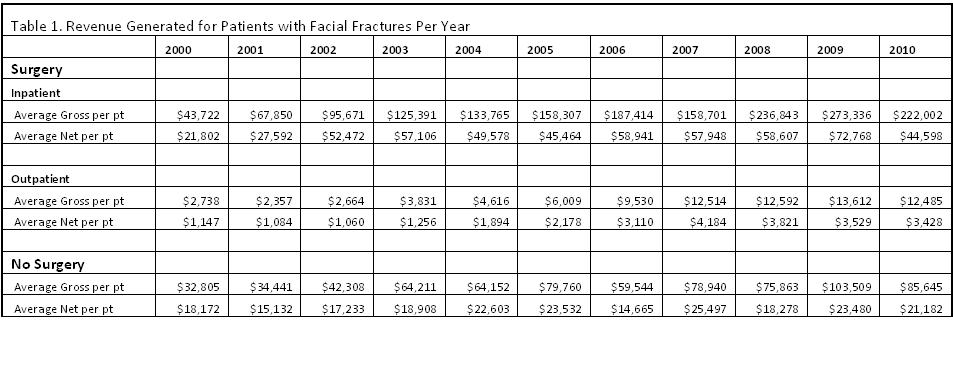 CONCLUSIONS:
At our Level 1 Trauma Center, most patients with facial fractures are managed non-operatively. The total care of patients requiring inpatient surgery returns greater revenue to the institution. However, delayed repair remains a viable quality and fiscal option.
---
Back to 2011 Program