---
The Surgical Management of Chronic Pain Following Acoustic Neuroma Resection; A Novel Approach
Matthew R. Endara, MD1, John Felder, MD1, Alaa Beydoun2, Ivica Ducic, MD, PhD1.
1Georgetown University, Washington, DC, USA, 2Georgetown University Medical School, Washington, DC, USA.
The Surgical Management of Chronic Pain Following Acoustic Neuroma Resection; A Novel Approach
Background
Chronic pain following acoustic neuroma resection via the retrosigmoid approach is a common morbidity of the surgery that is tightly linked to a poor postoperative quality of life. This pain can present in the form of occipital neuralgia, chronic headache, chronic migraine or a combination thereof. Despite widespread recognition of the condition, no reports have examined the cause of this condition or offered therapies targeted towards its etiology. The authors present a series of patients with chronic postoperative pain due to injury or irritation of the cutaneous nerves of the scalp following acoustic neuroma resection via the retrosigmoid approach, and describe the results of surgical management via nerve decompression or excision.
Materials and Methods
A retrospective chart review was performed on all patients who underwent either decompression or excision of cutaneous nerves of the scalp for headache from January 2003 to March 2011. Patients who attributed their pain to resection of an acoustic neuroma were identified. Six patients underwent either one or two peripheral nerve surgeries for treatment. Data on the patients was gathered including preoperative pain, time from tumor excision to presentation, co-morbidities, outcomes, and patient satisfaction. Results
Of six patients who presented for surgical management of headaches following acoustic neuroma resection, all had negative work up for recurrence, undergone at least 6 months of conservative management by a headache specialist and exhibited a positive response to cutaneous nerve blocks. Following surgery, four patients (66%) experienced significant improvement in their pain. Ultimately 3 of the 4 patients required a 2nd procedure to be performed after the effects of the 1st were fully realized. The lesser occipital and greater occipital nerve were excised in all patients and the great auricular nerve was excised in one patient. Three patients underwent dermal fat grafting due to a lack of soft tissue bulk in the surgical site secondary to scarring from the tumor resection. For the two patients who continued to have headaches, one did not present until 15 years after the onset of her headaches and several rounds of nerve surgery, radiofrequency ablation and various nerve injections; the other had improvement in her daily headache associated vomiting but no improvement in pain.
Conclusion
Although limited by a small study population, our results suggest that peripheral nerve injury related neuralgia can be responsible for chronic migraine/headache/pain following acoustic neuroma resection by the retrosigmoid approach. Furthermore, in properly selected patients, peripheral nerve surgery has provided effective management for this condition by addressing the etiology as well as symptoms. Further studies are indicated to confirm these early, encouraging findings. The senior author's algorithm for evaluating and treating these patients is presented.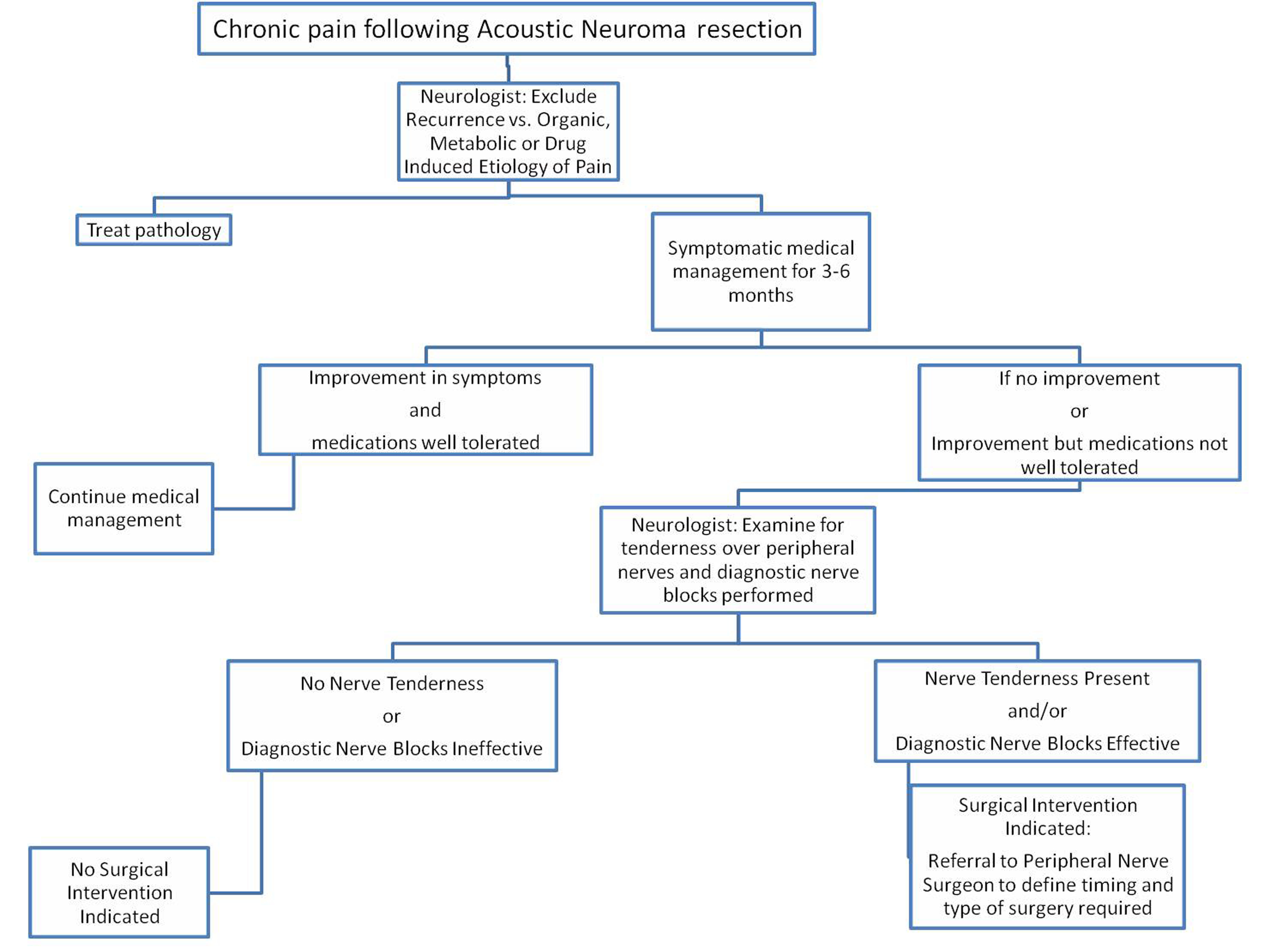 ---
Back to 2011 Program