---
Evidence Based Protocol for Infection Control in Immediate Implant Breast Reconstruction
Amy S. Colwell, M.D., Randall O. Craft, M.D., Branimir Damjanovic, M.D..
Massachusetts General Hospital, Boston, MA, USA.
BACKGROUND: Immediate breast implant reconstruction offers the breast cancer patient the psychological benefit of starting the process of rebuilding at the time of breast removal and has the potential to preserve the breast skin envelope. However, immediate reconstruction also has amongst the highest incidence of complications and infections in all of plastic surgery. The reasons for the increased rate of complications are multifactorial and likely related in large degree to tissue ischemia. We performed a literature search to seek additional means of infection control within the scope of plastic surgery to develop a protocol for minimizing infections. Furthermore, we sought to determine the prevalence of MRSA in patients presenting for reconstruction to see if our antibiotic choice should be modified.
METHODS: A literature search was performed in pubmed for the terms: breast implant infection prevention; surgical site infection prevention; breast cancer reconstruction complication prevention; breast implant antibiotic prophylaxis. Nasal swabs were taken from sixty-seven patients presenting for a breast reconstruction consultation to assess for MRSA.
RESULTS: The database search returned key articles on surgical preparation solution the day prior to surgery and the day of surgery suggesting that chlorhexidine solution was significantly better than betadine in preventing surgical site infections. Additional articles showed a significant decrease in surgical site infections by performing nasal swab evaluation to treat methicillin sensitive and methicillin resistant staphylococcus aureus prior to surgery with muciporin nasal ointment and five days of chlorhexidine scrub to the surgical area. Intraoperative data on breast pocket irrigation showed the benefits of irrigation with a betadine solution as well as a triple antibiotic solution consisting of one gram of Cefazolin, 80mg of Gentamycin, and 50,000 units of Bacitracin solution. Based on the above data, a protocol for infection control was developed and is shown in Figure 1. Nasal swab analysis showed no MRSA but did identify ten patients with MSSA, three with gram negative rods, and one with streptococcus.
CONCLUSIONS: Although immediate breast implant reconstruction confers a relatively high rate of complications inherent in the procedure, there are standard protocols which can be followed to potentially decrease infection rates. Although postoperative infections are often treated with Vancomycin, our data does not support the use of perioperative Vancomycin based on nasal swab analysis. Further cost analysis is warranted to determine the utility of preoperative nasal swabs in perioperative management of immediate breast reconstruction patients and to determine if preoperative treatment of MSSA decreases rates of infection.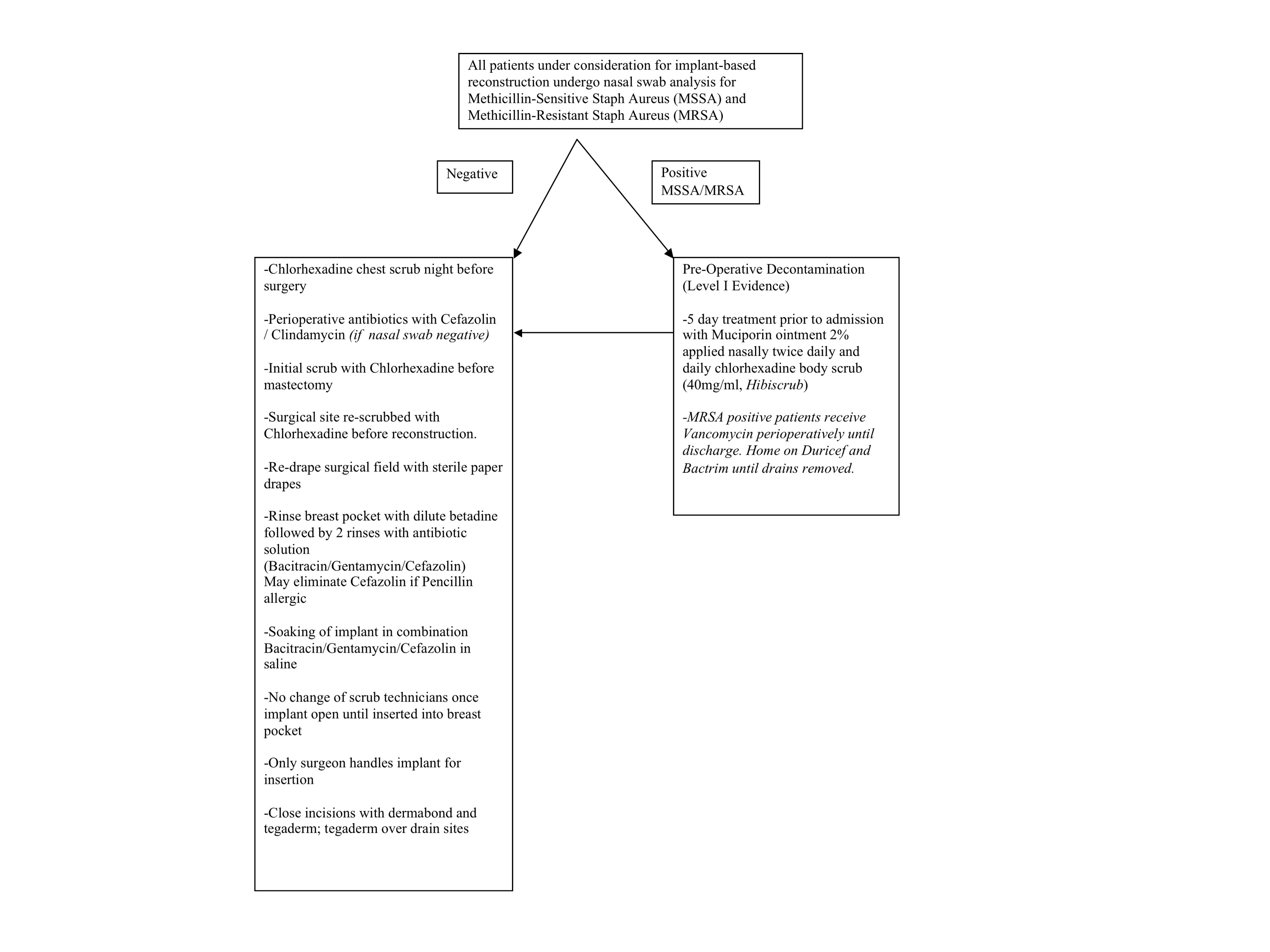 ---
Back to 2011 Program