---
The Impact of Living with Functional Nasal Asymmetry Following Prior Rhinoplasty: a Utility Score Assessment
Hani Sinno, MD1, Ali Izadpanah, MD1, Stephanie Thibaudeau, MD1, George Christodoulou, MD1, Youssef Tahiri, MD1, Sumner A. Slavin, MD2, Samuel J. Lin, MD2.
1McGill Medical Center, Montreal, QC, Canada, 2Beth Israel Deaconess Medical Center, Harvard Medical School, Boston, MA, USA.
Background: Revision rhinoplasty for functional and aesthetic nasal deficits can be both an aesthetic and reconstructive challenge. There have been few quantified studies to indicate whether the benefits obtained from corrective procedures following primary rhinoplasty outweigh the perioperative risks. The use of utility scores may help to establish the health burden of such procedures on patients providing information on surgical decision making and health insurance coverage. We sought to objectify living with a health state of nasal asymmetry with nasal obstruction following primary rhinoplasty with utility scores to compare with other diseases and to determine the percent chance of death and amount of years of life a sample of the population would be willing to risk and sacrifice to have this medical condition repaired following prior rhinoplasty.
Methods: In this study, the utility measures that were used were visual analogue scale (VAS), time trade-off (TTO), and standard gamble (SG) to obtain utility scores for secondary rhinoplasty which were compared with monocular and binocular blindness. A five-point Likert scale was used to evaluate the subjects' ease of understanding our survey. A sample of volunteers from the general population and medical students volunteered were used for this assessment. All were asked to complete health state questionnaires, anonymous demographic questionnaires, and utility assessments. Linear regression and student t-test were used for statistical analysis.
Results: In this study, 128 volunteers participated in this study. All measures (VAS, TTO, SG) for functional nasal deformity (0.80 ± 0.13, 0.90 ± 0.12, and 0.91 ± 0.13, respectively) of the 128 volunteers were significantly different (p <0.005) from the corresponding ones for monocular blindness (0.63 ± 0.15, 0.85 ± 0.16, and 0.85 ± 0.19, respectively) and binocular blindness (0.38 ± 0.18, 0.66 ± 0.25, and 0.69 ± 0.24, respectively). Being Caucasian was inversely related to the VAS utility scores for rhinoplasty (p <0.05). Additionally, female gender was positively related to the TTO score. Age, income, and education were not predictors of utility scores.
Conclusion: In a sample of the general population and medical students, TTO and SG utility scores for rhinoplasty were determined and can be compared objectively with other health states and diseases with known utility scores. Utility assessment of living with an asymmetric nose varies with sex and race (TTO and VAS). In conclusion, if faced with an asymmetric nose following prior rhinoplasty, our sample population would consent to undergo a secondary rhinoplasty procedure with a 9 percent chance of death and be willing to trade 3.5 years of their remaining life.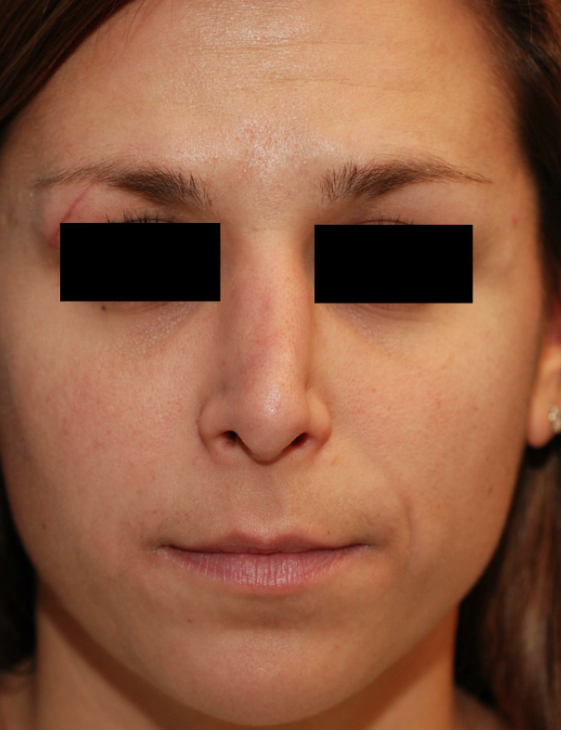 ---
Back to 2011 Program