Back to Annual Meeting Program
---
Cutaneous gene therapy: towards an off-the-shelf solution
Maria J. Ham, M.D.1, Obinna C. Ezeamuzie, M.D.1, Marc A. Soares, M.D.1, Yee C. Low, M.D.1, Lisa H. Hwang, M.D.1, Meredith Wetterau, M.D.1, Rita A. Sartor1, Daniel Connolly1, Amey Bandekar2, Stavroula Sofou, Ph.D.2, Daniel J. Ceradini, M.D.1, Pierre B. Saadeh, M.D.1.
1New York University Medical Center, New York, NY, USA, 2Rutgers University, New Brunswick, NJ, USA.
BACKGROUND:
Cutaneous gene therapy remains an attractive goal, especially with siRNA which offers the advantage of local, scalable, and reversible gene modulation. However, clinical applicability is limited by the difficulty of skin penetration by a relatively large and negatively charged molecule. Furthermore, purely liquid formulations have inherent technical barriers in the context of cutaneous application since liquids do not easily remain fixed to a specific area of skin. We aimed to develop a cutaneous gene silencing system using a novel liposomal formulation to effect skin penetration and a hydrogel carrier to facilitate application, delimitation, and sustained siRNA delivery.
METHODS:
siRNA was complexed to a cationic lipid nanoparticle suspension (DOTAP) and sodium cholate (lipoplex). This was suspended in Carbopol hydrogel, and the hydrogel was applied to depilated dorsal skin of FVB mice. Release kinetics of siRNA from hydrogel through a semi-permeable membrane was measured using a Franz diffusion cell chamber. Depth of skin penetration was observed using the transfection indicator siGLO Red. Gene silencing targeting the housekeeping gene MAPK1 was first tested in vitro in 3T3 fibroblasts, then in vivo in murine skin. Statistical significance was defined at p<0.05.
RESULTS:
siRNA release from hydrogel began at day 4. Over the next 3 days, zero-order kinetics was noted with a steadily increasing slope, and maximum siRNA release was observed by day 7. Depth of penetration with siGLO Red transfection indicator reached the epidermal layer by 3 days (Figure 1). After verifying effective in vitro silencing of MAPK1 (98% knockdown at 3 days), in vivo silencing of MAPK1 demonstrated 72% knockdown by 3 days, which increased to 99% by 5 days, and was sustained at this level through 7 days. Over the following 12 days, silencing steadily decreased to baseline gene expression.
CONCLUSIONS:
Hydrogel-based delivery of nanoparticle-associated siRNA is a novel and efficient method of siRNA delivery. It exhibits effective gene silencing with improved ease of application and without the need for skin penetration enhancers, thus providing a method for cutaneous gene therapy that may be rapidly translatable to the clinical setting.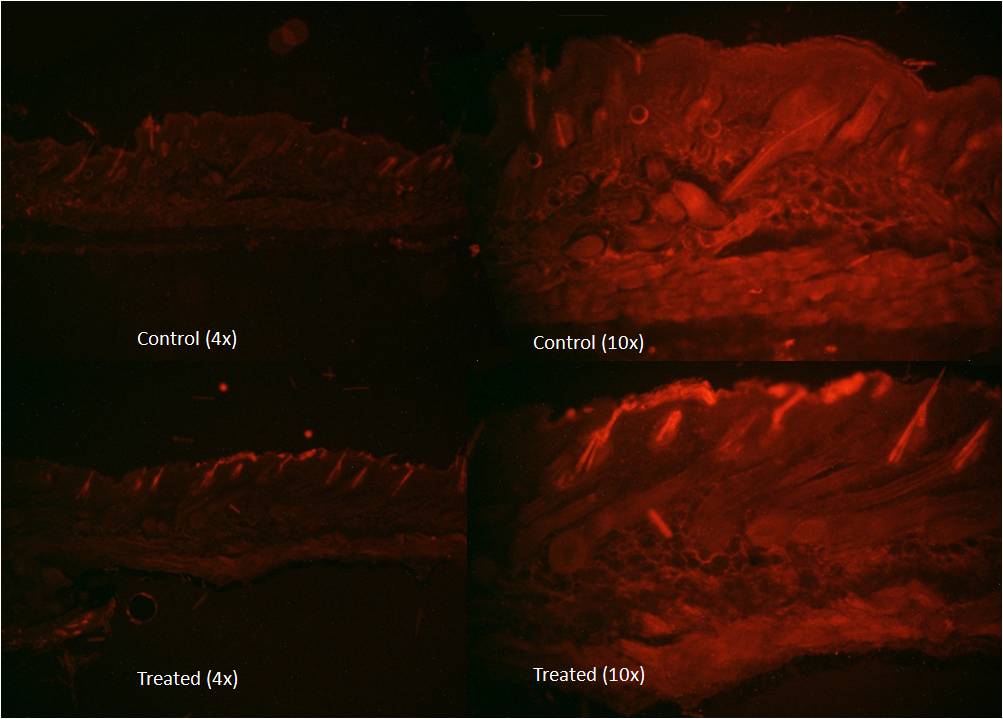 ---
Back to Annual Meeting Program