Back to Annual Meeting Program
---
Comparing the Effects of Physiologic Delay and AdVEGF-All Pre-Treatment on Rat Dorsal Skin Flap Survival
Mitchell S. Fourman, M. Phil,Samantha J. Palmaccio, BS, Robert Gersch, Ph.D, Brett T. Phillips, MD, Steve A. McClain, MD, Andrew Rivara, BS, Richa Verma, MD, Ahmed Nasser, MD, Alexander Dagum, MD, Todd K. Rosengart, MD, Duc T. Bui, MD
Stony Brook University Medical Center, Stony Brook, NY, USA

BACKGROUND:
Random flap survival has been associated with factors such as anatomy and the size of the flap's base. Significant prior research has focused on optimizing oversized random flap survival using targeted administration of pro-angiogenic factors. Of particular interest is the evaluation of those vectors that make an acute impact on flap survival without requiring a delayed raising or multiple administrations. McFarlane flaps have been a well-studied model of random flap survival. However, factors such as peripheral angiogenesis and irregular anatomic site has made the model known for irregular outcomes. Here we present a model for a "blocked" McFarlane flap, and compare clinical and bloodflow changes caused by acute adenoviral vector administration.
METHODS:
Male Sprague Dawley rats (n = 7) between 8 and 10 weeks of age received .1 mL subdermal injections at 3x109 pu of AdVEGF-All (a blend of several large isoforms of VEGF), AdEGR-1, or AdNull vector at 1 cm increments throughout the caudal 2/3 of the flap. A cranially-based 3x9cm modified Mcfarlane flap was raised with a base located 1 cm from the tip of the scapulae, and medical grade silicone 1mm in thickness was placed on top of the wound bed prior flap replacement. Controls (n=6) consisted of one group with no adenovirus administered, and another without silicone blocking. Clinical measurement at 1, 2, 3, and 7 days post-flap accounted for changes and development in viable, salvage (defined here as tissue that maintains normal pliability and elasticity but fails to show normal hair or adnexal development), and necrotic regions. Laser Doppler Imaging (LDI) quantified perfusion at these same timepoints. Animals were euthanized on POD7.
RESULTS:
Silicone blocking created a more severe model than normal Mcfarlane flaps, exhibiting a rapid transition from salvage to full thickness necrosis. However, the viable region was equally preserved in both models (8.6 +- 1 cm2 in normal vs. 8.66 +- .7 cm2 in blocked). No significant improvement in flap viability was observed in animals administered either AdVEGF-All or AdEGR-1 vectors. A significant improvement (p = .004) was observed between AdNull treated animals (12.31 +- .27 cm2) and blocked controls (8.67 +- .71 cm2). LDI measurements demonstrate a near two-fold increase in flap perfusion in all AdNull animals during POD 1, 2, and 3. However, these differences became insignificant by POD7.
CONCLUSIONS:
Acute administration of AdNull vector to a region of skin prior to acute ischemia creates a high perfusion state that contributes to overall flap survival. Using a blocking material to reduce the influence of peripheral angiogenesis creates a more severe and reliable model of ischemia, and does not impact the maintenance of viable skin.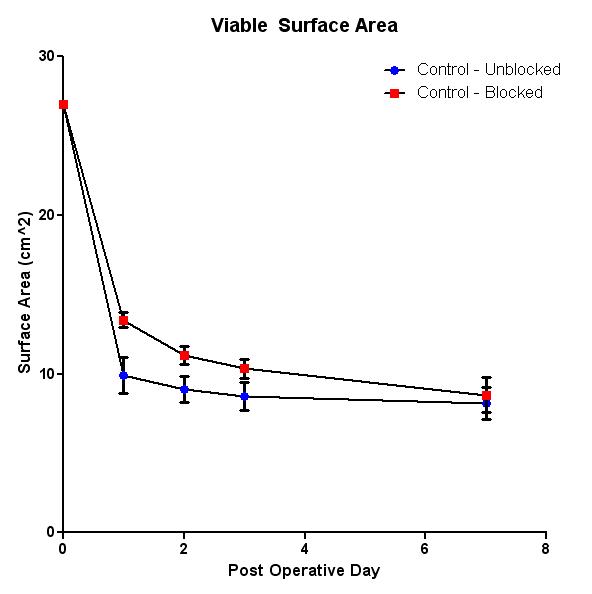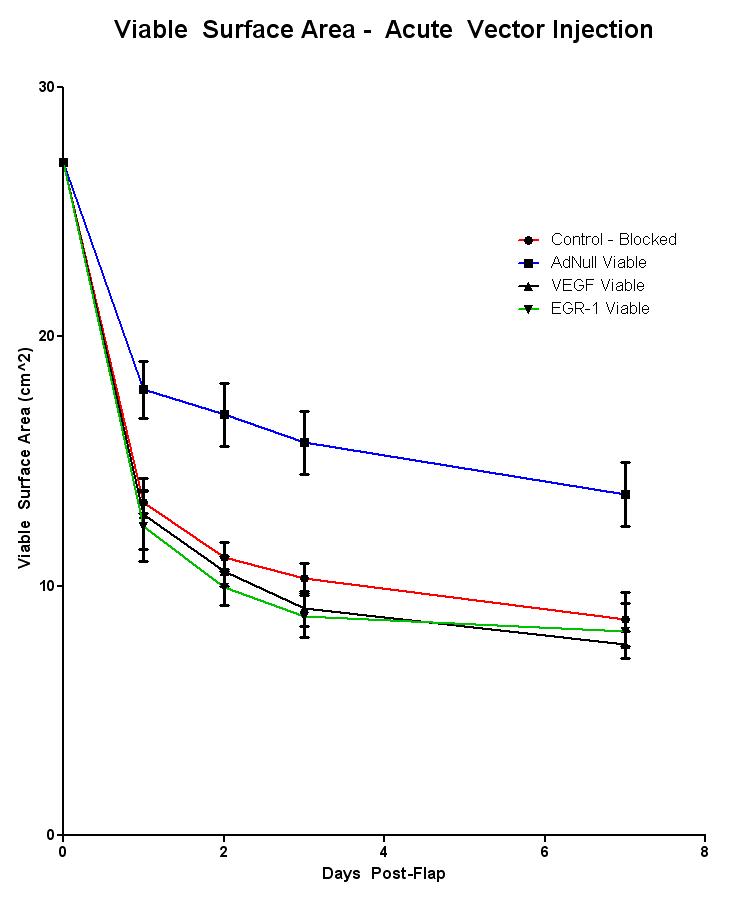 ---
Back to Annual Meeting Program