Back to Annual Meeting Program
---
A novel transgenic line with irf6 driving expression of reporter.
George N. Kamel, MD, Max Dougherty, Valeriy Shubinets, Lisa Gfrerer, M.D., Eric C. Liao, MD, PhD
Massachusetts General Hospital, Boston, MA, USA

Background: Cleft lip and palate is the most common craniofacial birth defect where improved understanding of the genetic and embryological basis that underlies this malformation is necessary to identify potential molecular targets to innovate treatments or prevention. Human mutation of transcription factor IRF6 results in syndromic cleft lip and palate including Van der Woude and Popliteal Pterygium syndromes. Recently, IRF6 has been confirmed as a key locus for non-syndromic cleft lip and palate from large population genome-wide association studies. In order to better understand the biological function of IRF6 during development, we have isolated the zebrafish irf6 promoter sequence and generated a reporter transgenic (Tg::irf6:eGFP). This irf6 reporter transgenic line allows us to follow irf6 expression throughout development, and provides us with a useful model applicable toward cellular and genetic studies. Methods: A 7.185 kb zebrafish irf6 promoter sequence was amplified from the irf6 bacterial artificial chromosome. The Tg::irf6:eGFP transgenic animal was generated using Gateway system, with Tol2 transposase mediating germline integration. Progeny of stable transgenic lines were analyzed by compound and confocal microscopy and compared to whole-mount colorimetric in situ hybridization expression patterns of irf6.
Results: Expression of irf6 was seen as early as the single cell stage, confirming the presence of irf6 as a maternal transcript (Figure. 1). Expression of irf6 continued throughout the cleavage stage until gastrulation. At 10-somites stage, expression was seen in the otic placode and migrating sheath of cells resembling cranial neural crest cells. At 24 hpf and 48hpf, the reporter protein was found along the developing pharyngeal arches, outlining the developing facial prominences, including the maxillary / trabeculae extensions. At 72 hpf, irf6 expression was restricted to the lower jaw, ceratohyal and the remaining ceratobranchials.
Conclusion: We have generated an Tg::irf6:eGFP stable transgenic animal model that faithfully recapitulates irf6 expression. This animal model can be used to analyze irf6 expression in the context of craniofacial gene disruption. This model can be further utilized in genetic crosses with
Tg::sox10:mcherry transgenic line to identify specific subset of neural crest cells that harbor irf6 expression. Furthermore, irf6 promoter sequence can be used to generate irf6 dominant negative transgenic lines that can be used to study the function of irf6 during craniofacial development.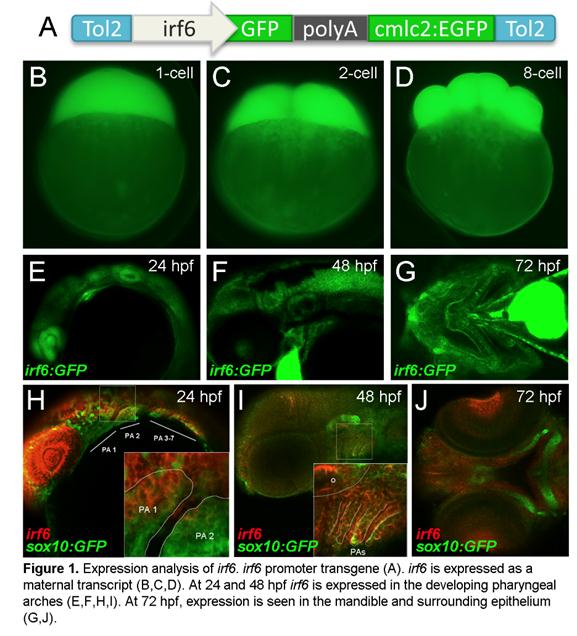 ---
Back to Annual Meeting Program