Back to Annual Meeting Program
---
PENN Breast Reconstruction Modality Outcome Study: Longitudinal Analysis of Expander/Implant (E/I) and Free Flap (FF) Reconstructions
John P. Fischer, MD, Jonas A. Nelson, MD, Brady Sieber, BA, Emily Cleveland, BA, Joseph M. Serletti, MD, Suhail Kanchwala, MD.
University of Pennsylvania, Philadelphia, PA, USA.
Background:
Both E/I and FF breast reconstructions provide excellent aesthetic results. Choosing a breast reconstruction modality after mastectomy is a critical step and involves a complex set of decisions. The aim of this study is to provide outcomes data comparing two breast reconstruction modalities to assist in surgical decision-making.
Methods:
A prospectively maintained database was queried identifying patients undergoing E/I and abdominally-based FF for breast reconstruction between 2005-2008 at the Hospital of the University of Pennsylvania. Patients who were age <65 years, had no adjuvant XRT, and had BMI<35 mg/kg2 were included. Variables evaluated included: co-morbidities, surgeries, time to reconstruction, complications, overall outcome, clinic visits, revisions, and costs. E/I reconstructions were performed as two-stage operations with total submuscular coverage. Nipple areolar reconstructions (NAR) were performed after chemotherapy. Standard statistical analyses were performed, tests were two-tailed, and significance defined as P<0.05.
Results:
Two hundred and two patients (328 reconstructions) were included in this study; 142 received FFs and 60 E/Is. The two cohorts were relatively similar with respect to preoperative factors (Table 1). E/I patients required more procedures (P<0.001), but shorter overall hospitalization lengths (P<0.001). The two cohorts experienced a similar rate of revisions (P=0.17), but E/I patients more often required a balancing procedure (P=0.02). FF patients elected to undergo NAR more frequently (P=0.01) and did so sooner (P<0.0001).
Reconstruction-specific complications were lower in the FF cohort: flap loss rate per patient (2.1%), fat necrosis (9.9 %), and hernia/bulge (2.8%) compared to capsular contraction (18.3 %), implant exposure (6.7 %), and implant infection (8 %). Directly comparable complication rates were higher in the E/I cohort: hematoma (P=0.24), seroma (P=0.03), and cellulitis (P=0.07) (Table 2). Patients undergoing E/I reconstruction had a higher rate of failure (7.3 vs. 1.3 %, P=0.008). Overall major complications trended towards significantly higher in the E/I cohort (P=0.08).
FF patients achieved a stable reconstruction significantly faster (P=0.0005) with fewer clinic visits (P=0.02) (Table 2). A hospital cost analysis demonstrated total cost trended towards significantly lower in the FF cohort (P=0.15). Regression modeling demonstrated the only independent factor associated with time to stable reconstruction and reconstructive failure was reconstructive modality (P<0.001 and P=0.05, respectively).
Conclusions:
We present a longitudinal evaluation of outcomes in E/I and FF reconstructions, focusing on factors involved in the decision-making process of selecting a reconstructive modality. Our analysis reveals FF reconstructions required fewer procedures, had lower rates of complications and failures, fewer clinic visits, while achieving a stable reconstruction faster than E/I reconstructions. Autologous reconstruction is not suitable for every patient, but we feel it affords patients an optimally fast, stable, and reliable reconstruction. These data can enhance the decision-making process for our patients and potentially improve outcomes and satisfaction.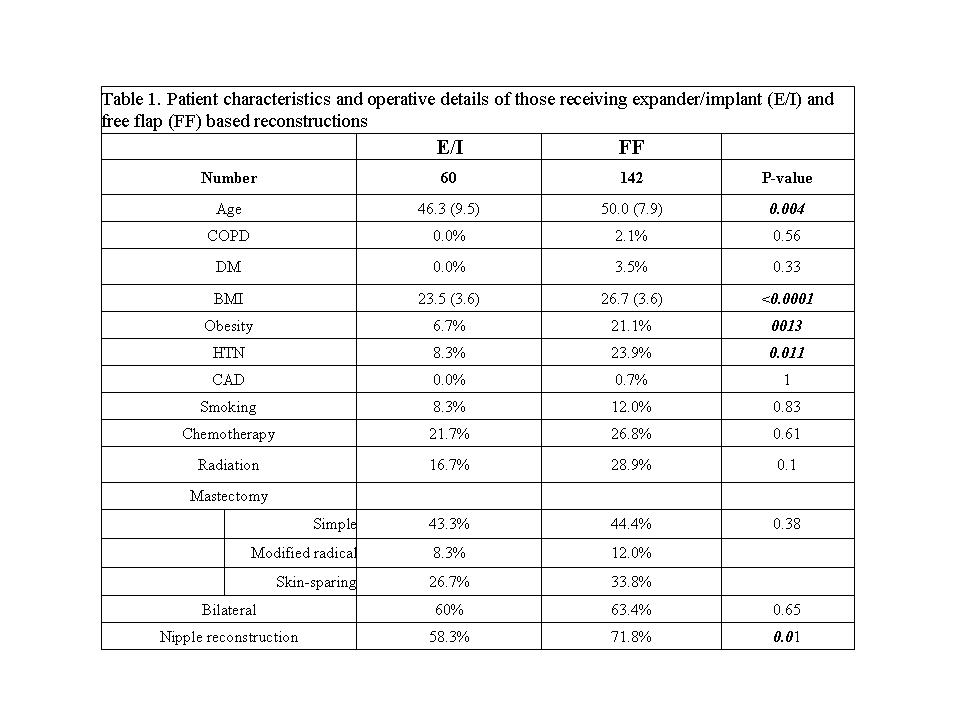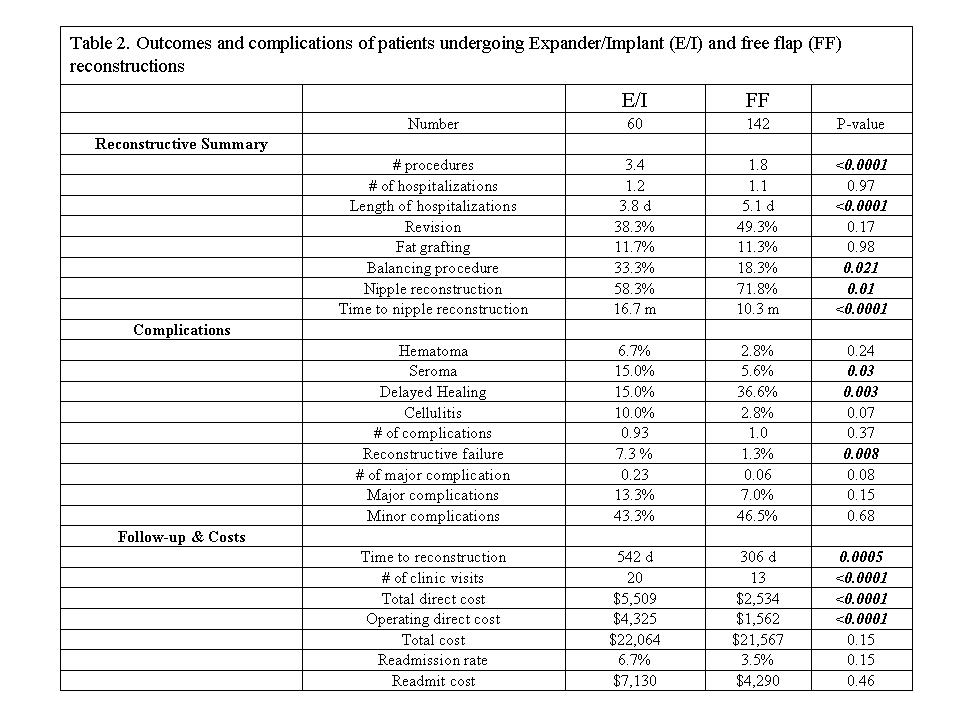 ---
Back to Annual Meeting Program