---
Porcine Acellular Dermal Matrix (Strattice) reduces Morbidity in Ventral Hernia Repair in Renal and Pancreas Transplant Patients
Jamil A. Matthews, MD, Jennifer Sabino, MD, Ronald Silverman, MD, Devinder Singh, MD.
University of Maryland Medical Center, Baltimore, MD, USA.
Introduction: Incisional hernia is a morbid complication of abdominal solid organ transplantation. Due to the required immunosuppression, this group of patients is prone to wound healing complications such as wound infection, fascial dehiscence and hernia recurrence after repair. A number of techniques have been employed for ventral and incisional hernia repair including synthetic mesh and biologics such as human acellular dermal matrix (Alloderm), porcine acellular dermal matrix (Strattice). Despite the range of repair options, biologic mesh holds promise as a durable repair for ventral hernias with fewer complications in high-risk wounds than synthetic mesh. However, a number of institutions refrain from using biologics due to the paucity of clear clinical data and its high costs. Strattice, a porcine derived acellular dermal matrix often used in breast reconstruction has demonstrated promise as a cheaper alternative to human derived biologics for use in ventral hernia repair in high-risk patients. The goal of our study was to compare our experience with Strattice to Alloderm and synthetic mesh for incisional hernia repair in transplant patients.
Methods: A retrospective, single center review of patients who underwent ventral hernia repair with Strattice following pancreas and/or renal transplantation at the University of Maryland Medical Center between 2008 to 2012 was conducted. Outcomes examined were type of repair, post-operative infection, hernia recurrence, mesh removal and length of follow-up. These results were compared to patients with liver, renal or pancreas transplants that underwent ventral or incisional hernia repair with synthetic mesh or Alloderm at our institution from 2000-2005.
Results: A total of 87 patients met the criteria for our study. Of these, 27 patients underwent ventral hernia repair with Strattice with a mean follow up of 9.34 months, 34 had Alloderm and 26 were repaired with synthetic mesh, both with a mean follow-up of 26 months. The rate of wound infection in these groups was 15, 15, and 65% respectively. Rates of recurrence were 7.4, 24 and 77% respectively. The rate of mesh removal was 7.4, 69.2 and 11.8% respectively (Figure 1). These complication rates were significantly reduced in Alloderm and Strattice compared to synthetic mesh (p<.001). When comparing the rate of complications relative to the presence of specific comorbidities, the incidence of complications was reduced with Strattice compared to all other techniques in the presence of diabetes mellitus and obesity (Figure 2; BMI>30). Significance not specified.
Conclusion: The use of Strattice in ventral hernia repair following pancreas and/or kidney transplant significantly reduces the incidence of hernia recurrence, wound infection and need for mesh removal compared to synthetic mesh. There is no difference in the incidence of morbidity between Alloderm and Strattice in this high-risk patient population.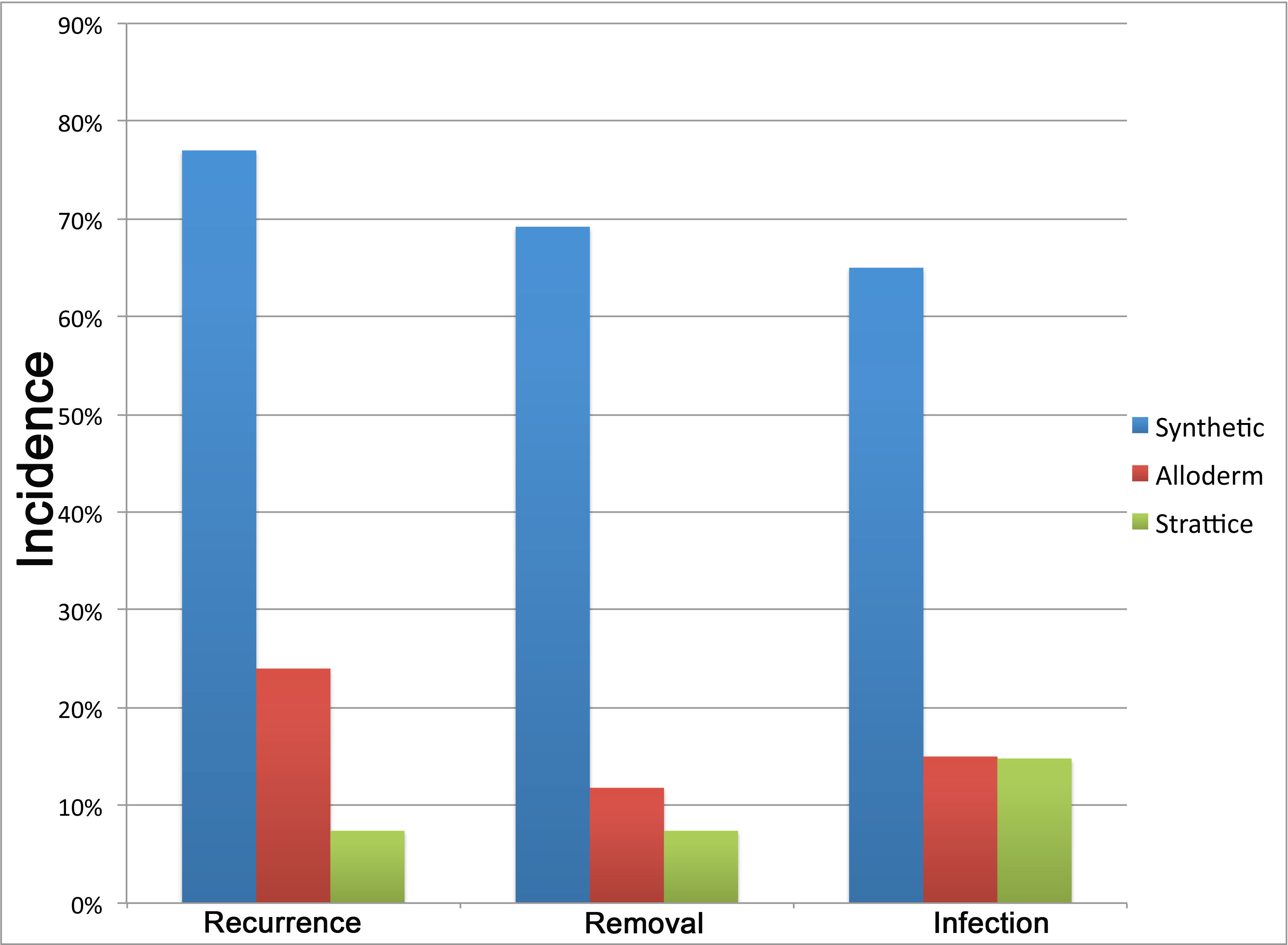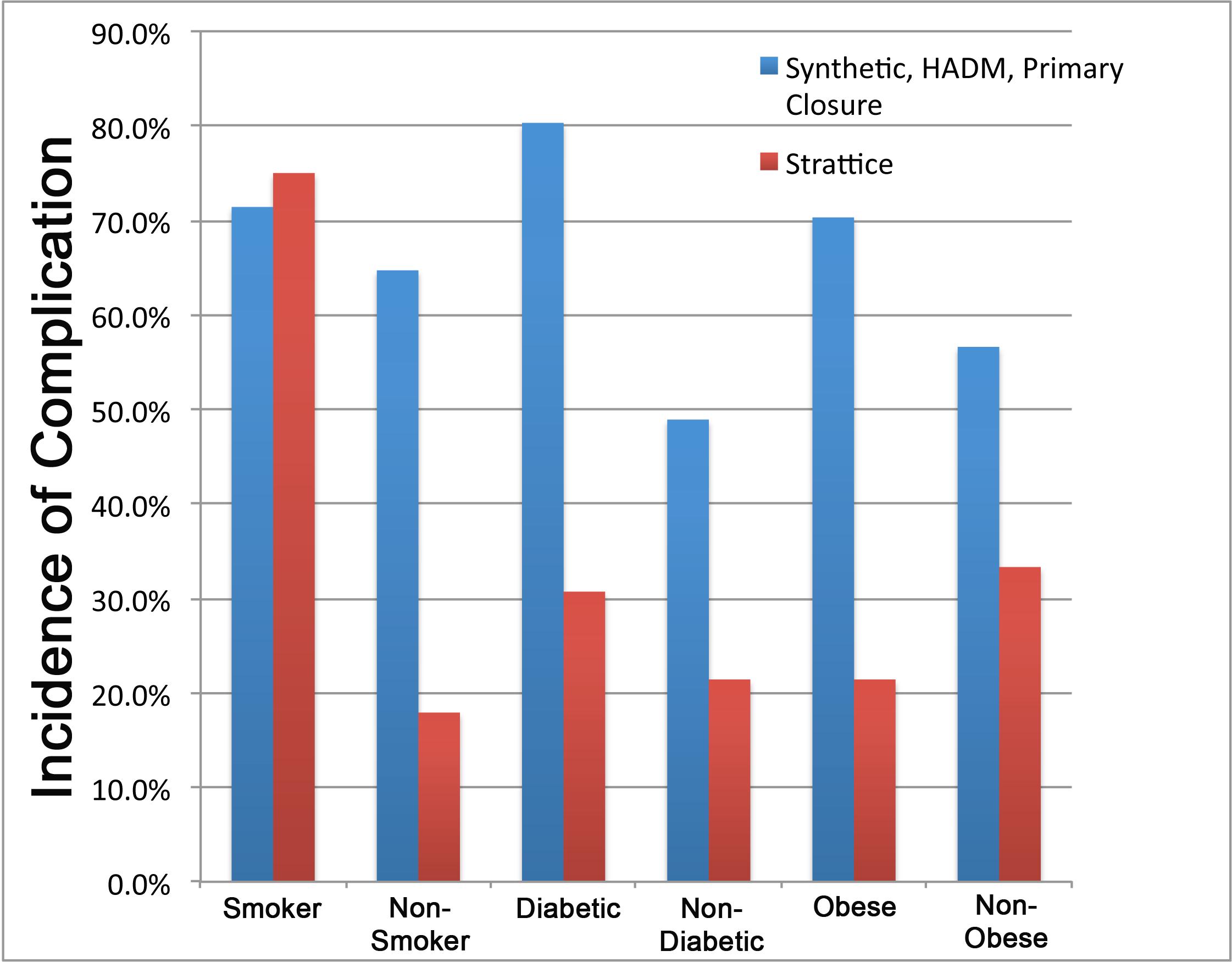 ---
Back to Annual Meeting