---
Nipple-Sparing Mastectomy in Patients with a History of Reduction Mammaplasty or Mastopexy: an Updated Experience Demonstrating its Safety
Michael Alperovich, MD1, Mihye Choi, MD1, Neil Tanna, MD, MBA2, Fares Samra, MD3, Keith M. Blechman, MD4, Diego Ayo, MD1, Richard L. Shapiro, MD1, Amber A. Guth, MD1, Deborah M. Axelrod, MD1, Nolan S. Karp, MD1.
1New York University Medical Center, New York, NY, USA, 2North Shore - Long Island Jewish Health System, Manhasset, NY, USA, 3University of Pennsylvania Health System, Philadelphia, PA, USA, 4MD Anderson Cancer Center, Houston, TX, USA.
BACKGROUND: Nipple-sparing mastectomy has gained popularity, but the question remains whether it can be offered safely to women with prior history of reduction mammaplasty or mastopexy. Significant breast surgery in the past may have an increased theoretical risk to the nipple-areolar complex and mastectomy flap viability. Presented is our updated experience with offering nipple-sparing mastectomy to this patient population.
METHODS: Patients at our institution who had reduction mammaplasty or mastopexy prior to nipple-sparing mastectomy were identified and their records reviewed. Outcomes measured include nipple-areolar complex viability, mastectomy flap necrosis, infection, cancer in the nipple-areolar complex and breast cancer recurrence.
RESULTS: The records of our nipple-sparing mastectomy patients from 2006 through 2012 were reviewed. We present eleven patients (n=19 breasts) who underwent nipple-sparing mastectomy following reduction mammaplasty or mastopexy. Seventeen breasts had reduction mammaplasties while the remaining two had mastopexies. In all cases, reduction mammaplasty or mastopexy were in the patient's surgical history and not performed as part of a planned two stage nipple-sparing mastectomy procedure.
The mean age of the patients was 47.5 and the mean BMI was 27.6. None of the patients in this subset were diabetic, and one patient was a smoker. Twelve breasts had therapeutic resections, and seven were for prophylactic indications. Average time elapsed between reduction mammaplasty or mastopexy and nipple-sparing mastectomy was 104.3 months (range, 33 days to 40 years).
Fourteen patients were reconstructed immediately with tissue expanders, one with a latissimus dorsi flap with immediate implant and four with immediate transverse rectus abdominis myocutaneous free flaps. Prior reduction mammaplasty or mastopexy incisions were used in all cases.
Complications included one hematoma requiring evacuation, one breast with mastectomy flap necrosis, and one displaced implant requiring revision. There were no positive subareolar biopsies. Nipple viability complications included a partial necrosis rate of 15.8% with no cases of complete necrosis. Mean follow-up time was 14.5 months.
CONCLUSIONS: Our updated experience demonstrates that the outcomes of nipple-sparing mastectomy in patients with a history of reduction mammaplasty or mastopexy are comparable to the standards for patients who undergo nipple-sparing mastectomy alone. Patients presenting for mastectomy and reconstruction can be offered nipple-sparing mastectomy despite significant breast surgery in the past.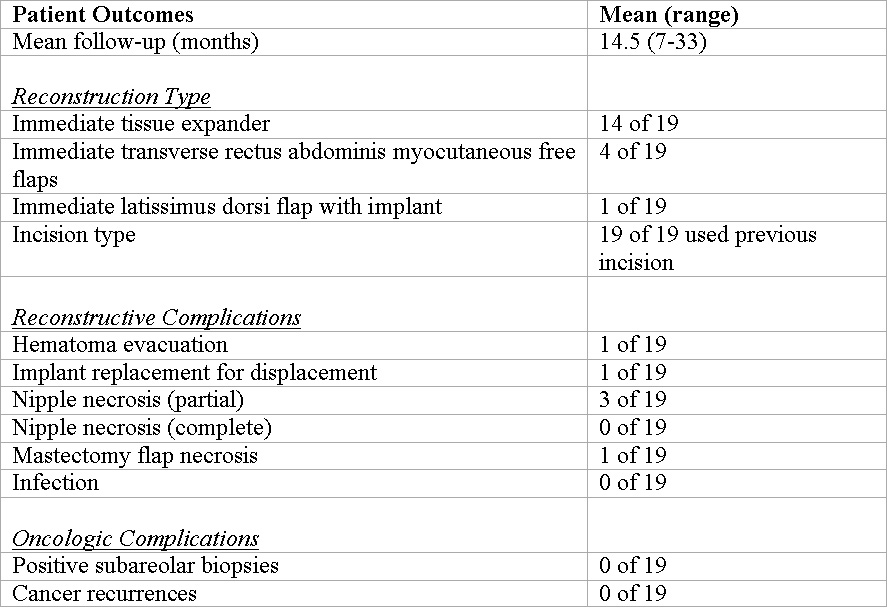 ---
Back to Annual Meeting