---
Management of Vascular Anomalies and Related Conditions Using Suction-Assisted Tissue Removal
Javier A. Couto, BS, Reid A. Maclellan, MD, MMSc, Arin K. Greene, MD, MMSc.
Boston Children's Hospital, Harvard Medical School, Boston, MA, USA.
Background: Vascular anomalies and related conditions cause overgrowth of tissues. Complications include psychosocial morbidity, functional disability, infection, and skin changes. Management consists of observation or resection of affected areas. The purpose of this study was to determine the efficacy and safety of liposuction techniques for pediatric overgrowth diseases.
Methods: Patients treated between 2007 and 2015 that had post-operative follow-up were reviewed. The diagnosis of the overgrowth condition was made by history, physical examination, and imaging. Patient gender, age, type of disease, location of enlargement, and morbidity were recorded. Outcome variables were improvement in patient symptoms, volume reduction, recurrence, and complications.
Results: Eighteen patients met inclusion criteria; the median age was 12.6 years (± 8.3 years). The causes of overgrowth included infiltrating lipomatosis (n=7), capillary malformation (n=6), arteriovenous malformation (n=1), hemihypertrophy (n=1), infantile hemangioma (n=1), lipedema (n=1), and macrocephaly-capillary malformation (n=1). Forty-four percent had enlargement of an extremity, 44% had facial overgrowth, and 11% had expansion of the trunk. All subjects had a reduction in the size of the overgrown area that resulted in improved quality of life (Figure).
Conclusions: Suction-assisted tissue removal is an effective and safe technique to remove subcutaneous tissue for patients with pediatric overgrowth diseases. The outpatient procedure gives long-term reduction in size and improves quality of life. This technique is less invasive and morbid, compared to skin/subcutaneous resections using long incisions and skin flaps.
Legend: (Left) 3 year-old female with hemihypertrophy of the right upper extremity. (Right) Improved contour following aspiration of 150cc of subcutaneous tissue.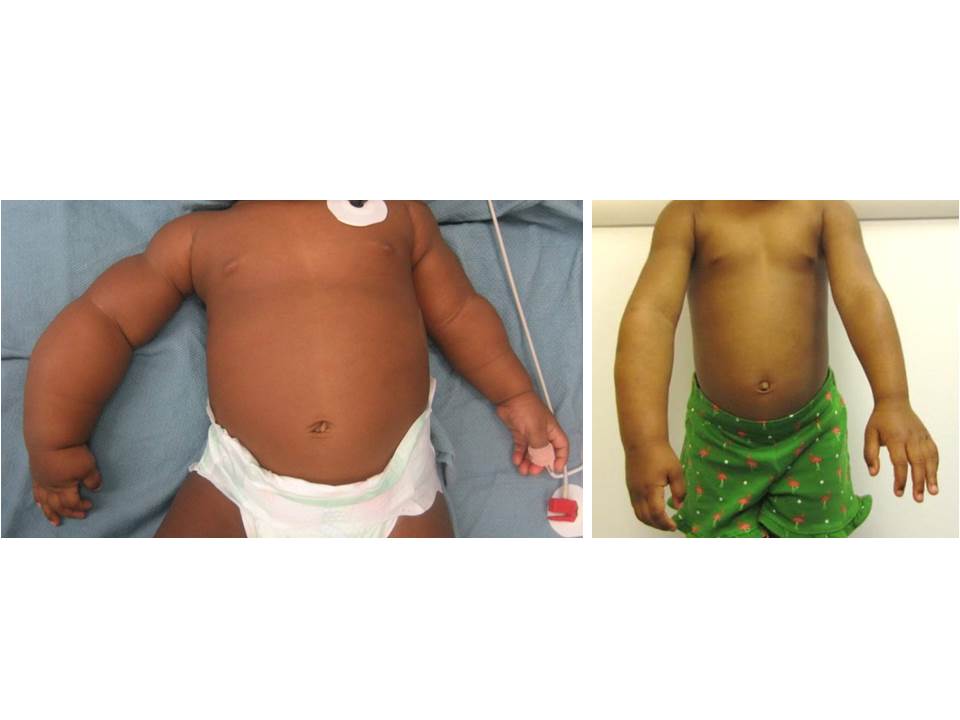 ---
Back to 2015 Annual Meeting