---
Head- to-Head Comparison of Outcomes and Cost of Breast Reconstruction in Patients with a History of Chest Wall Radiation: Differences between Free Flap, Latissimus Dorsi/Implant, and Tissue Expander/Implant Reconstructions
Jonathan R. Sarik, MD, Andrew R. Bauder, BA, Liza C. Wu, MD, Joseph M. Serletti, MD, John P. Fischer, MD.
University of Pennsylvania, Philadelphia, PA, USA.
BACKGROUND:Breast reconstruction in patients with previous radiation to the chest is plagued by increased complications and poor cosmetic results compared to non-irradiated patients. Selecting the best reconstruction method in these patients continues to be a challenge for reconstructive surgeons. The aim of this study is to compare outcomes and cost of breast reconstruction using tissue expander/implant (E/I), latissimus dorsi flap with implant (Lat/I), and abdominal-based autologous free flap (FF) breast reconstruction in patients with a history of ipsilateral breast/chest wall radiation.
METHODS:We performed a retrospective chart review of patients with a history of radiation therapy undergoing breast reconstruction at our institution. Patient/operative characteristics as well as outcomes and cost data were collected. The primary outcome of interest was reconstruction failure. Univariate analysis was conducted to assess for factors associated with reconstruction failure.
RESULTS:From 1/1/2005-7/30/2013 426 patients with a history radiation therapy underwent breast reconstruction (Table 1). There were 21 E/I, 37 Lat/I and 368 FF reconstructions. The incidence of reconstruction failure was 4.0% (N=17) and varied by reconstruction modality with E/I reconstruction being independently associated with reconstruction failure (Reference = FF; E/I RR 9.974 [3.58-26.49])(Table 2). The incidence of reconstruction failure was 23.8% (N=5) in the TE/Implant cohort, 8.1% (N=3) in the Lat/Implant cohort and 2.4% (N=9) in the FF cohort. E/I (RR=6.37 [2.22-18.33]) and Lat/I reconstructions (RR =3.62 [1.21-10.79]) were associated with post-operative infection (Tables 2 and 3). There was a trend toward higher initial cost for FF reconstruction, however total cost accumulation was not different between the groups (Figure 1).
CONCLUSIONS:Breast reconstruction using E/I or Lat/I in patients with a history radiation therapy is associated with an increased incidence of infection and E/I reconstruction is associated with increased incidence of reconstruction failure compared to patients who undergo abdominal-based free flap breast reconstruction.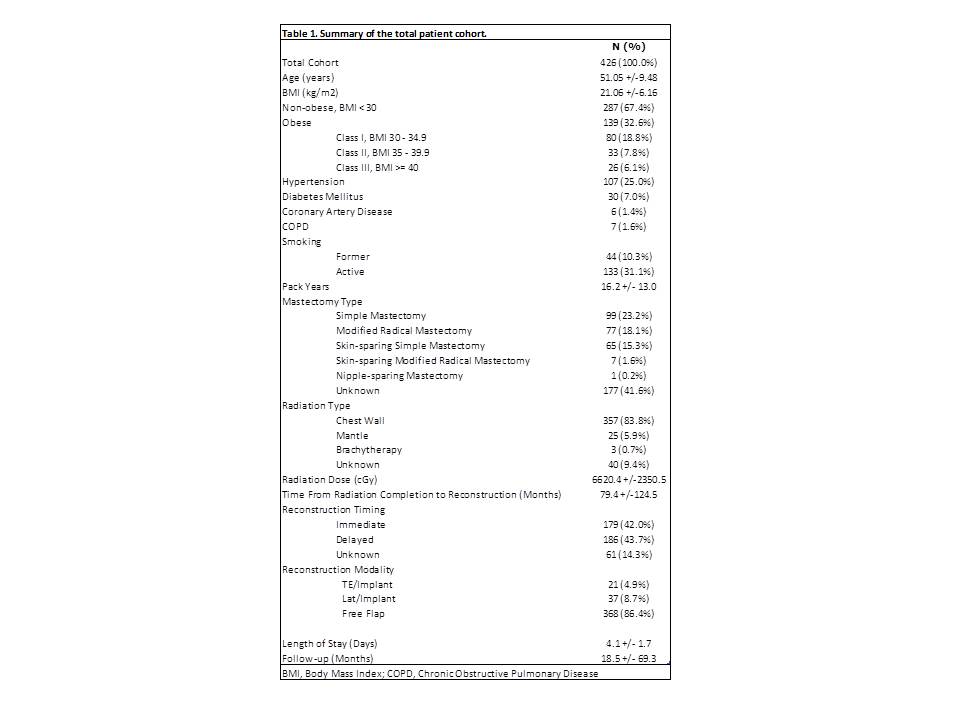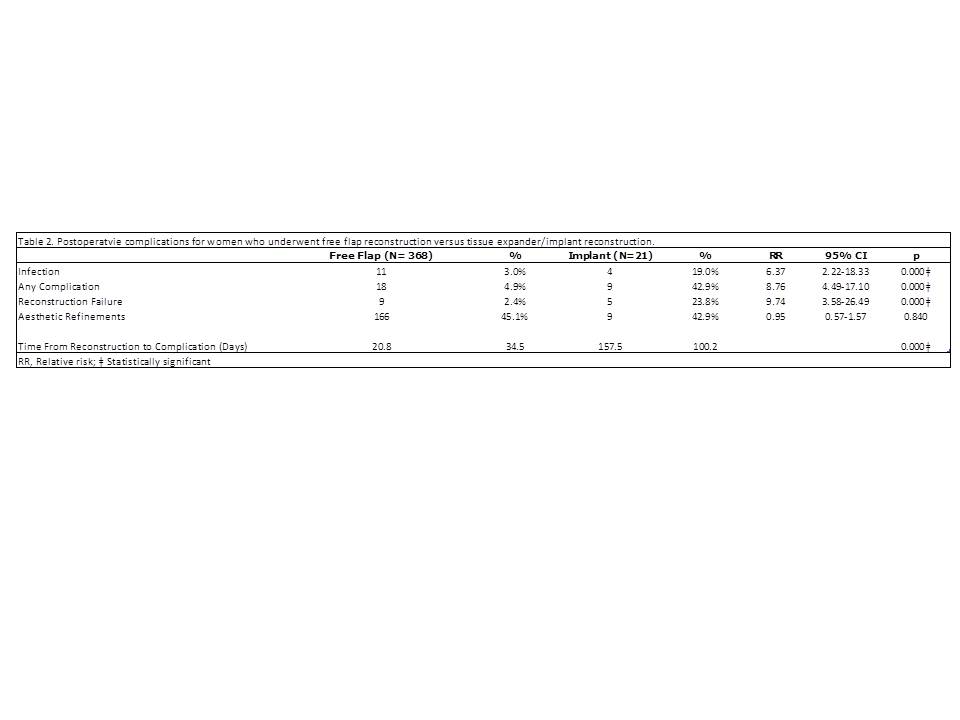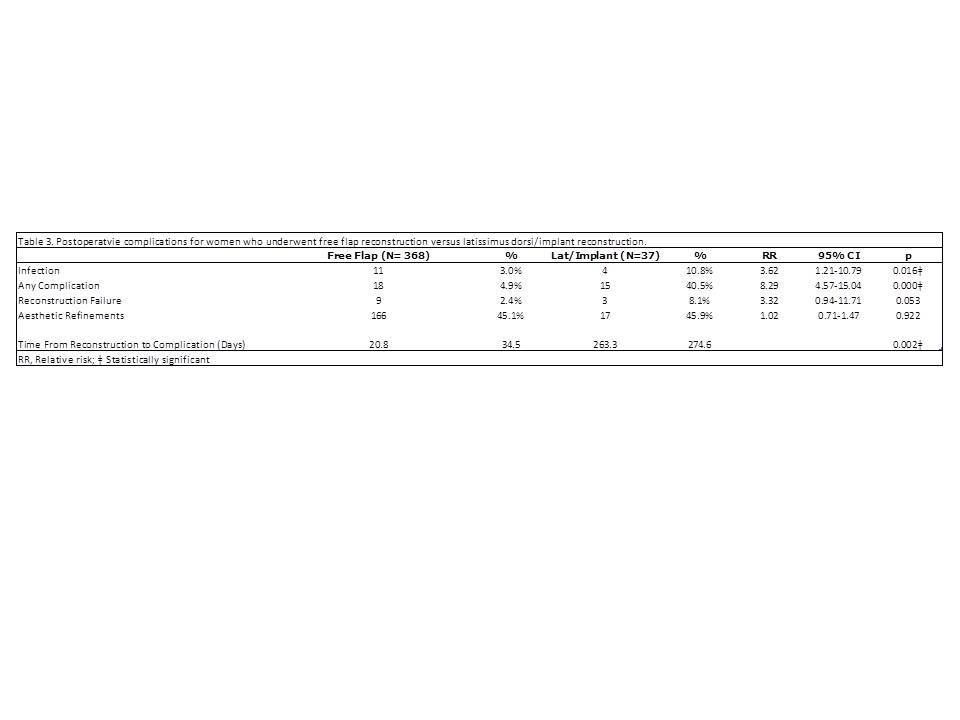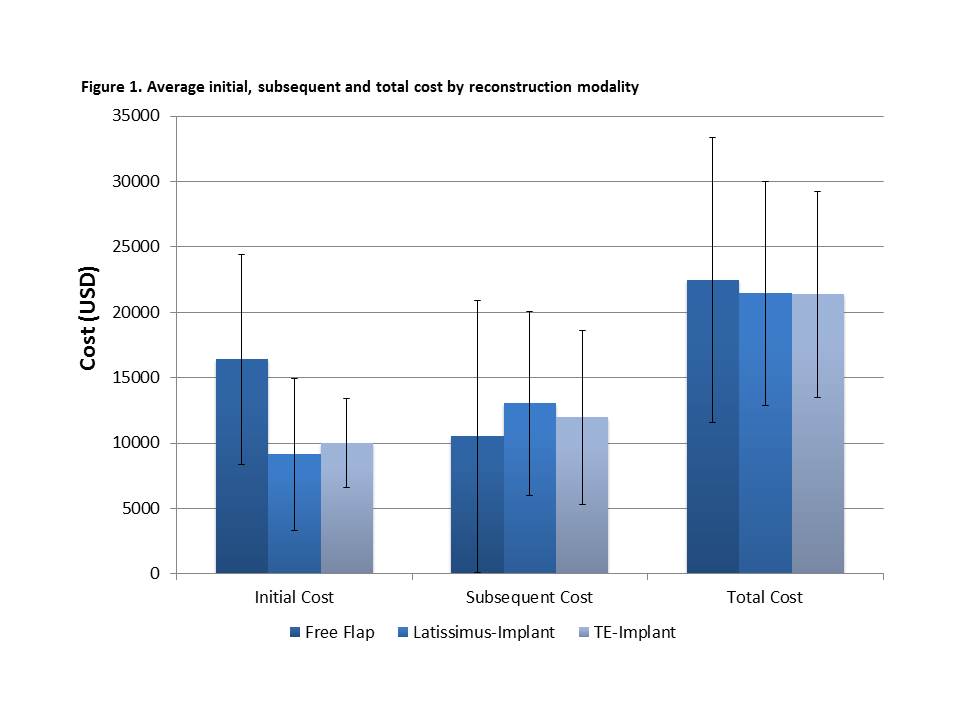 ---
Back to 2015 Annual Meeting