---
THE PERIOSTEO-CUTANEOUS FLAP FOR DISTAL FINGERTIP INJURIES
Alexander J Kaminsky, MD, MPH1, John Grimsley, MS2, Shitel Patel, MD1, Vineet Mehan, MD3.
1INOVA Fairfax Hospital, Falls Church, VA, USA, 2Georgetown University, Washington, DC, USA, 3Private Pratice, Falls Church, VA, USA.
Background: Traumatic fingertip defects, often requiring reconstruction, are a common injury seen by plastic surgeons. The aim of fingertip reconstruction is to provide durable coverage of the tip, preserve functional length, maintain function, and provide a quick return to pre-injury activity. While there are many technical options for managing these injuries, no clear gold standard has emerged. Our novel flap design includes dissecting a subperiosteal plane along the injured distal phalanx volar aspect and then incising the periosteum distal to the insertion of the flexor tendon and pulling the soft tissue envelope forward along with its neurovascular bundle.
Methods: Between 2010 and 2014, 70 patients underwent reconstruction of fingertip injuries by one senior author (VM) using the periosteo-cutaneous flap at INOVA Fairfax Hospital, 9 of which met criteria for inclusion, and had full follow up data. Outcomes were evaluated based on flap viability, function (QuickDASH), sensation (2 point discrimination test and cold intolerance), range of motion, and aesthetics.
Results: The mean active range of motion (ROM) values were 64.3 degrees for the DIP joint (range 40 - 90), 76.9 for the PIP/IP joint (50 - 90) and 73.4 for the MP joint (range 50 - 90). The mean QuickDASH score was 3.51 (Range 0 - 9) and the mean cold intolerance score was 2.22, 5.22 (range 0,0 - 6,16). Mean aesthetic outcome score was 4.33 out of 5 (range 3 - 5). Mean 2-point discrimination test was 3.11mm on the ulnar side of the repaired digit (range 2mm - 4mm) and 2.56mm on the radial side (range 2mm - 4mm).
Conclusions: Proper reconstruction of the fingertip is of vital importance in effort to retain fine motor skills, precise sensation and hand aesthetics. The results demonstrate the perioesto-cutaneous flap can preserve function, sensibility, length and achieve an acceptable aesthetic outcome. Additionally, it is a quick, reliable, and simple method that takes advantage of the more superficial plane of the neurovascular bundle. This technique offers a safe and effective alternative to other established fingertip reconstructions and minimizes immobilization times or issues with stiffness often seen with thenar or cross finger flaps. The periosteo-cutaneous flap is safe, reliable, and should be apart of the armamentarium of procedures for hand surgeons who encounter distal fingertip injuries.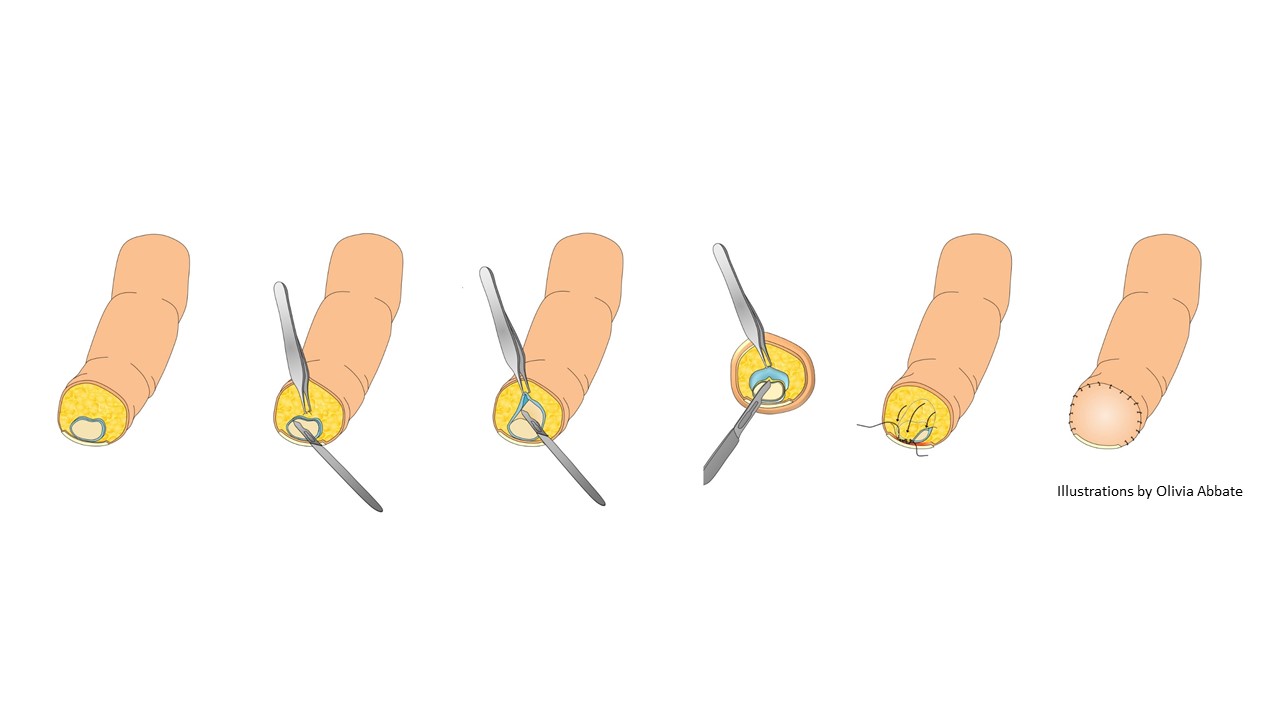 ---
Back to 2015 Annual Meeting