---
The relationship between geographic access to plastic surgeons and immediate breast reconstruction rates among women undergoing mastectomy for cancer
Andrew R. Bauder, B.A., Cary P. Gross, M.D., Brigid Killelea, M.D., M.P.H., Paris D. Butler, M.D., M.P.H., Stephen J. Kovach, M.D., Justin P. Fox, M.D., M.H.S..
University of Pennsylvania, Philadelphia, PA, USA.
Background: Despite a national healthcare policy requiring payers to cover breast reconstruction, rates of post-mastectomy reconstruction are low, particularly among minority populations. We conducted this study to determine if geographic access to a plastic surgeon impacts breast reconstruction rates or contributes to existing disparities in care.Methods: Using 2010 inpatient and ambulatory surgery data from Arkansas, Arizona, California, Florida, Nebraska, Nevada, New York, and Utah, we identified adult women who underwent mastectomy for breast cancer with or without reconstruction within 1 year of surgery. Data were aggregated to the health service area (HSA) level where mastectomy was performed and hierarchical generalized linear models were used to risk-standardize breast reconstruction rates (RSRR) across HSAs. Correlation coefficients were then calculated to quantify the relationship between an HSA's RSRR and plastic surgeon density (surgeons/100,000 population).
Results: The final cohort included 20,550 women treated across 113 HSAs. At the HSA level, RSRR (Q1=32.5%, median=42.7%, Q3=59.1%) and plastic surgeon density (Q1=0.0/100,000 population, median=1.4/100,000, Q3=2.6/100,000) varied widely. Higher plastic surgeon density was positively correlated with breast reconstruction rates (correlation coefficient=0.66, p-value <0.001; see Figure 1). Further, the time between mastectomy and reconstruction was shorter in areas with greater plastic surgeon density, decreasing from 36.7 days in areas with less than 1 plastic surgeon per 100,000 population to 9.6 days in areas with more than 3.0/100,000 (p-value <0.001). Increasing plastic
surgeon density did not improve reconstruction rates for all women equally, with marked disparities remaining among non-white women and those with public forms of insurance (see Figure 2).Conclusions: The lack of geographic access to a plastic surgeon serves as a barrier to breast reconstruction for some women. However, socio-demographic factors remain associated with low reconstruction rates despite plastic surgeon availability. Existing health policy efforts focused on improving access to immediate breast reconstruction should consider the asymmetric distribution of the plastic surgeon workforce.
Figure 1. Scatter plot showing the relationship between plastic surgeon density (x-axis) and risk-standardized breast reconstruction (y-axis) rates at the HSA level.
Figure 2. Risk-standardized, breast reconstruction rates (lines) across different patient race and insurance status sub-groups by plastic surgeon density (x-axis).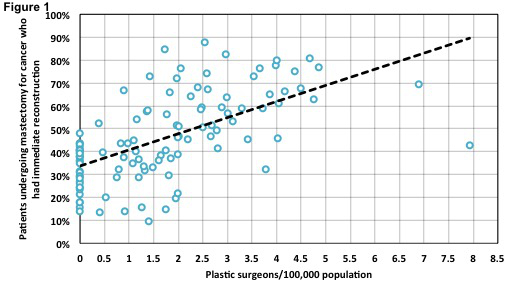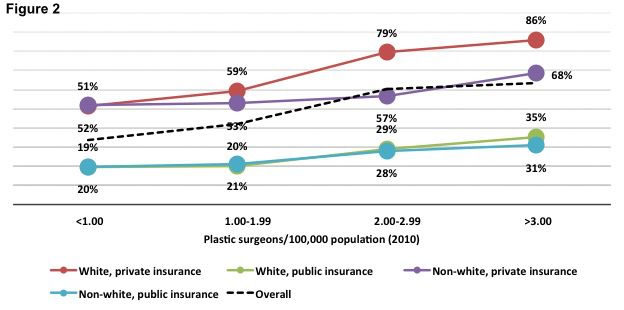 ---
Back to 2015 Annual Meeting