---
XPAND: Columbia's Experience with Patient-Controlled Tissue Expansion for Breast Reconstruction
Adam Jacoby, BA1, Jordan Ireton, MD2, Jeffrey A. Ascherman, MD1.
1Columbia University, New York, NY, USA, 2University of Texas Southwestern, Dallas, TX, USA.
BACKGROUND:Breast cancer is one of the most common cancer diagnoses for women in the United States. Mastectomy can be curative but involves functional and psychosocial consequences. Reconstruction aims to alleviate these adverse sequelae, and two-stage implant reconstruction with saline tissue expanders is the most common reconstructive technique. Tissue-expansion, however, is not without its limitations, requiring frequent office visits for saline injections, which can be an uncomfortable process. Here, we describe our institution's updated experience with a novel, patient-controlled tissue expander, which allows patients to expand at home, obviating the need for percutaneous saline injections. With this system, patients are able to use a remote control device to release carbon dioxide gas from a chamber within the expander, potentially reducing expansion time and the discomfort associated with saline tissue expansion.
METHODS:Women between the ages of 18 and 70 who requested breast reconstruction after mastectomy, and wished to enter our trial, were randomized in a 2:1 ratio to receive either the experimental device or a traditional saline expander. The patient-controlled expander allows self-administration of a 10 cc carbon dioxide dose every three hours for a maximum of 3 daily doses. Patients randomized to the saline expander group underwent in office saline injections every 2-3 weeks until expansion was complete. Both groups were monitored closely until exchange for permanent implants. Length of expansion, reconstruction time, complications, and patient satisfaction were compared.
RESULTS:We have enrolled 34 patients in the trial to date, and used a total of 36 experimental devices. When compared with our control group, patients in our patient-controlled expansion group experienced significantly shorter expansion times (22 vs. 95 days, p<.001), and overall reconstruction times (115 vs. 182 days p<.01) (Figures 1 and 2). All patients in the experimental group who finished expansion recommended the device to others. Complications related to the experimental device included overexpansion, but this has not occurred with the most current version of the device.
CONCLUSIONS:The patient-controlled tissue expander significantly shortens expansion time, avoids percutaneous injections, and is associated with high patient satisfaction. Given our experience with CO2 tissue expansion to date, we feel the potential benefits over traditional saline expansion are quite promising.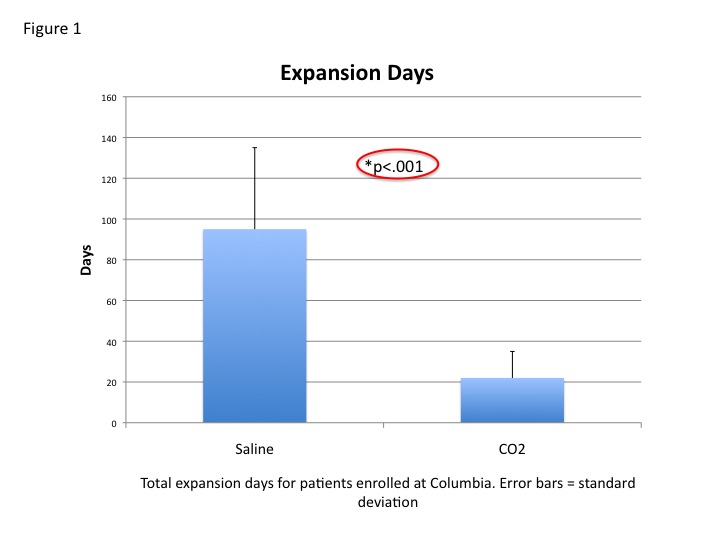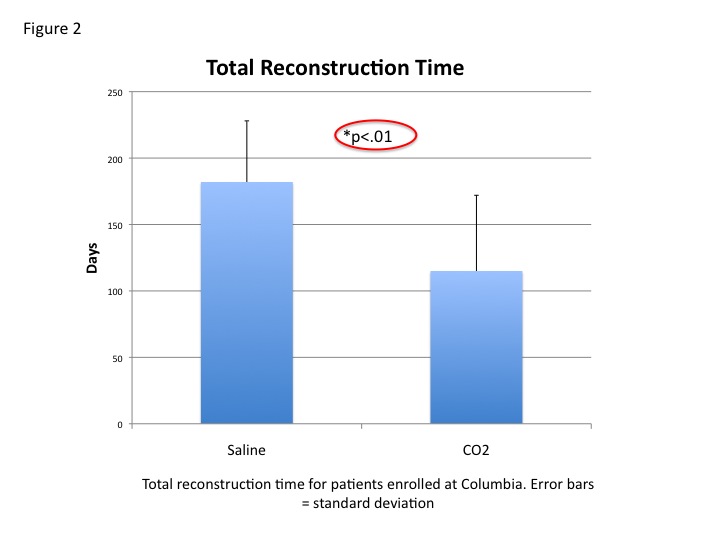 ---
Back to 2015 Annual Meeting