---
Proximal Interphalangeal Joint Silicone Arthroplasty: Long Term Clinical Outcomes in Osteoarthritis
Nima Naghshineh, MD MSc1, Kanu Goyal, MD2, Mithun K. Neral, MD3, Alexey Markelov, MD1, Joel Ferrieira, MD1, Joseph E. Imbriglia, MD4, Glenn A. Buterbaugh, MD4.
1University of Pittsburgh - UPMC, Pittsburgh, PA, USA, 2The Ohio State University, Columbus, OH, USA, 3Case Western Medical Center, Cleveland, OH, USA, 4Hand & Upper Ex Center, Wexford, PA, USA.
BACKGROUND:
The proximal interphalangeal (PIP) joint is the third most common site of nonrheumatic arthritis in the hand. The related pain, limited joint mobility, and deformity can be disabling. Arthrodesis can provide pain relief and stability, but at the cost of loss of range of motion (ROM). Silicone arthroplasty was introduced as a method to relieve pain with preservation of function and ROM. We aim to report our long-term clinical outcomes and patient satisfaction with the use of these implants.
METHODS:
A cross-sectional review of subjects who had PIP arthroplasty for nonrheumatic arthritis was performed. Clinical assessment included range of motion, grip/pinch strength, deformity, and DASH score. Subjective evaluation of function, satisfaction, and pain relief was assessed using a patient questionnaire.
RESULTS:
47 fingers in 23 patients with a mean and median follow-up of 45 months were analyzed. Mean age was 62.8 years; 87% were female; with a mean duration of symptoms of 3.4 years prior to surgery. Figure 1 shows finger distribution. There was no difference in the pre (59.6°) and post-operative (59.8°) active ROM (p=0.97). Silicone PIP arthroplasty resulted in significant improvement in pain (7.5 to 2.2, p<0.001) and DASH (47.6 to 27.2, p<0.001) scores. There was no difference between the operative and non-operative hand with respect to key pinch (10.5 vs 11.8, NS) and grip strength (40.3 vs 47.6, NS). Patient subjective reports were excellent, showing improvement in pain, deformity, and function in most.
CONCLUSIONS:
Our study has shown that silicone PIP arthroplasty provides considerable pain relief, near normal grip/pinch strength, improved function and high satisfaction for patients in the long term.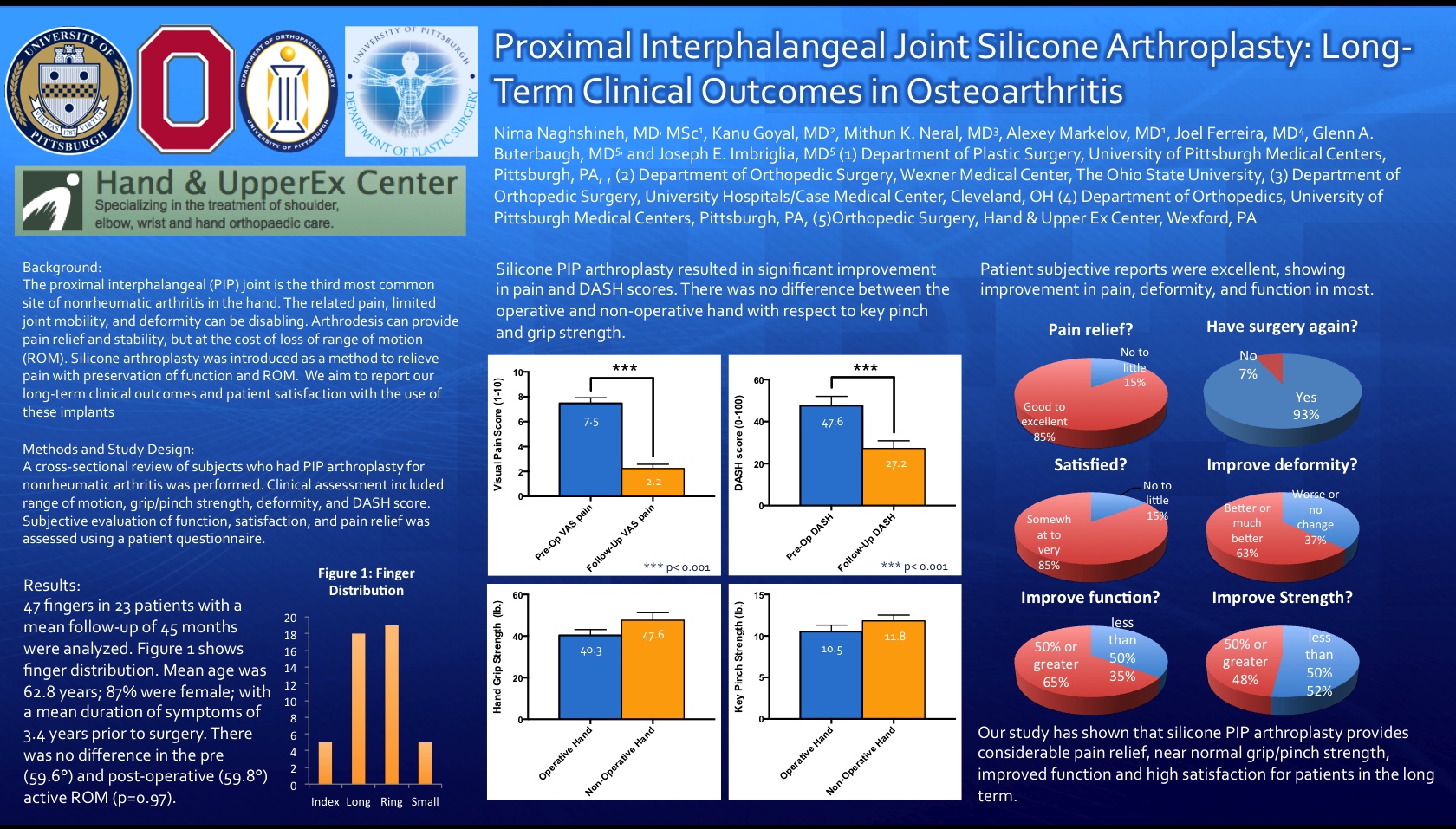 ---
Back to 2015 Annual Meeting