---
What Lies Beneath the Surface: The Architecture of Fat Grafting
Debra Bourne, MD, Isaac James, MD, Sheri Wang, BS, Kacey Marra, PhD, J. Peter Rubin, MD.
University of Pittsburgh, Pittsburgh, PA, USA.
BACKGROUND:
Fat grafting is an important and versatile procedure, but it is limited by unpredictable volume retention. Grafted tissue via plasmatic imbibition until neovascularization occurs. As a result, grafted fat must be deposited within 2mm of a blood supply to survive. This study aims to better understand the architecture of fat deposits within the recipient bed following fat grafting.
METHODS:
Fat was harvested by liposuction and stained with methylene blue. Stained fat was grafted into 4x4x2cm sections of pannus at six graft to recipient volume ratios (1:1, 1:2, 1:4, 1:6, 1:8 and 1:10). Each tissue block was cut into 2-3mm sections for stained graft visualization. The mean diameter of fat deposits was analyzed by ANOVA with post-hoc Tukey testing. The number of fat deposits with radius greater than 2mm was calculated and compared using Fisher Exact comparisons. p≤0.05 was considered significant.
RESULTS:
As the volume ratio of grafted fat decreased, the mean fat deposit diameter (Figure 1) decreased significantly (p<0.001) from 1:1 (0.574±0.046cm), to 1:2 (0.404±0.034cm), to 1:4 (0.305±0.024cm), to 1:6 (0.184±0.018cm). As the volumes continued to decrease, the mean diameter continued to decrease, but significance was not reached between 1:8 (0.180±0.018cm) and 1:10 (0.148±0.014cm). Similarly, the percentage of deposits with radius greater than 2mm (Figure 2) decreased significantly (p<0.001) as volume ratio decreased from 1:1 (70.1%), to 1:2 (47.2%), to 1:4 (22.6%), to 1:6 (2.3%).
CONCLUSIONS:
Volume loss after fat grafting is related to central necrosis of bulky fat deposits. As the total volume transferred increases, grafted deposits coalesce to form larger globules, likely contributing to central necrosis and subsequent volume loss. This study demonstrates that as the total volume of fat transferred exceeds a ratio of 1:4, the average diameter of individual fat deposits increases significantly, and the percentage with radius greater than 2mm (which would be expected to undergo central fat necrosis) increases significantly.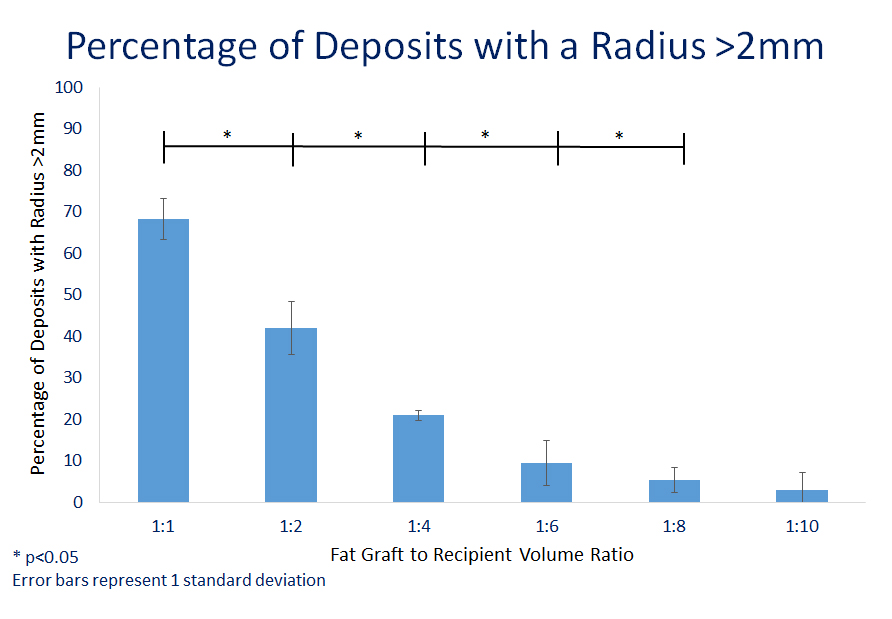 ---
Back to 2015 Annual Meeting