---
A Systematic Meta-Analysis of Outcomes following Direct-to-Implant versus Conventional Two-Stage Implant Breast Reconstruction
Marten N. Basta, MD1, Patrick A. Gerety, MD1, Naveen M. Krishnan, MD, MPhil2, Joseph M. Serletti, MD1, Stephen J. Kovach, III, MD1, John P. Fischer, MD1.
1University of Pennsylvania School of Medicine, Philadelphia, PA, USA, 2Georgetown University Hospitals, Washington DC, DC, USA.
BACKGROUND: Innovative reconstructive techniques and emerging advances in implant design have ushered in an era of breast reconstruction in which direct-to-implant (DTI) procedures can provide an immediately reconstructed breast. Although the health benefit of avoiding multiple operations is clear, DTI reconstruction is technically challenging and requires careful patient selection. This study aimed to evaluate the safety and efficacy of using DTI reconstruction versus conventional 2-stage reconstruction through a systematic review and meta-analysis.
METHODS: A literature search was conducted to identify all articles published after 1999 involving prosthetic-based breast reconstruction as a 2-stage tissue expander/implant (TE/I) or DTI technique. The primary outcomes of interest, including implant loss, capsular contracture, reoperation, and infection, were analyzed via head-to-head meta-analysis.
RESULTS: 13 studies involving 5,216 breast reconstructions were included. The average age of the sample was 47.2 +/- 1.0 years and BMI averaged 24.9+/-0.8 mg/k2. TE/I reconstructions (n=2,417) were exchanged for permanent implants 9.0 months after expander placement, with a final volume of 416 cc2. DTI prosthetics (n=2,799) averaged a volume of 389 cc2, and ADM use was comparable between the two groups (DTI: 45.3%, TE/I: 45.2%). Average follow-up was 40.8 months. Wound infection, seroma, hematoma, and capsular contracture risk were similar between groups. However, DTI reconstruction was associated with a higher risk for skin flap necrosis (OR=1.43, p=0.01, I2=51%) and reoperation (OR=1.25, p=0.04, I2=43%). Ultimately, the risk for implant loss was nearly 2-fold higher with DTI reconstruction compared to TE/I (OR=1.87, p = 0.04, I2=33%).
CONCLUSIONS: Though DTI and conventional 2-stage TE/I reconstruction are both associated with high success rates, this meta-analysis demonstrates significantly greater risk of flap necrosis, implant failure, and unplanned reoperation with DTI reconstruction. Because skin flap necrosis appears to be the most notable wound complication unique to DTI reconstruction, our findings suggest that the critical component of patient selection is judgment of mastectomy flap tissue quality and integrity. These results can assist in the risk counseling process for patients and highlight the need for larger prospective cohort studies to better assess outcomes.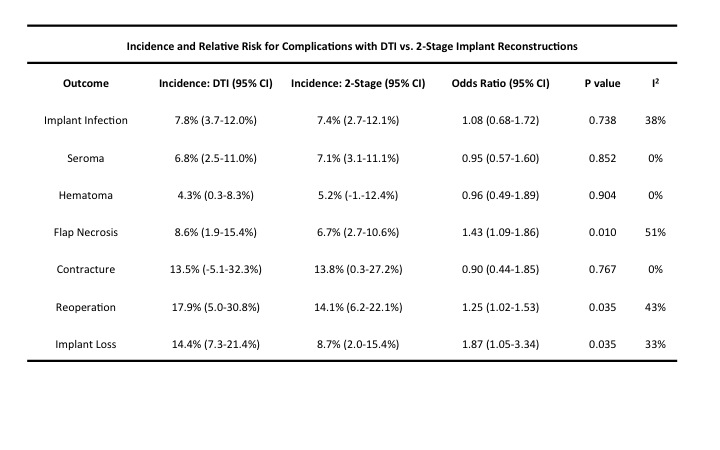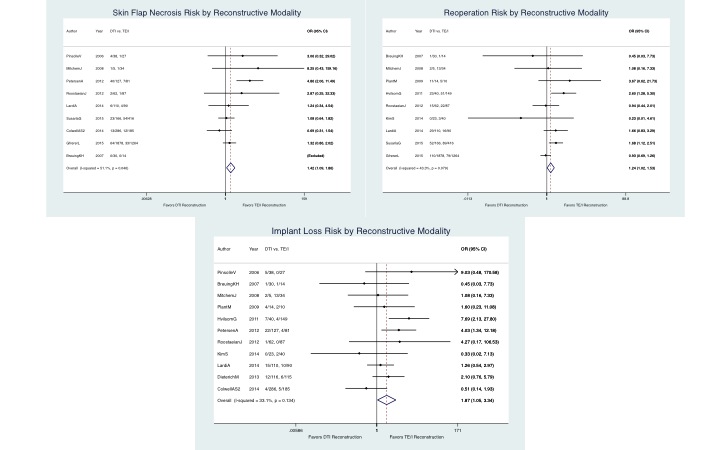 ---
Back to 2015 Annual Meeting