---
Reliable Prediction of Post-Mastectomy Lymphedema: the Risk Assessment Tool Evaluating Lymphedema (RATE-L)
Marten N. Basta, MD, Liza C. Wu, MD, FACS, Suhail K. Kanchwala, MD, Joseph M. Serletti, MD, FACS, Julia C. Tchou, MD, PhD, Stephen J. Kovach, III, MD, Joshua Fosnot, MD, John P. Fischer, MD.
University of Pennsylvania School of Medicine, Philadelphia, PA, USA.
BACKGROUND: Breast cancer-related lymphedema remains a significant complication after mastectomy. Currently, a substantial void exists in the literature for an accurate, implementable lymphedema risk prediction tool. The ability to reliably stratify patients at risk for lymphedema may better inform healthcare resource allocation and improve outcomes. The aim of this study was to identify predictors for lymphedema after mastectomy in an effort to develop a simple, accurate risk-assessment tool.
METHODS: A retrospective chart review was performed identifying all women with breast cancer undergoing mastectomy at our institution with post-operative upper limb lymphedema as the primary outcome. A stepwise multivariate Cox regression was conducted to identify independent predictors of lymphedema. A simplified risk assessment tool was derived and composite risk estimated for each patient.
RESULTS: 3,136 patients averaging 52.8 years were included. Post-mastectomy lymphedema was diagnosed in 325 (10.4%) of patients with average follow-up of 4.2 years (1.0-14.8). The most significant predictors included invasive cancer diagnosis (HR=2.25 [1.70-2.98], p<0.001), post-mastectomy radiation (HR=2.05 [1.58-2.66], p<0.001), age over 65 years (HR=1.90 [1.44-2.50], p<0.001), and axillary dissection (HR=1.79 [1.39-2.31], p<0.001). Stratified lymphedema risk by group was: Low Risk-6.2%, Moderate Risk-10.0%, High Risk-16.4%, and Extreme Risk-36.4%. Risk factor and composite risk score model discrimination was C=0.78 and C=0.77, respectively.
CONCLUSIONS: Cumulative incidence of post-mastectomy lymphedema was 10.4%. Significant modulators of risk included invasive cancer diagnosis, chemoradiation, and extent of axillary intervention. We propose a simple risk-assessment tool for lymphedema (the RATE-L) offering significant risk discrimination ranging from 6.2-36.4%. Outcomes and delivery of cost-effective healthcare may improve with more selective treatment approaches.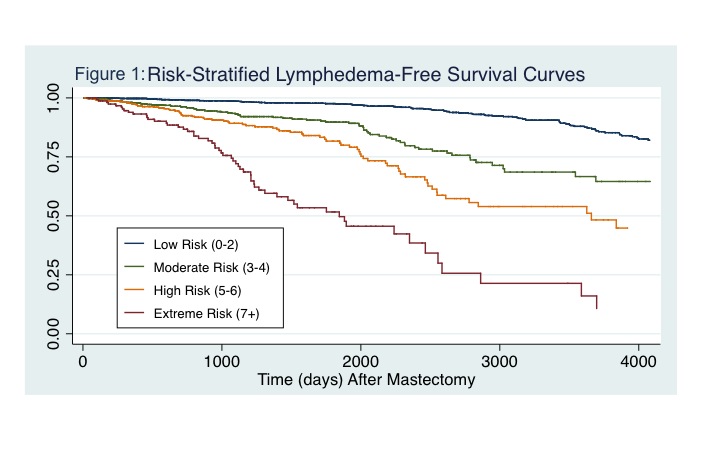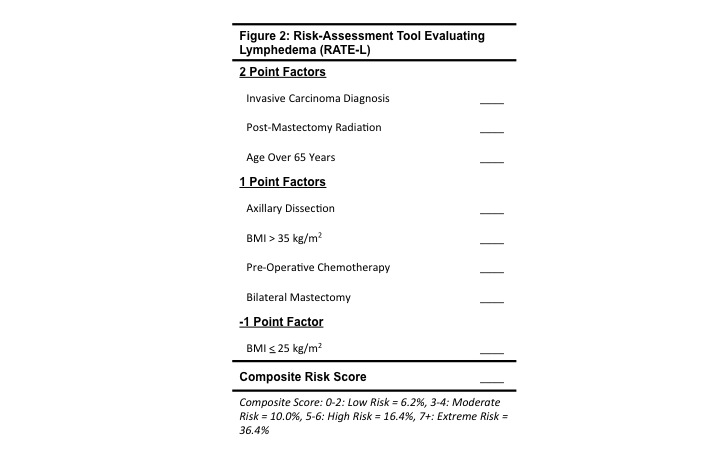 ---
Back to 2015 Annual Meeting