---
Evidence of Retinal Blood Flow, Aqueous Humor Dynamics and Relatively Preserved Blood-Ocular and Aqueous-Vitreous Barriers are seen an Orthotopic Whole Eye Transplant Model
Maxine R. Miller, MD1, Yang Li, MD PhD2, Chiaki Komatsu, MD1, Hongkun Wang, MD1, Bo Wang, BS3, Yolandi van der Merwe, BEng3, Leon Ho, BEng3, Nataliya Kostereva, PhD1, Tigran Kostanyan, MD3, Wensheng Zhang, MD PhD1, Bo Xiao, MD PhD2, Edward H. Davidson, MA (Cantab.) MBBS1, Mario G. Solari, MD1, Michael B. Steketee, PhD3, Shuzhong Guo, MD PhD2, Jeffrey L. Goldberg, MD PhD4, Larry Benowitz, MD, PhD5, Lawrence Kagemann, MD3, Gadi Wollstein, MD3, Joel S. Schuman, MD3, Kevin C. Chan, PhD3, Vijay S. Gorantla, MD PhD1, Kia M. Washington, MD1.
1VCA Lab, Department of Plastic and Reconstructive Surgery, University of Pittsburgh, Pittsburgh, PA, USA, 2Department of Plastic and Reconstructive Surgery, Xijing Hospital, Fourth Military Medical University, Xi'an, China, 3UPMC Eye Center, Department of Ophthalmology, University of Pittsburgh, Pittsburgh, PA, USA, 4Shiley Eye Center, University of California San Diego, La Jolla, CA, USA, 5Department of Neurosurgery, Harvard University, Boston, MA, USA.
Background: Approximately 39 million people worldwide suffer from blindness. The permanent nature of vision loss is largely due to the inability of retinal ganglion cells to regenerate. Whole eye transplantation (WET) gives the opportunity to provide viable retinal ganglion cells and an entire optical system to recipients with irreversible vision loss. The purpose of our study is to evaluate viability, structural integrity, aqueous humor dynamics and microstructural optic nerve integrity in our orthotopic whole eye transplant model.
Methods: Syngeneic transplants were performed in Lewis (RT1l) rats. Donor flaps are composed of ocular tissue anterior to the optic chiasm, the skin of the eyelid and external ear. Recipient sites are prepared by removing a similar region of skin and ocular tissue with the optic nerve cut at the base of the globe. Grafts are transplanted to the recipient and vascular anastomoses are performed, as are nerve appositions between donor and recipient optic nerves. Slit lamp examination, Optical Coherence Tomography (OCT) and histological analyses were performed to evaluate the viability and structural integrity of the transplanted eye. Gadolinium (Gd)-enhanced MRI was employed to evaluate aqueous humor dynamics and ocular tissue permeability. (DTI) was used to study optic nerve microstructural integrity.
Results: 15 of 22 rats survived the surgical procedure with the maintenance of visual transparency of the anterior eye as evidenced by slit lamp examination. A variable degree of peripheral corneal neovascularization was seen in the transplanted eyes of the 15 surviving rats. OCT confirmed transparency of the central cornea and lens and retinal blood flow. Histology confirmed corneal neovascularization and the relative preservation of the retina layers with the exception of a degree of retinal nerve fiber layer and ganglion cell layer thinning. Gd-enhanced MRI revealed the presence of aqueous humor dynamics in the transplanted eye, and preserved blood-ocular and aqueous-vitreous barrier integrity. DTI depicted compromised microstructural integrity in the prechiasmatic optic nerve on the side of the transplant.
Conclusion: We have established a viable orthotopic model for vascularized whole eye transplantation in the rat. Relative maintenance of structural integrity, viability and aqueous humor dynamics were observed. The model is excellent for studying viability, functional return and immunology in WET.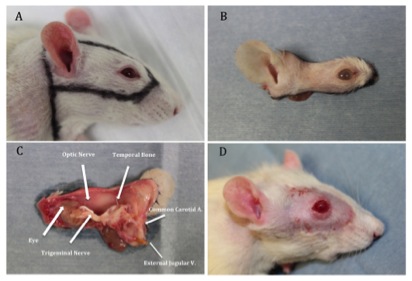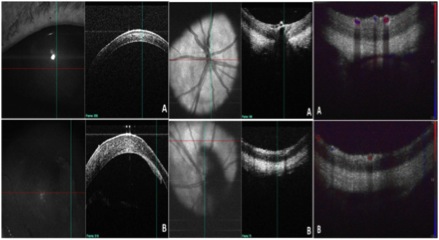 Figure 1: A., B. & C. Donor hemi-face flap D. Long term survival of the WET transplanted recipent Figure 2. OCT. COntrol (top row) Transplant (bottom row) Figure 3. T1-weighted images at 0-10 min (left) and 60-70 min (right) after Gd administration 3 weeks after WET
---
Back to 2015 Annual Meeting