---
Risk Factors for Readmission Following Breast Reconstruction
Paymon Sanati-Mehrizy, BA, Benjamin B. Massenburg, BA, Peter J. Taub, MD.
Icahn School of Medicine at Mount Sinai, New York, NY, USA.
BACKGROUND: In an era of outcomes-driven medicine, awareness of pre-operative and post-operative variables that increase risk for complications, including hospital readmission, are critical. While risk factors for complications after breast reconstruction have previously been described, factors relating to hospital readmission after discharge have not been identified. This study aimed to identify specific independent risk factors for readmission after breast reconstruction, including possible patient-based variables and factors during the post-operative hospital course.
METHODS: The American College of Surgeons National Surgical Quality Improvement Program (ACS-NSQIP) database 2011 - 2012 was queried for patients undergoing breast reconstruction via the following CPT codes: 19361, 19364, and 19366-19369. Univariate logistic regression analysis was performed to identify significant associations between preoperative risk factors and post-operative readmission within a 30-day period. Additionally, analysis was performed to identify associations between post-operative complications and subsequent readmission. Multivariate logistic regression analysis was then performed in order to identify independent risk factors associated with this adverse outcome.
RESULTS: A total of 12,500 patients undergoing breast reconstruction were identified, and 11,444 patients met inclusion criteria. Of these included cases, 662 (5.8%) were readmitted within 30 days. Surgical complications, including superficial surgical site infection, deep incisional surgical site infection, organ/space surgical site infection, and wound dehiscence, was the most common post-operative complication (11.59% of all cases). Multivariate regression analysis identified multiple pre-operative risk factors associated with readmission: obese patients were 1.61 times as likely to be readmitted, and patients with a history of smoking were 1.52 times as likely to be readmitted. History of diabetes, however, was not identified as an independent risk factor for this adverse event. Additionally, occurrence of post-operative pulmonary (odds ratio = 3.84), thromboembolic (OR = 27.68), and surgical complications (OR = 25.56) were independent risk factors for readmission within 30 days.
CONCLUSIONS: This study identifies a number of independent risk factors associated with readmission within 30 days after breast reconstruction. Surgeon aware of such risk factors allows for effective surgical planning, risk assessment, and possible efforts of risk reduction for patients planning for breast reconstruction.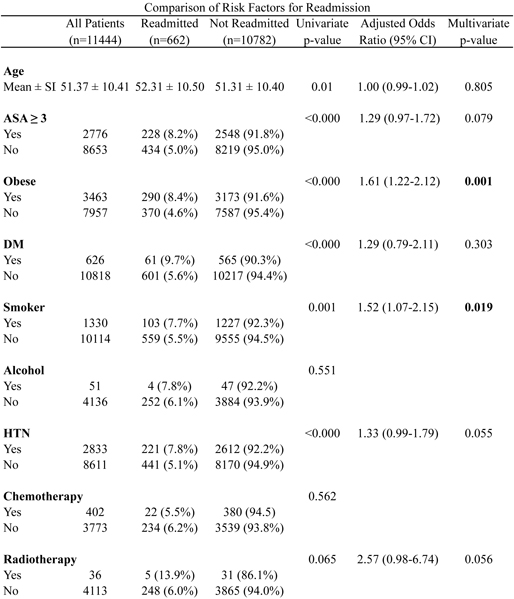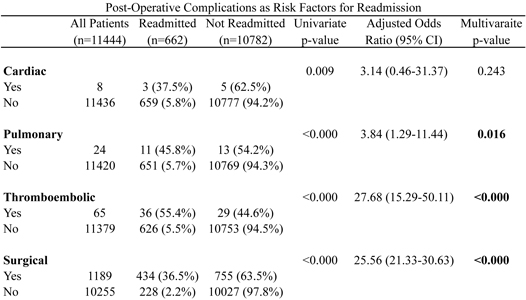 ---
Back to 2015 Annual Meeting