---
Adipose tissue derivatives for improved scar remodeling in a thermal burn model
Dylan Perry, BA, Jorge Lujan-Hernandez, M.D., Ava G. Chappell, BA, So Yun Min, Raghu Appasani, BA, Raziel Rojas-Rodriguez, Michael S. Chin, M.D., Silvia Corvera, M.D., Janice F. Lalikos, M.D..
University of Massachusetts Medical School, Worcester, MA, USA.
BACKGROUND:
Burn injuries can lead to hypertrophic or keloid scars, pruritus, limited mobility across joints, and disfigurement. Options for scar treatment include laser therapy, silicone sheets, steroid injection, and excision and skin grafting. However, they lack optimal efficacy or are costly and morbid. Prior studies suggest adipose derived stem cells (ADSCs) and processed lipoaspirate can improve healing and scar outcomes of acute thermal wounds. Additionally, there have been clinical reports of lipoaspirate and ADSCs improving chronic burn scar remodeling. However, this phenomenon has not been extensively studied in animal models of chronic scars. Objectives: (1) Determine if adipose tissue can accelerate and improve chronic scar remodeling and (2) Determine if the effect is related to adipose derived stem cells alone or the entire components of lipoaspirate.
METHODS:
50 CD1 nu/nu athymic mice received a standardized 70°C burn with a brass rod to the dorsal skin generating a deep partial-thickness to full-thickness burn. Digital photographs and perfusion measurements by hyperspectral imaging (HSI) were taken immediately following injury and serially over the entire study. Burned skin reliably progressed through normal stages of wound healing to form a mature scar. Lipoaspirate was obtained from a discarded human panniculectomy specimen. ADSCs were isolated from same specimen by isolating stromal vascular fraction (SVF) and ex-vivo tissue culture expansion. ADSC surface markers were examined by flow cytometry. At six weeks post-burn, animals received a single 0.6cc subcutaneous graft beneath the scar of: fresh human lipoaspirate processed with the Coleman technique (n=10), high dose (106) hADSCs in Matrigel (n=10), low dose (104) hADSCs in Matrigel (n=10), or Matrigel only (n=10). N=10 were not injected. Scars were imaged and tissue samples were harvested at 4 weeks post-injection for histological and molecular analysis.
RESULTS:
Consistent burn wound and scar formation formed in all groups over the course of six weeks. HSI oxygenated hemoblogin values in scars treated with lipoaspirate increased significantly more compared to 6-week pre-treatment baseline than all other groups (1.57x vs. 0.85x, p<0.05). Scar planimetry analysis showed reduction (-27%) in wound area in lipoaspirate treated mice compared to control groups (p<0.01, Fig 1). Preliminary blood vessel density quantification suggests increased density in lipoaspirate treated scars compared to control (Fig 1, 11.5 vessels per hpf vs. 4.8, p<0.01). Photomorphometric analysis of scar cross-sections with picrosirius red is ongoing.
CONCLUSIONS:
A reliable model of burn injury and scar maturation is described. Preliminary hyperspectral imaging, blood vessel density, and scar area analysis suggest scar improvement in lipoaspirate treated scars compared to controls. No effect was seen with ADSCs suspended in Matrigel at either concentration. Additional molecular analyses are underway to investigate the effects of these treatments on remodeling scar tissue's cellular processes.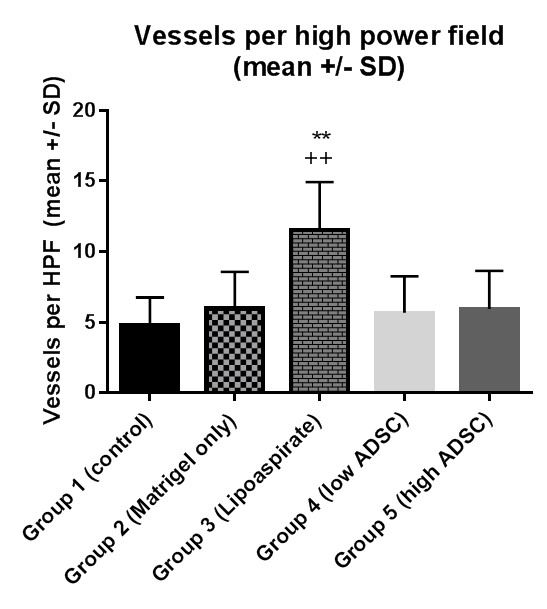 ---
Back to 2015 Annual Meeting