---
Balancing Distraction Forces in the Mandible - Newton's Third Law of Distraction
Sameer Shakir, MD, Sanjay Naran, MD, Kristen M. Lowe, DDS, MS, Ian C. Hoppe, MD, Jesse A. Taylor, MD, Scott P. Bartlett, MD.
University of Pennsylvania, Philadelphia, PA, USA.
Background:
In children undergoing vertical mandibular distraction to address occlusal cant, downward distraction cannot effectively occur until the proximal segment abuts the cranial base. Distraction force is often wasted in rotation before being exerted on vertical gain. We hypothesize that utilization of a cheek L-plate on the coronoid process to engage the zygomatic arch at time of osteotomy minimizes unwanted rotation.
Methodology:
Patients with hemifacial microsomia, seen at the Children's Hospital of Philadelphia from 2012-2016 undergoing unilateral vertical mandibular distraction with placement of cheek L-plate along the coronoid process to engage the zygomatic arch (n=3) were compared to a sample of those similarly undergoing distraction without use of the plate (n=3). Preoperative and postoperative cephalometric measures included (1) vertical distance of the affected coronoid process from the unaffected Frankfort horizontal plane, (2) angle based on this relationship, and (3) length of total distraction measured from condylion to gonion.
Results:
Age at time of distraction, Pruzanksy classification, and time between preoperative and postoperative CT imaging did not differ between groups to a significant degree. Vertical distance from the coronoid process perpendicular to the Frankfort horizontal did not differ between groups (p<0.07), however postoperative distance significantly differed with coronoid process rotating upwards into the cranial base in all patients without a cheek plate (p<0.005) (Figure 1). Preoperative angle of the coronoid process based on the Frankfort horizontal did not differ (p<0.06), however postoperative angle significantly changed, confirming upward rotation into the cranial base (p<0.01). Total regenerate did not significantly differ (p<0.08) (Figure 2).
Conclusions:
Vertical mandibular distraction results in undesirable upward rotation of the proximal segment into the cranial base. This can be prevented by fixating a cheek L-plate to engage the zygomatic arch.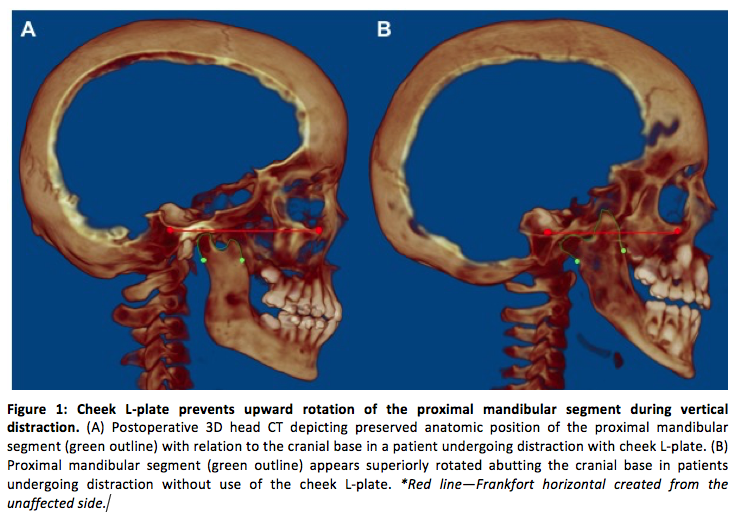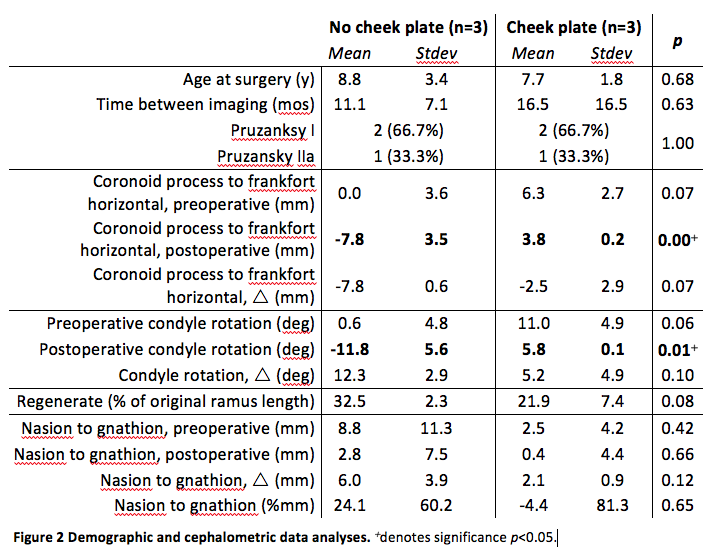 ---
Back to 2017 Program