---
Peripheral Pruning: A Safe Approach to Thinning Extra-large Anterolateral Thigh Flaps
Stephen L. Viviano, MD, Paul J. Therattil, MD, Edward S. Lee, MD, Jonathan D. Keith, MD.
Rutgers - New Jersey Medical School, Newark, NJ, USA.
BACKGROUND: Thinning of anterolateral thigh (ALT) flaps has been described to achieve optimal contouring. Previous studies caution against thinning large flaps due to the risk of vascular compromise leading to partial or total flap necrosis. This study aims to demonstrate a reliably safe method for thinning extra-large (> 240 cm2) flaps. METHODS: Thirty-five consecutive ALT flaps were performed between September 2013 and October 2015 at a single center. Of these, 31% (n=11) were thinned by sharp excision of sub-Scarpa's fat along the periphery of the flap using loupe magnification. A central cuff of fat is left to surround and protect the perforator. RESULTS: The mean size of the thinned flap group was 36% larger than the non-thinned group (n=11, 280 cm2 ± 78 cm2 versus n=24, 206 cm2 ±151 cm2). The average amount of excised fat weighed 43 g +/- 21 g. There were no cases of partial flap necrosis in the thinned flap group. A single case of total flap loss occurred in the thinned flap group secondary to hematoma formation during administration of therapeutic heparin for a mechanical heart valve. There were no other complications in the thinned flap group. CONCLUSIONS: This is the first description of thinning extra-large ALT flaps. No complications related to thinning were observed. Peripheral pruning of sub-Scarpa's fat is a safe and reliable method of thinning extra-large ALT flaps.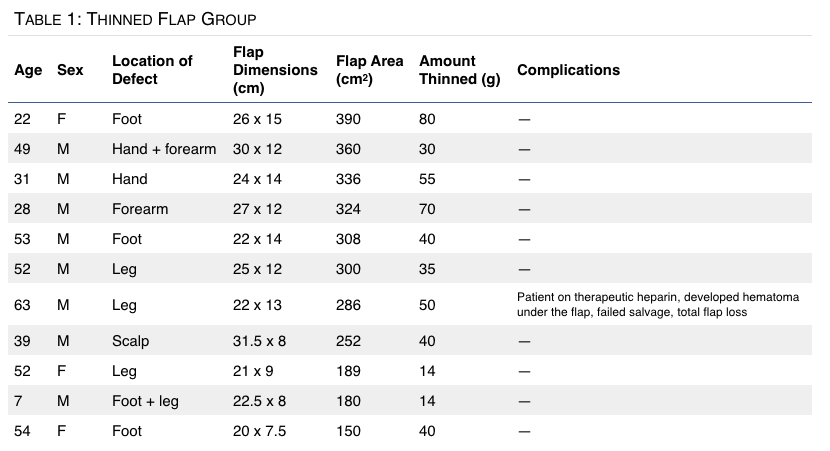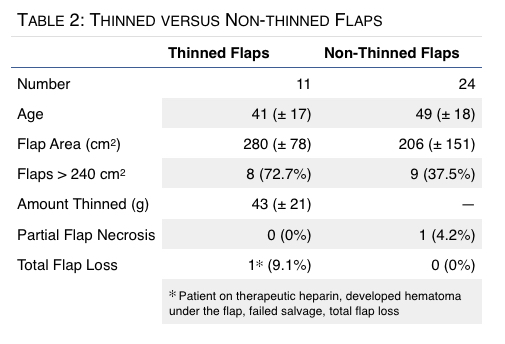 ---
Back to 2017 Program