---
The Living Intramedullary Nail: A Comparison of Vascularized Free Fibula and Bone Transport for Reconstruction of Intercalary Tibial Defects
Duncan Mackay, MD MBA, Michael Mirzabeigi, MD, Samir Mehta, MD, Jaimo Ahn, MD PhD, Derek Donegan, MD, L. Scott Levin, MD, Stephen Kovach, MD.
University of Pennsylvania, Philadelphia, PA, USA.
THE LIVING INTRAMEDULLARY NAIL: A COMPARISON OF VASCULARIZED FREE FIBULA AND BONE TRANSPORT FOR RECONSTRUCTION OF INTERCALARY TIBIAL DEFECTS.
Mackay DJD, Mirzabeigi MN, Mehta S, Ahn J, Donegan D, Levin LS, Kovach SJ
Purpose: Critically-sized intercalary tibial defects with soft tissue defects remain a challenge. Reconstruction entails soft-tissue-only free flaps over a spacer and subsequent bone transport or vascularized free osteomyocutaneous fibula flap with a Taylor Spatial Frame (TSF). To date, there has not been a direct comparison of these methods for reconstruction of combined (soft tissue and bone) intercalary tibial defects.
Methods: A series of combined intercalary tibial defects reconstructed with osteomyocutaneous free fibula flaps as a spanning, "living 'intramedullary nail" and TSF was compared to a series of combined intercalary tibial defects repaired with soft-tissue-only free flap with antibiotic impregnated spacer and subsequent bone transport in a ringed external fixator. Free fibula patients were stabilized with standard external fixator at time of index flap [Fig 2] and converted to TSF [Fig 1] and allowed full weight bearing to allow for fibula hypertrophy. Angular and rotational deformities were corrected in the TSF. Patients were compared according to size of defect, time to reconstruction, time to full weight-bearing, need for reoperation, union rates, and amputation. Patients were all followed with serial radiographs.
Results: Thirteen fibula flaps were compared with patients who underwent soft-tissue-only free flaps and bone transport. Differences were found in mean time to weight-bearing, need for revision, wound complications and need for secondary procedures. The average tibial defect was 9.8cm, and the mean length of free fibula flap was 12.3cm. Following placement of the TSF, mean time to partial weight bearing was 18 days. TSF struts were removed and patients were dynamized to full-weight bearing status at a mean of 8.5 months. Two patients experienced fractures of the free fibula from premature progression to weight-bearing status. Three patients developed clinically significant anterior apex angulation deformity resulting in shortening. The patients in the bone transport group had a longer time to weight bearing and a higher rate of secondary procedures.
Conclusions: Early reconstruction of intercalary tibial defects with vascularized soft tissue coverage is essential. Vascularized free fibula with subsequent TSF placement resulted in less need for re-operation than soft-tissue-only free flaps with bone transport. Free fibula reconstruction compared favorably in time to mean weight bearing, need for reoperation, and complication rates. Successful reconstruction of combined defects of the tibia remain challenging. Microsurgical reconstruction with living bone can reduce the time to union, weight bearing, and the need for secondary surgical procedures.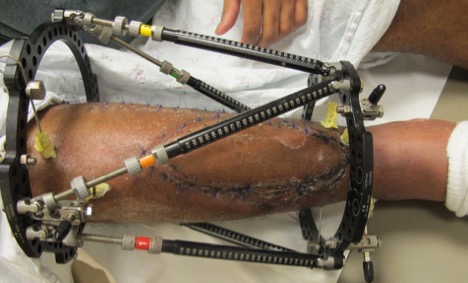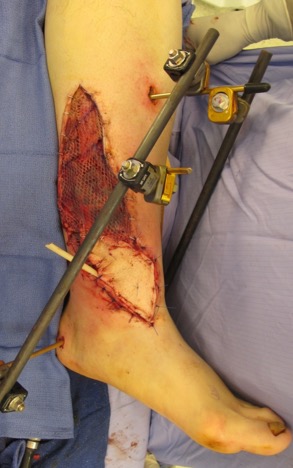 ---
Back to 2017 Program