---
Nipple-Areola Complex Malposition in Nipple-Sparing Mastectomy: A Review of Risk Factors and Corrective Techniques
Mihye Choi, M.D., Jordan D. Frey, MD, Ara A. Salibian, M.D., Nolan S. Karp, M.D..
NYU Langone Medical Center, New York, NY, USA.
Background:
Nipple-areola complex (NAC) malposition after nipple-sparing mastectomy (NSM) can be a challenging issue to correct. We aim to evaluate the incidence of and techniques for surgical correction of NAC malposition in a large cohort of patients undergoing NSM with both implant-based and autologous breast reconstruction.
Methods:
A retrospective review of all NSMs from 2006 to 2016 at a single institution was performed. Incidence, risk factors and corrective techniques of NAC malposition were analyzed.
Results:
Seventy-seven of 1037 NSMs (7.4%) underwent nipple-areola complex (NAC) repositioning. NAC asymmetry was graded as mild (<1 cm) in 42.5% of cases, moderate (1-2 cm) in 47.5%, and severe (>2 cm) in 10.0% of cases with complete photography. Over 88% of NSMs undergoing NAC repositioning were in patients who underwent bilateral mastectomy; 65.9% underwent NAC repositioning of both breasts; 44.1% were bilateral reconstructions in which only one side underwent NAC repositioning. The majority of reconstructions were tissue expander-based (54.5%) followed by abdominal microvascular free flap (MVFF) (26.0%) and immediate, permanent implant (9.1%) reconstructions. Average follow-up was 37.33 months.
The most common techniques for NAC repositioning were crescentic periareolar excision (25; 32.5%), capsule modification (14; 18.2%) and directional skin excision (10; 13.0%). The most common techniques in implant-based reconstructions were crescentic excision (36.0%) and capsule modification (28.0%) while the most common in autologous-based
reconstructions were crescentic excision (25.9%) followed by vertical mastopexy and mastopexy not otherwise specified (22.2%, each). Cases of mild NAC malposition utilized significantly different techniques for NAC repositioning compared to cases of moderate and severe NAC malposition (p<0.0001, each). NAC repositioning techniques utilized did not differ between cases of moderate and severe NAC malposition (p=0.0591).
Reconstructions requiring NAC repositioning were significantly more likely to have previous radiation (p=0.0008), a vertical or Wise pattern incision (p=0.0157), autologous reconstruction (p=0.0219), and minor mastectomy flap necrosis (p=0.0462) compared to those without NAC repositioning. Previous radiation (OR=3.6827, p=0.0028), vertical radial mastectomy incisions (OR=1.8218, p=0.0202), and autologous reconstruction (OR=1.77, p=0.0053) were found to be positive independent predictors of NAC repositioning; implant-based reconstruction (OR=0.5552, p<0.0001) was a negative independent predictor on univariate analysis.
Conclusions:
NAC malposition after NSM with implant-based or autologous reconstruction can be successfully corrected with various techniques. Previous radiation, vertical mastectomy incisions, and autologous reconstruction are independently predictive of NAC malposition.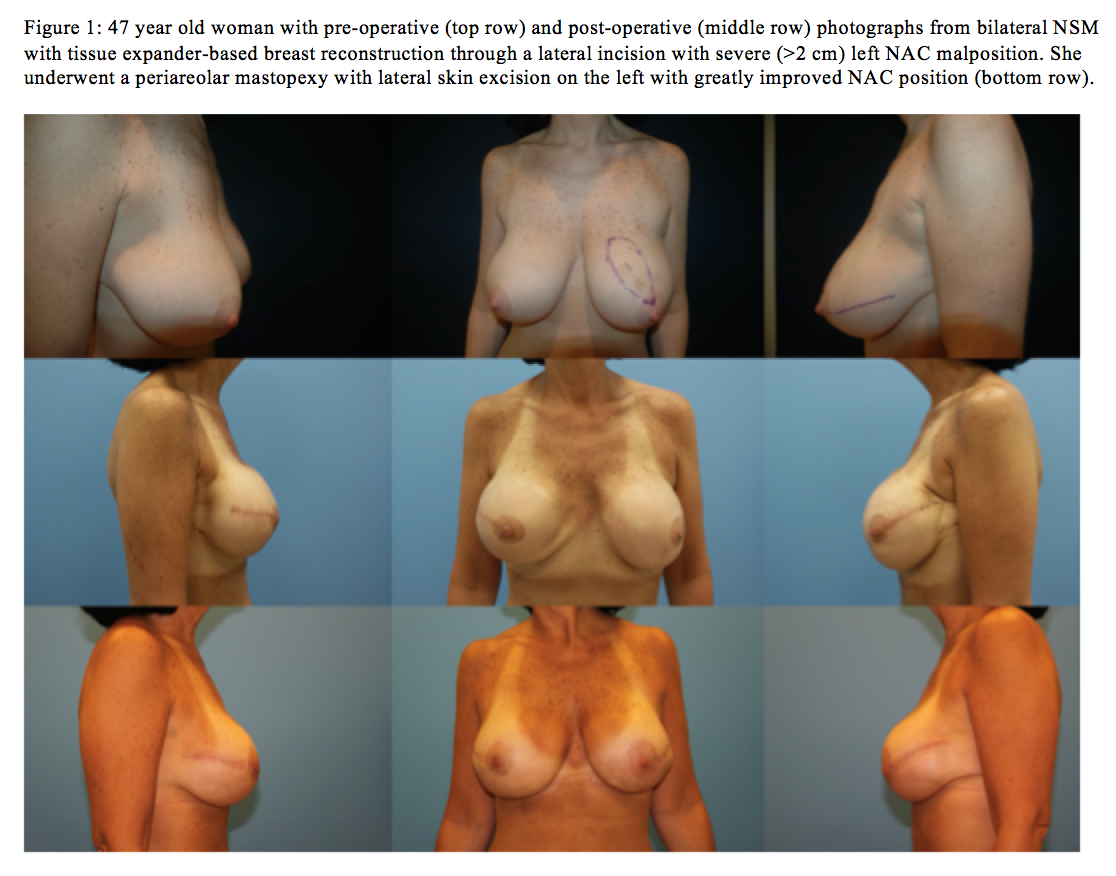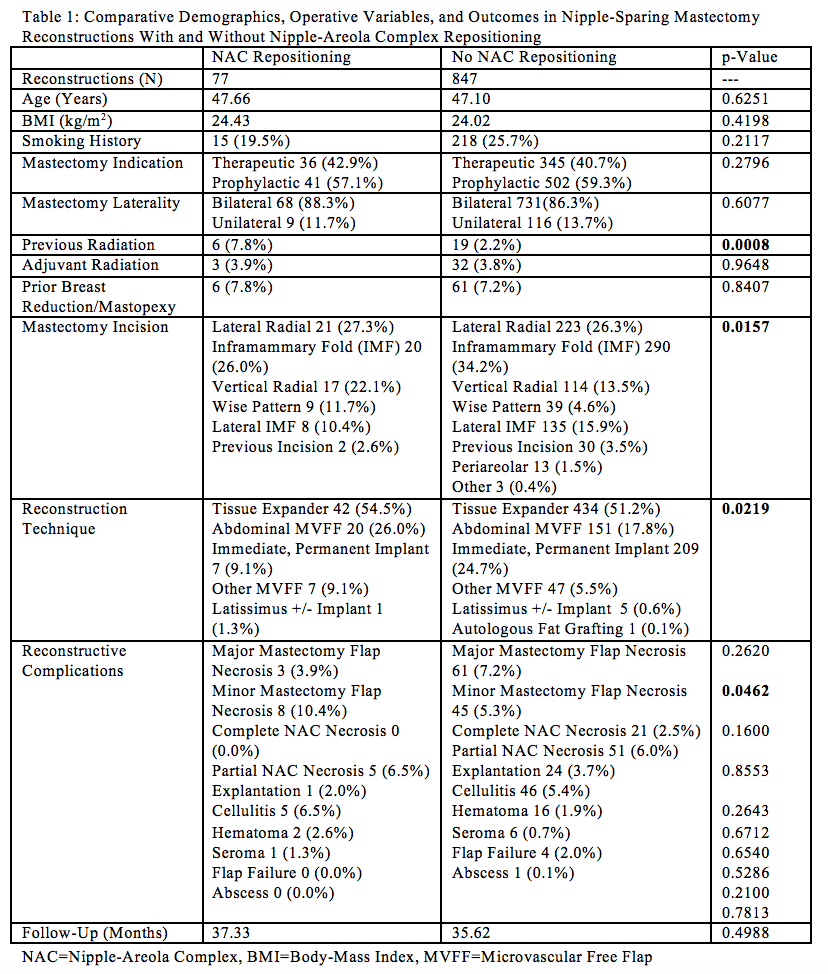 ---
Back to 2017 Program