---
Effects of Hormonal Therapy On Perioperative Outcomes of Free Flap Breast Reconstruction
Bao Ngoc N. Tran, MD, Qing Z. Ruan, MD, Andres Doval, Bernard T. Lee, MD, MBA, MPH.
Beth Israel Deaconess Medical Center, Boston, MA, USA.
Background: The use of hormonal therapy, especially Tamoxifen, has been proposed to increase thromboembolic events. Such phenomenon is detrimental in abdominal based perforator free flap breast reconstruction. This study aims to examine such hypothesis using our institutional database.
Methods: Patients underwent abdominal based perforator free flap reconstruction 2004-2015 were divided into control group (no hormonal therapy at the time of surgery) and experimental group. Frequency counts and percentages of baseline demographics, comorbidity, cancer experimental, and intraoperative characteristics were compared using student t-test and chi-square test. Rates of complications were compared between two groups using chi test. A binary logistic regression model was used to identify risk factors associated with microvascular flap and overall complications.
Results: There were 1301 flaps, corresponding to 887 patients. A total of 201 patients (23%) were on hormonal therapy at the time of surgery, 686 (77%) were not. Those who received hormonal therapy had higher incidence of previous breast surgery (p<0.001), cancer stage 2 or 3 (p<0.001), chemo and radiation prior to surgery (<0.001), delayed reconstruction (<0.001), and heavier flap weight (0.017). Complication rates were similar between the two groups except for mastectomy skin loss (control 12.2% vs. experimental 5.2%, p=0.001), and fat necrosis <2cm (control 13.8% vs. 8.2%, p=0.014). Microvascular flap complications were similar (complete flap loss 1.4% vs. 1.2%, p=0.794, partial flap loss, 2.5% vs. 1.5%, p=0.325). Smoking was consistently the independent risk factor for microvascular (OR 1.66, p=0.05), thromboembolic (OR 2.64, p=0.007), and overall complication incidence (OR 1.97, p0.02). Hypertension is another predictor for complications (OR 1.8, p=0.015)
Conclusions: Hormonal therapy is not associated with risk of microvascular flap complication. Perioperative cessation of hormonal therapy might not be necessary given the findings of this study. Prospective, large sample, multi-center studies are needed to formulate definitive consensus.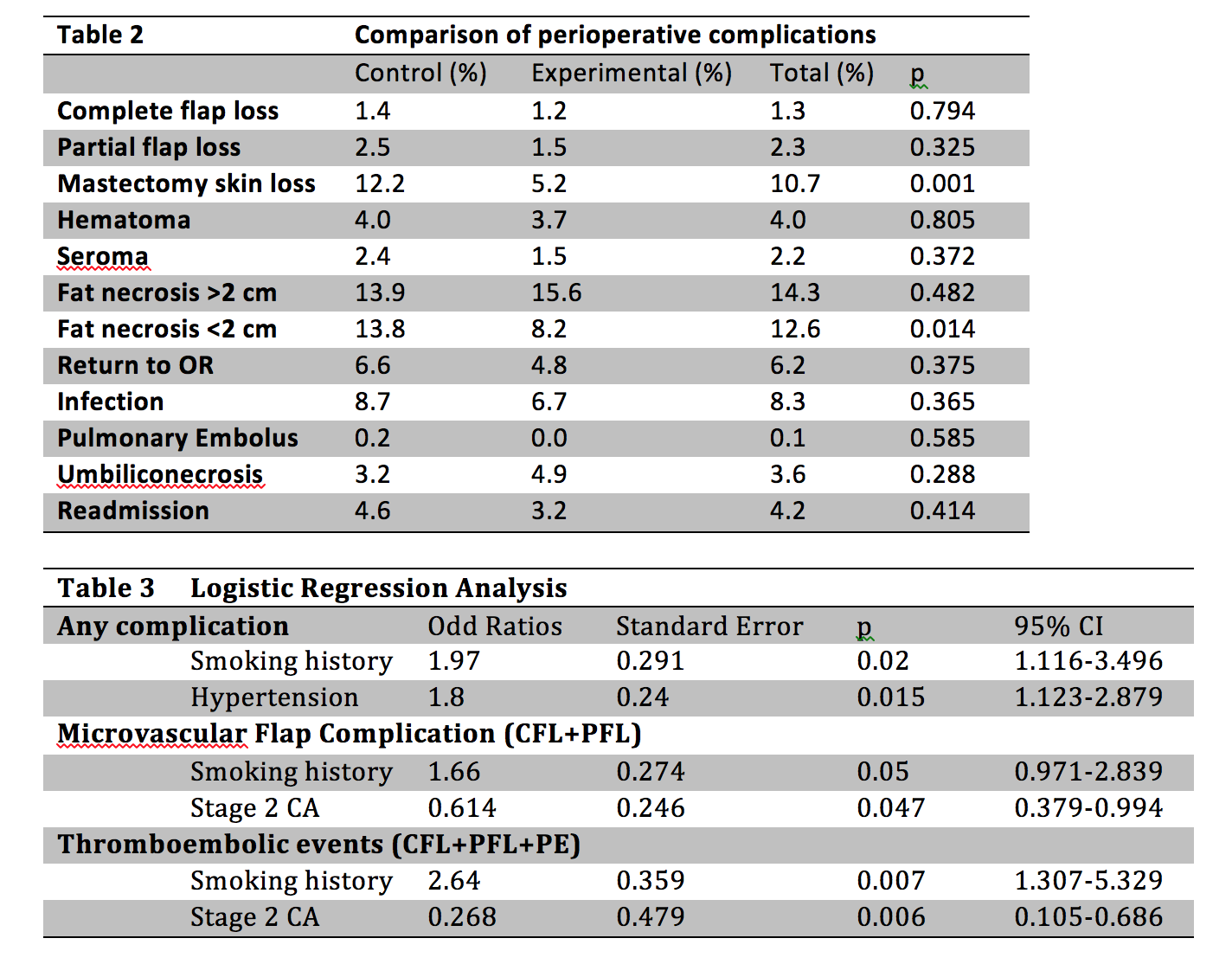 ---
Back to 2017 Program