---
Evolution in the Monitoring of Free Flap Autologous Breast Reconstruction in Nipple-Sparing Mastectomy: Is There a Best Way?
Jordan D. Frey, MD1, John T. Stranix, MD1, Michael V. Chiodo, MD1, Michael Alperovich, MD2, Christina Y. Ahn, MD1, Robert J. Allen, Sr., MD1, Mihye Choi, MD1, Nolan S. Karp, MD1, Jamie P. Levine, MD1.
1NYU Langone Medical Center, New York, NY, USA, 2Yale School of Medicine, New Haven, CT, USA.
Background:
Nipple-sparing mastectomy (NSM) is the latest advancement in the treatment of breast cancer. Autologous free flap reconstruction provides excellent aesthetic outcomes in NSM. However, the question remains of how to best monitor these reconstructions in the acute post-operative period. We therefore examined outcomes in NSM with buried free flap reconstruction versus free flap reconstruction incorporating a skin paddle for monitoring.
Methods:
All autologous free flap reconstructions with NSM performed from 2006 to 2015 were identified. Free flaps were divided into those that were completely buried and those with a skin paddle for monitoring. Demographics and operative results were analyzed and compared for each group.
Results:
221 free flaps for breast reconstruction in NSM were identified: 50 buried flaps and 171 flaps incorporating a skin paddle. Most common flaps used were deep inferior epigastric perforator (DIEP) (64%), profunda artery perforator (PAP) (12.1%), and muscle-sparing transverse rectus abdominis myocutaneous (MS-TRAM) flaps (10.4%).
Patients undergoing NSM free flap reconstruction with a skin paddle had significantly greater BMI (p=0.006) and greater smoking history (p=0.058). Mastectomy weight (p = 0.017) and flap weight (p<0.0001) was significantly greater in flaps incorporating a skin paddle. Flaps incorporating a skin paddle were also more likely to utilize MS-TRAM flaps and less likely to utilize a non-abdominally based free flap (p=0.003). The majority (86.0%) of buried flaps were monitored using an internal Cook Doppler system (p<0.0001). Other demographics including age (p=0.614) and laterality of NSM (p=0.999) were equivalent between the groups.
Comparing outcomes between buried flaps versus flaps incorporating skin paddle, there were no significant differences in flap failure (2.0% vs. 2.3%, p=1.000) or percentage of flaps requiring return to the operating room (6.0% vs. 4.7%, p=0.715). The buried flap group had an absolute greater mean number of revisions per NSM (0.82) compared to the skin paddle group (0.44), however revision rates per NSM were statistically equivalent between the groups (p=0.296).
Conclusions:
While buried free flap reconstruction in NSM has been shown to be a safe and effective option, our technique has evolved to favor incorporating a skin paddle. This is advantageous as it allows for reliable visual monitoring. Additionally, regardless of monitoring technique utilized, many patients with free flap reconstruction in NSM opt for a secondary revision at which time the skin paddle may easily be removed.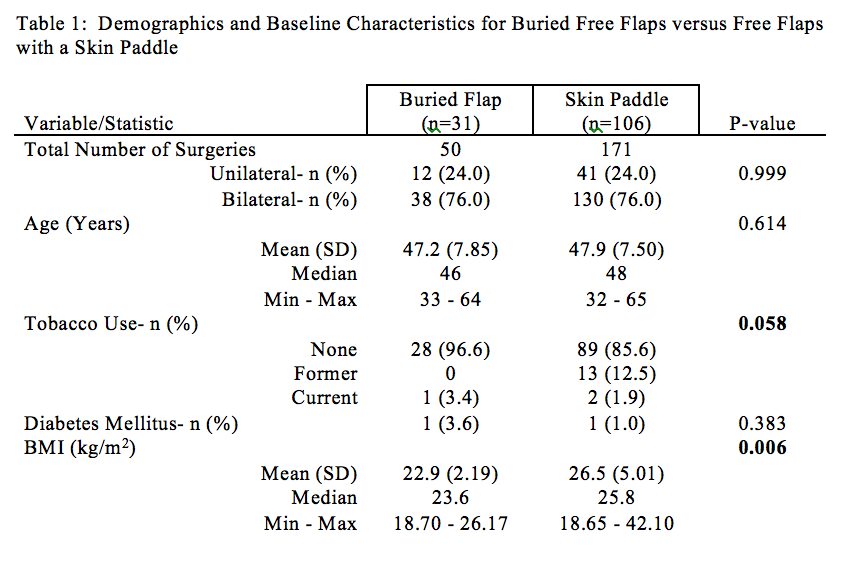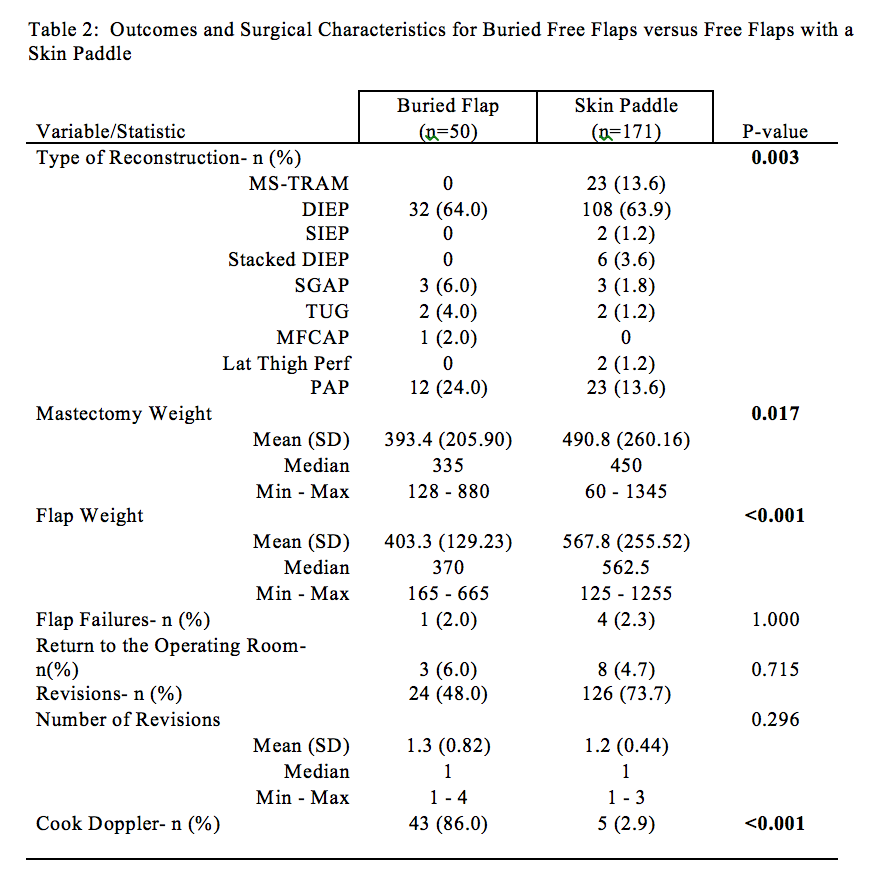 ---
Back to 2017 Program