---
Progress in Racial Disparities for Breast Reconstruction: National Trends in Utilization Over the Past Decade
Sherise Epstein, BA, Bao N. Tran, MD, Justin B. Cohen, MD, MHS, Dhruv Singhal, MD, Bernard T. Lee, MD MBA MPH.
Beth Israel Deaconess Medical Center, Boston, MA, USA.
BACKGROUND:
RACIAL AND SOCIOECONOMIC DISPARITIES IN POST-MASTECTOMY AUTOLOGOUS BREAST RECONSTRUCTION HAVE BEEN DOCUMENTED AT THE INSTITUTIONAL LEVEL, HOWEVER THIS HAS NOT BEEN STUDIED NATIONALLY. WE USED DATA FROM THE NATIONAL SURGICAL QUALITY IMPROVEMENT PROGRAM TO IDENTIFY TRENDS IN POST-MASTECTOMY AUTOLOGOUS BREAST RECONSTRUCTION BY RACE.
METHODS:
FEMALE PATIENTS WHO UNDERWENT MASTECTOMY AND/OR BREAST RECONSTRUCTION FROM 2005-2014 WERE IDENTIFIED. PATIENT DEMOGRAPHICS WERE RECORDED AND CASES WERE GROUPED BY STATUS AND TECHNIQUE OF RECONSTRUCTION. TRENDS WERE ASSESSED WITH THE COCHRAN-ARMITAGE TEST. MULTIVARIATE LOGISTIC REGRESSION WAS PERFORMED TO DETERMINE FACTORS INDEPENDENTLY ASSOCIATED WITH FREE FLAP BREAST RECONSTRUCTION.
RESULTS:
OVER THE STUDY PERIOD, 92,960 POST-MASTECTOMY WOMEN WERE IDENTIFIED, 46,931 (50.5%) OF WHOM UNDERWENT RECONSTRUCTION. OF THESE, 39,239 (83.61%) PATIENTS HAD IMPLANT-BASED, MIXED, OR OTHER RECONSTRUCTION COMPARED TO 7,692 (16.39%) UNDERGOING AUTOLOGOUS RECONSTRUCTION. OF THE AUTOLOGOUS RECONSTRUCTIONS, 3,913 (51.4%) WERE FREE FLAPS AND 3,696 (48.6%) WERE PEDICLED FLAPS (2,614 TRAM, 1,082 LD). OVER THE PERIOD FROM 2005 TO 2014, THE PROPORTION OF POST-MASTECTOMY WOMEN RECEIVING BREAST RECONSTRUCTION INCREASED FROM 33.2% TO 60.0%; THE PROPORTION OF AUTOLOGOUS RECONSTRUCTION FELL FROM 30.4% TO 15.9%; AND THE PROPORTION OF AUTOLOGOUS FLAPS THAT WERE FREE FLAPS ROSE FROM 15.0% TO 70.8%. THESE TRENDS WERE SIGNIFICANT IN ALL RACIAL SUBGROUPS (P <0.001) EXCEPT FOR AMERICAN INDIANS AND ALASKA NATIVES, FOR WHOM NO TREND WAS STATISTICALLY SIGNIFICANT (P = 0.269). ON MULTIVARIATE ANALYSIS, RACE WAS FOUND TO INDEPENDENTLY PREDICT THE ODDS OF FREE FLAP BREAST RECONSTRUCTION, WITH LOWER ODDS FOR BLACK WOMEN (OR=0.84, P=0.015) AND AMERICAN INDIAN OR ALASKA NATIVE WOMEN (OR=0.32, P=0.004) COMPARED TO WHITE WOMEN.
CONCLUSIONS:
THE RATE OF RECONSTRUCTION IS STEADILY INCREASING IN THE U.S., YET UTILIZATION DISPARITIES PERSIST AMONGST DIFFERENT RACIAL GROUPS. THE MAJORITY OF GAINS ARE FROM THE RISE OF IMPLANT-BASED RECONSTRUCTION. AUTOLOGOUS RECONSTRUCTION—PARTICULARLY FREE FLAP RECONSTRUCTION—DEMONSTRATES LESS RACIAL DISPARITIES, BUT GROWTH OF THIS GROUP SEVERELY LAGS BEHIND GROWTH OF IMPLANT-BASED RECONSTRUCTION. FURTHER EFFORTS ARE NEEDED TO FOSTER A MORE PROPORTIONATE EXPANSION OF AUTOLOGOUS RECONSTRUCTION
.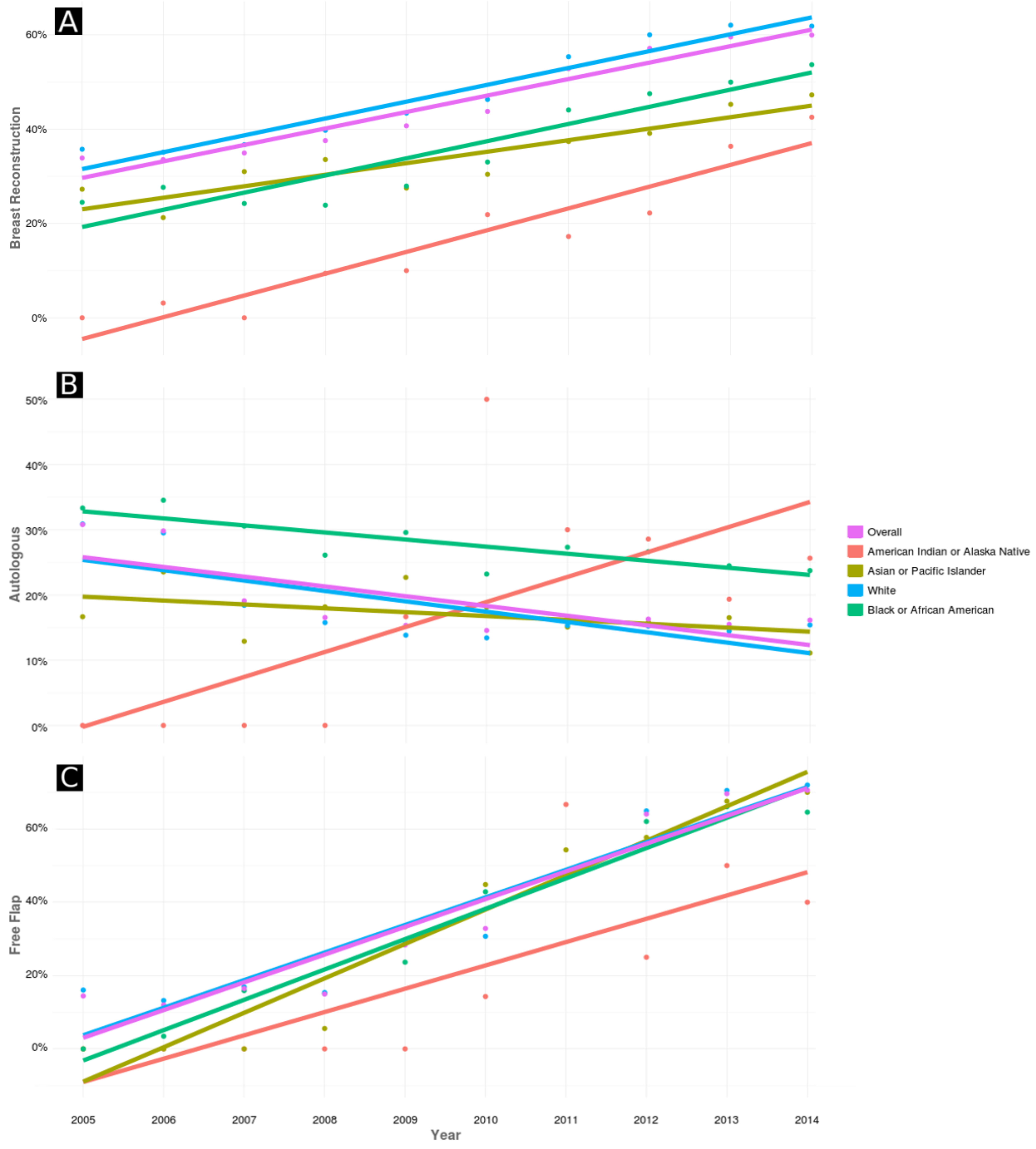 A TREND IN POST-MASTECTOMY BREAST RECONSTRUCTION BY RACE FROM THE 2005 TO 2014 NSQIP DATA; B TREND IN AUTOLOGOUS TECHNIQUE; C TREND IN MICROSURGICAL AUTOLOGOUS TECHNIQUE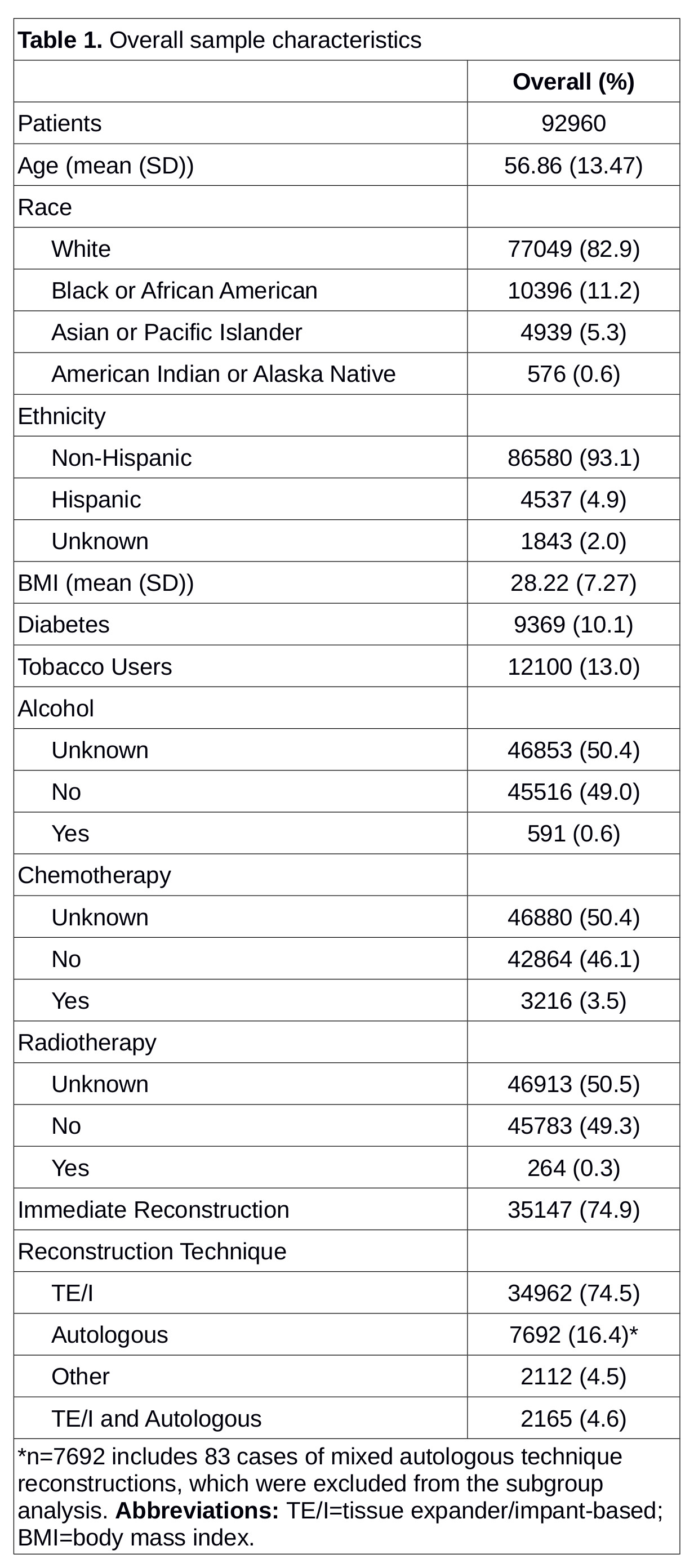 ---
Back to 2017 Program