---
International Trends in Gender Authorship within Plastic Surgery
Alexandra Bucknor, MBBS, MRCS, MSc1, Parisa Kamali, MD, MBA, FACS1, Sherise Epstein, BSc1, Austin D. Chen1, Patrick Bletsis, BSc1, Anmol Chattha, BA1, Abbas Peymani, BSc2, Hinne Rakhorst, MD, PhD3, Samuel J. Lin, MD, MBA, FACS1.
1Beth Israel Deaconess Medical Center, Boston, MA, USA, 2Erasmus University, Rotterdam, Netherlands, 3Medisch Spectrum Twente, Rotterdam, Netherlands.
Background
Professional advancement in an academic plastic surgery depends on a variety of factors, including scholarly activity and academic productivity. This study aims to evaluate publishing characteristics of women in three international plastic surgery journals.
Methods
A retrospective review of all articles published in 2016 in Plastic and Reconstructive Surgery (PRS), the Journal of Plastic, Reconstructive and Aesthetic Surgery (JPRAS), the European Journal of Plastic Surgery (EJPS) and the New England Journal of Medicine (NEJM) was undertaken. Data were collected on gender of 'lead author' (first or senior author) and assessed for differences in author gender proportions, including by journal, article content and geographic location.
Results
Over the study period, 2,276 articles were retrieved. Of these, 39.1% were from plastic surgery (PS) journals and 60.9% were from NEJM. Plastic surgery journals had lower female-to-male authorship ratios when compared to NEJM in the US, UK, Europe (non-UK) and South America (p<0.001)(figure 1). Within the PS journals, articles with at least one female lead author were significantly less frequent in PRS (15.0% vs. 24.7%) than in EJPS (5.6% vs. 3.1%) or JPRAS (13.6% vs. 14.0%). Female PS lead author articles were more frequently breast-oriented (29.5% vs. 16.2%), while male lead author articles were more commonly craniofacial-oriented (15.8% vs. 21.9%, p=0.0043).
Conclusion
There are significant gender disparities in three mainstream PS journals: PRS, JPRAS, EJPS, which show greater underrepresentation of women authors than NEJM. Further research should focus on understanding the geographical disparities. Journals should examine their own review process and ensure equal opportunities for men and women.
Figure 1. Maps of gender disparity in scholarly authorship for plastic surgery journals (top) compared to the NEJM (bottom). Coloring is proportional to gender equality quartiles, with darker colors indicating more gender equality and lighter colors indicating less gender equality.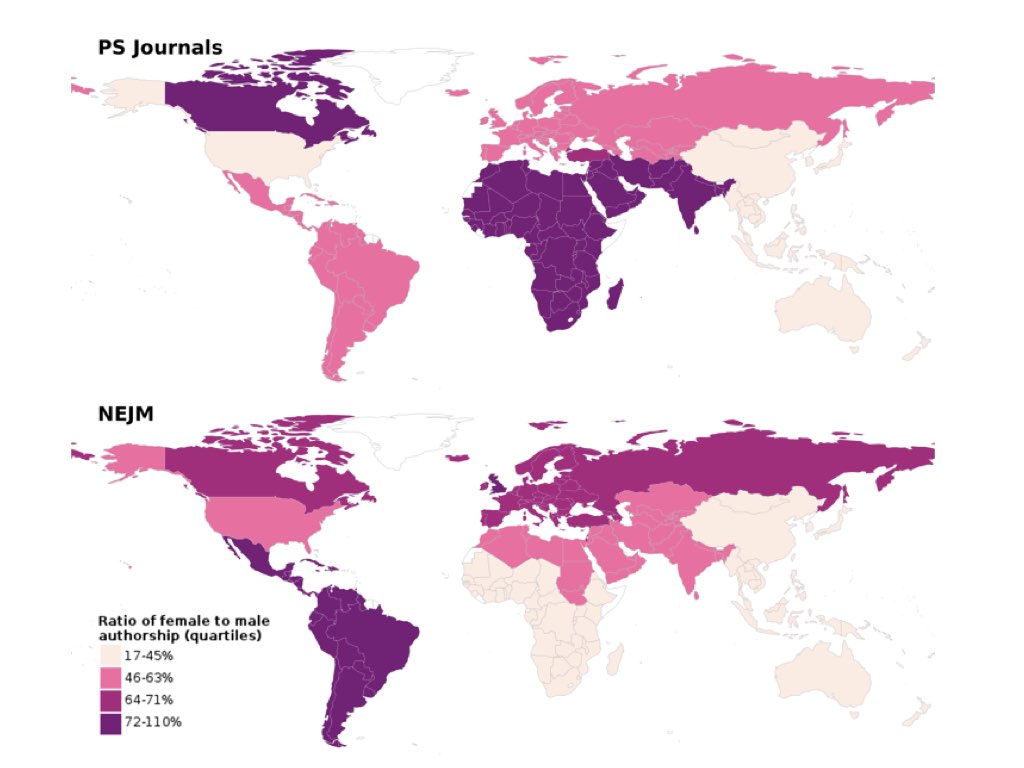 ---
Back to 2017 Program