---
Immediate Closure versus Delayed Autografting for Axillary Hidradenitis Suppurativa
Kelly Bridgham, BS, Halley Darrach, BS, Julie A. Caffrey, DO, MS, Paul Manson, MD, Justin M. Sacks, MD, MBA.
Johns Hopkins School of Medicine, Baltimore, MD, USA.
BACKGROUND: Common consensus regarding the optimal method of wound closure following wide excision of axillary hidradenitis suppurativa is not clear. Two common techniques include immediate primary closure in a complex fashion or delayed closure with autologous split-thickness skin grafting. In this study, we aimed to compare the indications and outcomes of immediate versus delayed closure following wide excision of axillary hidradenitis suppurativa. METHODS: A retrospective review was performed of all patients undergoing wide excision of Hurley Stage II and III axillary hidradenitis suppurativa at our institution from January 2014 to January 2018. Medical records were reviewed for patient demographics, operative indications, and postoperative outcomes. RESULTS: 66 patients were identified with an average age of 34 years. 56 patients (84.8%) underwent immediate closure and 10 patients (15.2%) had delayed skin grafting to the operative site. Patients that received delayed closure had a significantly larger defect size (p<0.00001), longer operative time (p=0.001), greater blood loss (p=0.0026) and longer length of stay (p<0.00001) as compared to patients undergoing primary closure. Self-resolving wound dehiscence was more common in the primary closure group (p=0.007), whereas partial flap/graft loss was more common in the delayed closure cohort (p<0.0001). There was no significant difference in the incidence of infection, contracture, time to heal, number of revisional procedures, or disease recurrence between the different operative techniques. CONCLUSIONS:
The majority of patients with severe axillary hidradenitis suppurativa can undergo primary wound closure following wide surgical excision. However, patients with extensive axillary involvement may require multiple procedures with prolonged hospitalization in order to provide adequate wound coverage. Based on our results, the method of wound closure can be selected at the discretion of the surgeon without a significant effect on postoperative wound healing or disease recurrence. However, the dogma of leaving the axillary wound open prior to closure is clearly abolished. This will lead to shorter hospital stays and less morbidity for the patient.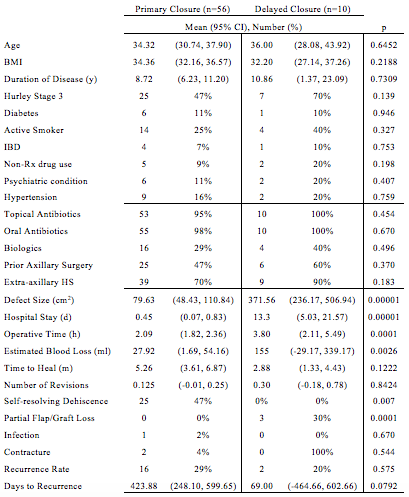 ---
Back to 2018 Abstracts