---
A Nationwide Analysis of Outcomes and Costs Associated with Lower Extremity Free Flap Reconstruction
Niv Milbar, BA1, Kelly Bridgham, BS1, Said C. Azoury, MD2, Justin M. Sacks, MD, MBA, FACS1.
1The Department of Plastic and Reconstructive Surgery, The Johns Hopkins University School of Medicine, Baltimore, MD, USA, 2Division of Plastic Surgery, Department of Surgery, University of Pennsylvania Health System, Philadelphia, PA, USA.
BACKGROUND: Microvascular free flap reconstruction has become a mainstay of treatment for open lower extremity fractures after traumatic injury. Data is limited regarding nationwide patient outcomes and associated costs when comparing free flap reconstruction to local tissue transfer, skin grafting and primary closure. The Nationwide Readmissions Database (NRD) provides a nationally representative sample for tracking readmissions, length of stays, and associated costs. This study used NRD data to assess short-term outcomes and costs after severe lower extremity injury and to compare these to non-free flap approaches.
METHODS: The Nationwide Readmissions Database was queried using ICD-9 discharge diagnosis codes for admissions with open lower extremity injuries between January 2010 and August, 2015, and patients who underwent free flap reconstruction were defined using ICD-9 procedure codes. Readmissions after index discharge, length of stay (LOS), associated hospital costs, and sociodemographic characteristics were compared between free flap and non-free flap patients. Statistical analysis was used to compare these characteristics as well as costs, LOS, and readmissions among free flap and non-free flap patients.
RESULTS: 27,982 patients fit our criteria for having index admissions with open lower extremity injuries, of which 386 were defined as undergoing free flap reconstruction. There was a statistically significant difference in index admission mean LOS (5.3 days non-flap vs. 20.0 days flap, p<0.001), index admission mean total hospital costs ($20,426 non-flap vs. $72,795 flap, p <0.001), % of patients with readmissions by 90 days (18.7% non-flap vs. 26.2% flap, p<0.001), and mean total hospital costs at 90 days ($24,347 non-flap vs. $78,342 flap, p<0.001). Readmitted free flap patients had a higher number of comorbidities listed during index admission than those who were not readmitted (2.8 vs. 2.1, p=0.008).
CONCLUSIONS: This study of open lower extremity traumatic injuries in the peri-operative period demonstrates that free flap reconstruction results in increased length of stay, readmissions, and associated costs at a national level when compared to lower rungs of the reconstructive ladder. Since most of the existing knowledge regarding lower extremity outcomes has come from single center studies, national follow-up data provides an opportunity for a broader understanding of outcomes. As procedural coding becomes more granular, studies utilizing databases like the NRD can better identify high risk candidates for free flap reconstruction. Open fractures of the lower extremity require soft-tissue coverage. The use of free-tissue transfer versus local flap must be considered secondary to potential increased costs, length of stay and complications.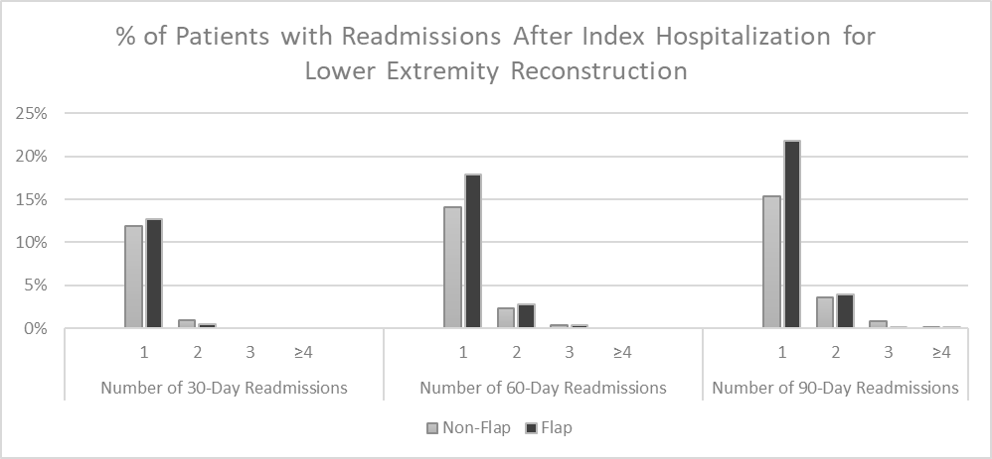 ---
Back to 2018 Abstracts