---
Is There A Preferred Nipple-Sparing Mastectomy Incision Type? A Systematic Review and Meta-Analysis
David A. Daar, MD, MBA1, Salma A. Abdou, BA1, Lauren Rosario, BA2, William J. Rifkin, BS1, Pauline J. Santos, MD2, Garrett A. Wirth, MD, MS3, Karen T. Lane, MD4.
1Hansjörg Wyss Department of Plastic Surgery, NYU School of Medicine, New York, NY, USA, 2Department of Plastic Surgery, UC Irvine Health, Orange, CA, Orange, CA, USA, 3Wirth Plastic Surgery, Newport Beach, CA, USA, 4Department of Surgery, UC Irvine Health, Orange, CA, USA.
Background: The incidence of nipple-sparing mastectomy (NSM) is increasing as the criteria for eligible patients expand in concordance with data suggesting its oncologic safety. Several small studies have evaluated outcomes of NSM, but no incision location has been determined to be superior. This study systematically evaluates the literature on NSM and summarizes the trends and outcomes of different incision types.
Methods: A systematic literature review was performed according to the Preferred Reporting Items for Systematic Review and Meta-Analysis (PRISMA) guidelines. Studies were included if the mastectomy incision type was described and outcomes reported. Information on patient demographics, incision location, post-operative outcomes and breast reconstruction type was collected.
Results: Fifty-one studies encompassing 9,975 NSM were included. Thirty-two different incision variations were identified and further categorized into one of 6 groups: inframammary fold (IMF), radial, periareolar, mastopexy/prior scar/reduction, endoscopic, and other (e.g., batwing, circumverical, etc.) [Table 1]. Average patient age was 46.3 ± 2.8 years, and average BMI was 23.0 ± 1.3. The majority NSM were for therapeutic indications (5,828, 62.5%). The most commonly used incision types were IMF (3,369 NSM, 37.8%) and radial (3,566 NSM, 37.0%). Meta-analysis revealed an overall NAC necrosis rate (including both partial and full-thickness necrosis) of 6.97% (95% CI 5.34-8.79) with Q statistic p<0.0001, I2= 89.72%, indicating significant inter-study heterogeneity. Information on rate of NAC necrosis by incision type was available in 30/51 studies (4,645 NSMs). Periareolar incision had the highest rate of NAC necrosis 18.10% (95% CI, 9.37-28.91, Q statistic p<0.0001, I2=83.6%). The remaining rates of NAC necrosis by incision type were as follows: IMF 6.82% (95% CI, 3.26-11.55), radial 8.25 (95% CI, 4.85-12.46), endoscopic 4.90% (95% CI, 2.26-9.09), mastopexy/prior scar 5.79% (95% CI, 3.06-9.84) and other 5.32% (95% CI, 2.71-9.26%). The majority (57.8%) of NSMs underwent reconstruction with staged tissue expander/implant, while 28.9% and 13.3% underwent reconstruction with direct-to-implant and autologous reconstruction, respectively.
Conclusions: The periareolar incision type maintains the highest necrosis rate as compared to other incision locations because it of its disruption of the blood supply to the NAC. There is a trend in the literature favoring the IMF incision, likely due to its superior complication profile and aesthetic outcomes.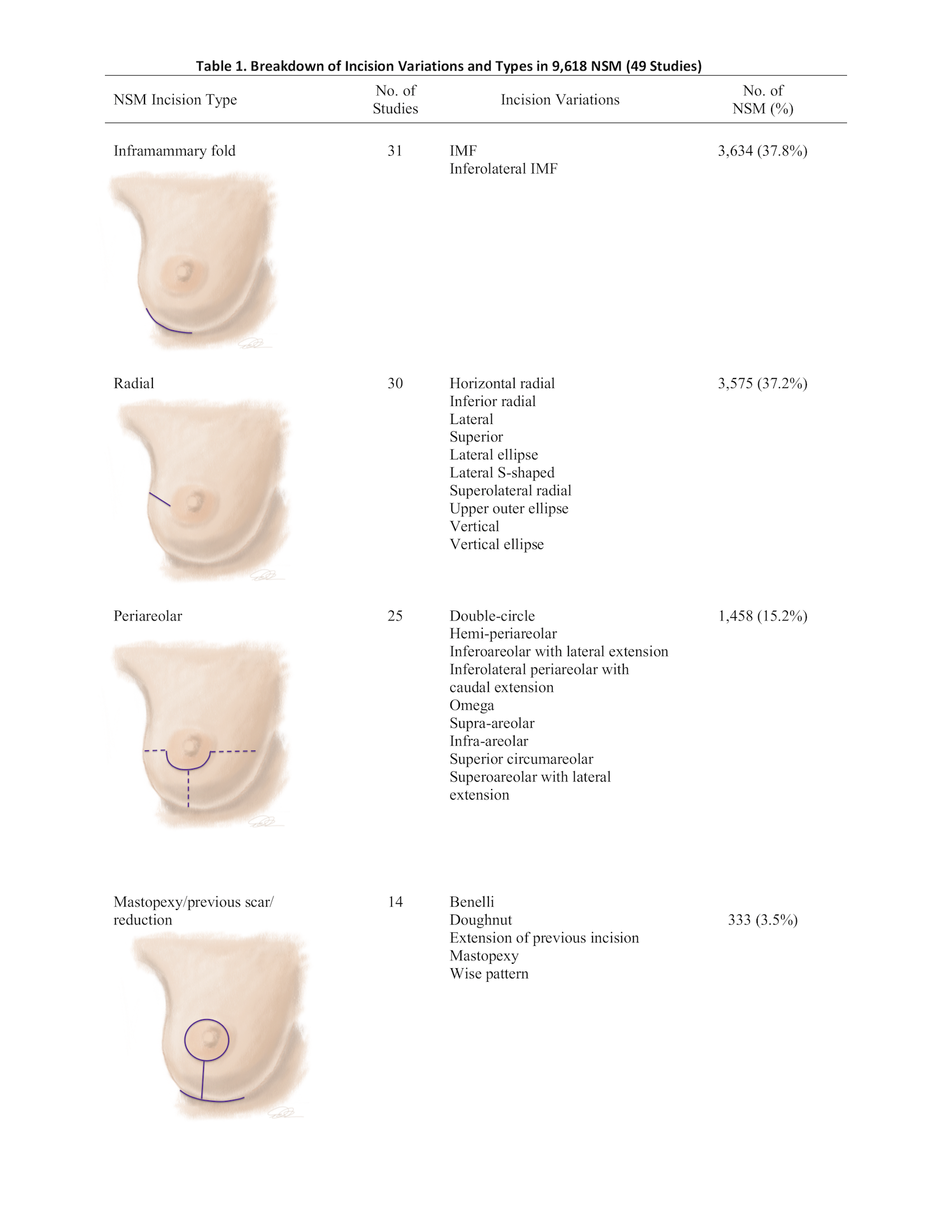 ---
Back to 2018 Abstracts