---
Outcomes Analysis of Goldilocks Mastectomy and Breast Reconstruction: A Single Institution Experience of 172 Cases
Jeremie D. Oliver, BA1, Arif Chaudhry, MD2, Krishna S. Vyas, MD, PhD, MHS2, Saad A. Alsubaie, MD2, Oscar J. Manrique, MD2, Jorys Martinez-Jorge, MD2.
1Mayo Clinic School of Medicine, Rochester, MN, USA, 2Mayo Clinic, Rochester, MN, USA.
BACKGROUND: The Goldilocks mastectomy procedure involves local contouring of completely autologous breast tissue created by preserving and de-epithelializing the residual mastectomy flaps. The purpose of this study was to provide outcomes data for 172 Goldilocks mastectomy procedures performed at a single tertiary academic center analyzing indications, complications, relevant comorbidities, and adjuvant cancer treatment impacting reconstructive and aesthetic outcomes.
METHODS: Comprehensive review of every patient who underwent Goldilocks mastectomy from 2012-2018 included relevant medical and surgical comorbidities, as well as complication profiles. Reconstructive approach was divided into three groups and analyzed comparatively: Goldilocks Only, Goldilocks + Tissue Expander, and Goldilocks + Implant. Univariate and multivariate analysis was conducted to analyze factor predictive of poor outcomes between sub-groups. Aesthetic outcomes were also assessed in those with postoperative imaging available.
RESULTS: A total of 95 patients (172 breasts) were included in this study. Overall complication rate was 11.0% (seroma=6, hematoma=4, cellulitis=4, wound dehiscence=4, DVT/PE=1). A statistically-significant higher rate of seroma occurrence was identified in the Goldilocks + Implant group (p=0.0145). Obese patients were more likely to undergo the Goldilocks Only procedure (p=0.0218). Post-operative radiation therapy was associated with a higher rate of mastectomy flap dehiscence (p=0.0190).
CONCLUSIONS: Goldilocks breast reconstruction is an ideal option in patients with higher than average BMI or excess local breast tissue, or in patients meeting these criteria preferring a single-stage reconstruction. This study qualifies its use in patients with higher-than-average risk factors for more extensive reconstructive modalities, proving to be a safe and effective technique.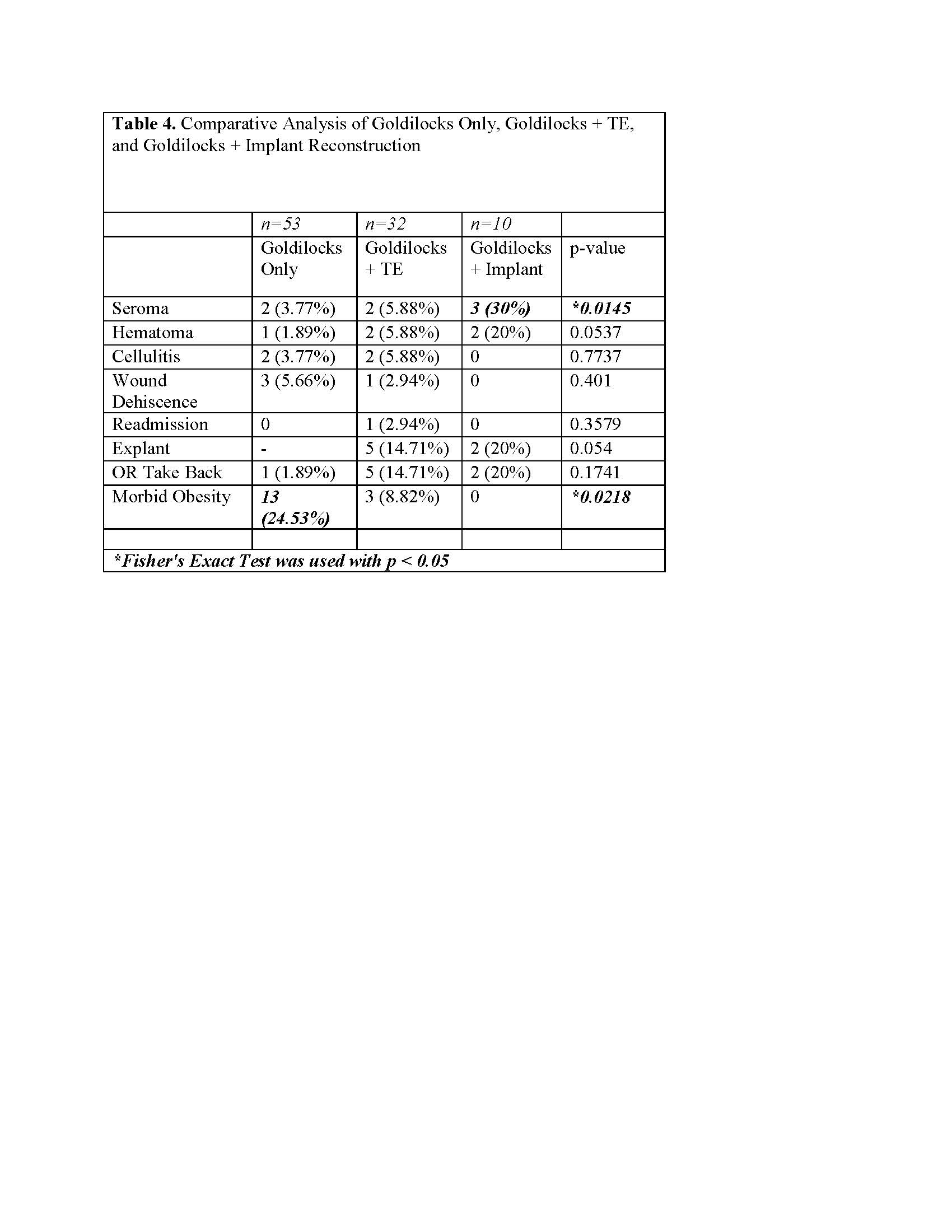 ---
Back to 2018 Abstracts