---
Immediate Reconstruction of Total Parotidectomy Defects Using Anterolateral Thigh Adipofascial Free Flaps
Deana Shenaq, M.D., Babak Mehrara, M.D., Jennifer Cracchiolo, M.D., Joe Dayan, M.D..
Memorial Sloan Kettering Cancer Center, New York, NY, USA.
Background: Total parotidectomy and adjuvant radiotherapy for parotid malignancies can result in a significant deformity. While facial reanimation is typically the priority, significant contour deformities related to volume loss and radiation-induced contracture can occur, despite satisfactory facial nerve recovery. The authors began using anterolateral thigh adipofascial free flaps to restore symmetric and supple facial contour at the time of tumor extirpation. We aim to review the evolution of this technique and outcomes.
Methods: This was a 5-year retrospective study of all anterolateral thigh adipofascial free flaps performed by a single-surgeon for immediate reconstruction of total parotidectomy defects in patients who received postoperative radiation. The technique involved a standard anterolateral thigh free flap harvest with the skin completely removed, to just above the superficial fascial system (Scarpa's fascia equivalent). Typically a 1 cm skin paddle monitor was exteriorized.
Results: Nineteen patients underwent reconstruction with adipofascial anterolateral (ALT) thigh free flaps. The mean age was 62 years old (range 35 – 84 years). The facial nerve was sacrificed in all patients, who also underwent immediate facial reanimation with a combination of primary nerve grafting with a motor nerve branch to the vastus lateralis, nerve to masseter, and/or mini-hypoglossal nerve transfers. Mean parotid and neck defect size was 100.5 sq cm. Recipient vessels included superior thyroid artery (n = 13), facial artery (n = 6), branch of internal jugular vein (n = 15), internal jugular vein (n = 2) and facial vein (n =2). The average time to adjuvant radiation was 76.3 days. Complications included: donor site cellulitis (n = 1), facial lymphedema (n = 1), salivary gland leak and infection (n = 1) with a mean follow up time of 9.5 months (range 1.8 – 20.2 months). All flaps survived. All flaps remained soft without fat necrosis and satisfactory cosmetic outcome despite adjuvant radiation
Conclusions: Immediate free flap reconstruction of total parotidectomy defects is safe and effective. The ALT adipofascial free flap can be reliably thinned to the level of Scarpa's fascia without compromising perfusion. It also provides donor motor nerve graft for concomitant facial nerve reconstruction and may improve cosmetic outcomes in this challenging patient population (Figures 1 and 2).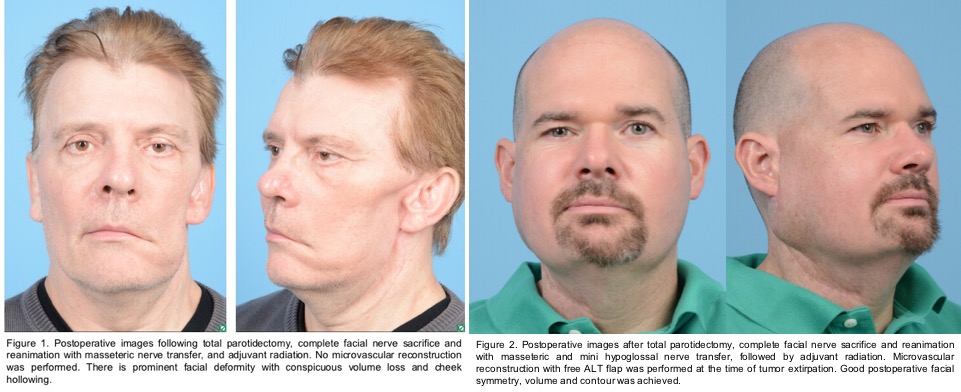 ---
Back to 2018 Abstracts