---
Wireless Pressure Ulcer Sensor: Validation in an Animal Model
Kelli Hickle, M.D.1, Robert Slamin, M.S.1, Angel Baez, M.S.1, Devdip Sen, M.S.2, Eric Evan-Browning, M.D.1, Heather Tessier1, John McNeill, Ph.D.2, Raymond Dunn, M.D.1.
1University of Massachusetts Medical School, Worcester, MA, USA, 2Worcester Polytechnic Institute, Worcester, MA, USA.
Background
Pressure ulcers are prevalent, challenging to manage, increase risk for secondary infection, and add $11 billion annually to health care costs in the US. The most commonly employed method of pressure ulcer prevention is pressure off-loading achieved by physically turning patients or by using expensive, single application devices such as wheelchair cushions. We approached the problem of ulcer prevention in a new way, by developing and deploying a wireless sensor on areas susceptible to injury. The sensor monitors local pressure over time and transmits the data wirelessly to a base station or smartphone. When the pressure approaches an unsafe level and duration, an alert signals for intervention to prevent development of a pressure injury. The goal of this study was to validate the sensors' use in a live animal model.
Methods
Steel discs were surgically implanted under the latissimus dorsi muscles of Sprague-Dawley rats. Ten days post-operatively, pressure was applied to the skin, subcutaneous tissue, and muscular overlying the implant using magnets of varying strengths (30-150mmHg). The sensor was placed on the skin prior to magnet application to collect data regarding pressure and time (1-8 hours). Three days after pressure application, animals were euthanized, the area of injury was graded clinically and histologically.
Results
Pressure and time data was successfully transmitted wirelessly for 20 of 28 rats. The actual pressures measured were routinely higher than the intended pressure based on the magnet strength ex vivo. All groups with magnet application for greater than two hours had clinical evidence of pressure injury that was confirmed by histology. At intended pressures of 120-150mmHg, even for brief periods, there was injury to the muscular layer without corresponding epidermal injury.
Conclusions
Despite technological advances in pressure off-loading devices, the prevention of pressure injuries continues to be problematic in hospitals and long-term care facilities around the US. We have developed a wireless sensor that can be placed on any at risk area of the body and will alert care givers when patients are at risk of developing a pressure injury. Our sensor successfully transmitted pressure readings wirelessly in a live, mobile animal and we are currently developing a version that also interprets temperature and moisture. Areas for improvement include: optimizing battery life and minimizing loss of wireless connection during data collection. Future studies will focus on safety and efficacy with human use and development of algorithms to predict the probability of pressure ulcer formation.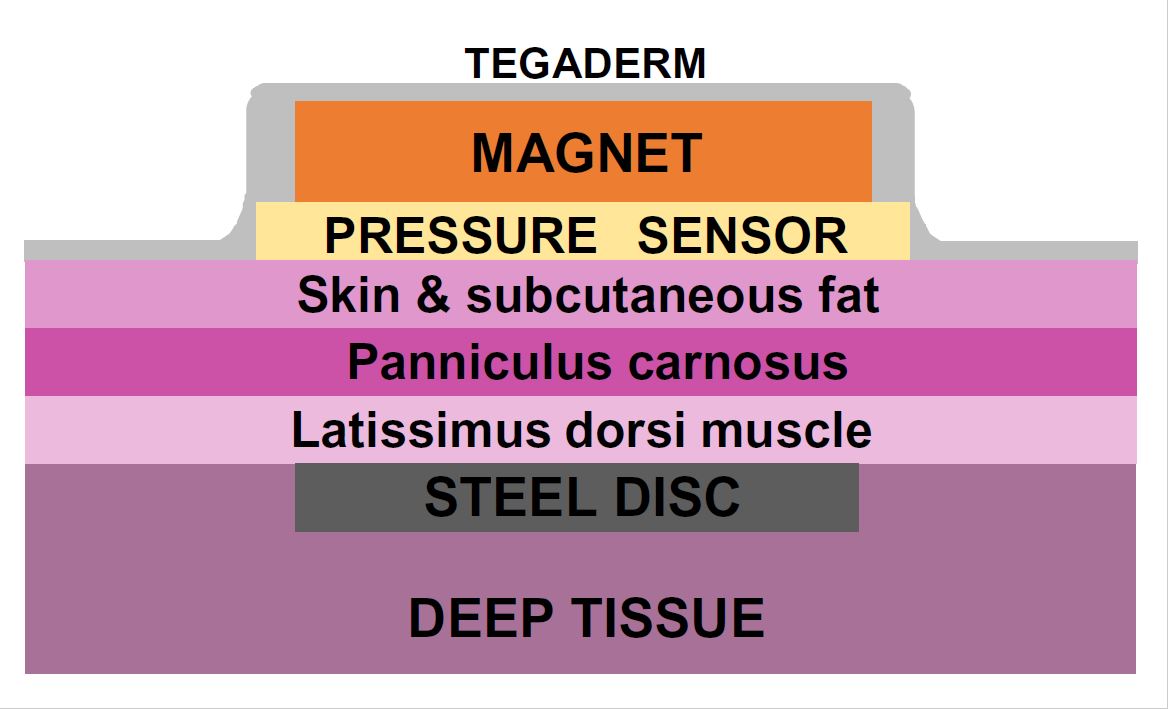 ---
Back to 2018 Abstracts