---
A Comparison of Early and Late Prenatal MRI in the Diagnosis of Cleft Palate
James C. Lee, MD, Sherelle Laifer-Narin, MD, Kathryn Schlechtweg, BS, Whitney Booker, MD, Russell Miller, MD, Rama Ayyala, MD, Thomas Imahiyerobo, MD.
Columbia University Medical Center, New York, NY, USA.
BACKGROUND: Prenatal ultrasound is the standard modality for screening and identification of fetal abnormalities including cleft lip, cleft palate, and micrognathia. Limitations of obstetrical ultrasound include sonographer experience, low amniotic fluid volume, and maternal obesity. Fetal MRI has been used as an adjunct to ultrasound. However, there is a paucity of literature on the performance of fetal MRI. The objective of this study was to examine the accuracy of early (<24 weeks gestational age) and late (≥24 weeks gestational age) fetal MRI for the prenatal diagnosis of cleft palate when read by dedicated fetal MRI radiologists.
METHODS: A retrospective review of a single-center fetal MRI database of cases from March 2011 through March 2018 was performed. The cases were referred for MRI because of concern for fetal cleft lip, cleft palate, or micrognathia on ultrasound. All studies were read by dedicated fetal MRI radiologists. Prenatal MRI findings were then correlated with post-delivery diagnoses.
RESULTS: Fifty-seven exams met the inclusion criteria. Nine cases were lost to follow up and 8 patients terminated their pregnancy. Of the remaining 40 fetuses, 23 were diagnosed with cleft palate on fetal MRI. Of those 23 cases, 21 were confirmed to have cleft palate postnatally. The other 17 cases were determined to have an intact palate on fetal MRI. This was confirmed postnatally in 15 cases. We found that the use of fetal MRI to diagnose cleft palate was 91% sensitive and 88% specific, with a negative predictive value (NPV) of 88% and positive predictive value (PPV) of 91%. The average gestational age at the time of fetal MRI diagnosis was 26.2 weeks. MRIs that occurred prior to 24 weeks gestational age (n = 18) had a NPV of 88% and PPV of 80% and were 89% sensitive and 78% specific for cleft palate while those that occurred after 24 weeks had a NPV of 89%, PPV of 100%, sensitivity of 92%, and specificity of 100%.
CONCLUSIONS: When used in patients with suspected craniofacial abnormalities and read by dedicated fetal radiologists, fetal MRI is an accurate method for the early diagnosis of cleft palate. Furthermore, its accuracy is greatest when performed after 24 weeks gestational age. We advocate the use of fetal MRI as an adjunct in the diagnosis of cleft palate in order to provide complete and accurate counseling to prospective parents and facilitate the early planning of appropriate postnatal care.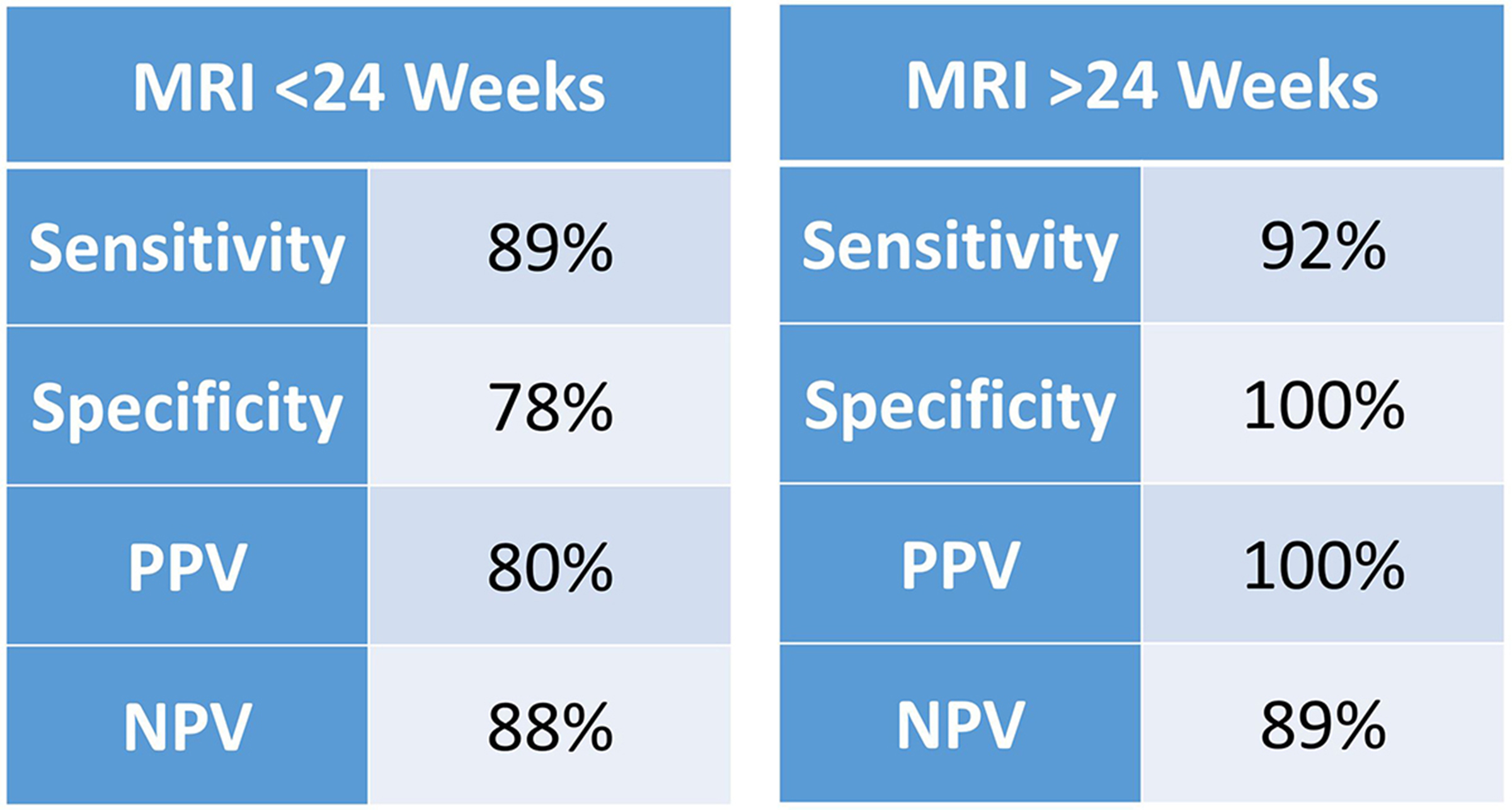 ---
Back to 2018 Abstracts